ST. LOUIS — The head of the city's jails said Monday that efforts to replace damaged locks at the City Justice Center began before the onset of the coronavirus pandemic, giving the first indication of how long the problem existed that allowed inmates to slip their jail cells.
Corrections Commissioner Dale Glass explained during a news conference that he'll continue looking at ways to upgrade or replace the locking systems throughout the downtown jail and that he's been working urgently to find a solution to the problem.
"Those issues that we saw were isolated," he said. "We went in, thought we found a fix, fixed it, consulted with people who said, 'Yeah, that's the fix,' but then a lot of time would go by and it happened again. And so we started earnestly looking at what do we do, how do we get all of these locks replaced?"
Inmates early Saturday manipulated the locks to their cells to escape, then freed others and forced their way into hallways and an unsecured perimeter that allowed access to exterior windows.
"Prior to COVID, we had some locks that had been tampered with, and we thought it was an isolated issue that we addressed and had fixed," Glass said. "When it happened again, we started looking and searching for companies that could take a look at this issue and help us with it … we had never had a situation where so many people were able to compromise and get out of the rooms."
The jail's locking systems will be reviewed by a new task force to examine how approximately 115 inmates commandeered the fourth floor, set fires, clogged drains, shattered windows and hurled furniture to the sidewalk below. A corrections officer attacked by inmates is recovering from his injuries. City officials did not have a cost estimate for repairing the damage but Mayor Lyda Krewson said it is "way into the thousands of dollars."
Krewson said Mike Wolff, a former Missouri Supreme Court judge and former dean of the St. Louis University School of Law, will head the group to examine conditions and operations at the jail.
Wolff said Monday he expects the task force will be asked to look broadly into jail conditions and offer recommendations for improvements but that he had not yet been provided instructions. The panel's other members are Adolphus Pruitt, president of the St. Louis NAACP; former state Sen. Jamilah Nasheed; Aldermen Joseph Vaccaro and Jeffrey Boyd, chair and vice chair of the city's aldermanic public safety committee; Pamela Walker, former city health director; the Rev. Charles Norris of the St. James AME Church; the Rev. Darryl Gray, an activist with the St. Louis Metropolitan Clergy Coalition; and Brad Hompe, a jail security consultant.
Circuit Attorney Kimberly M. Gardner said in a statement that her office also will open an investigation into the "deeply troubling" situation.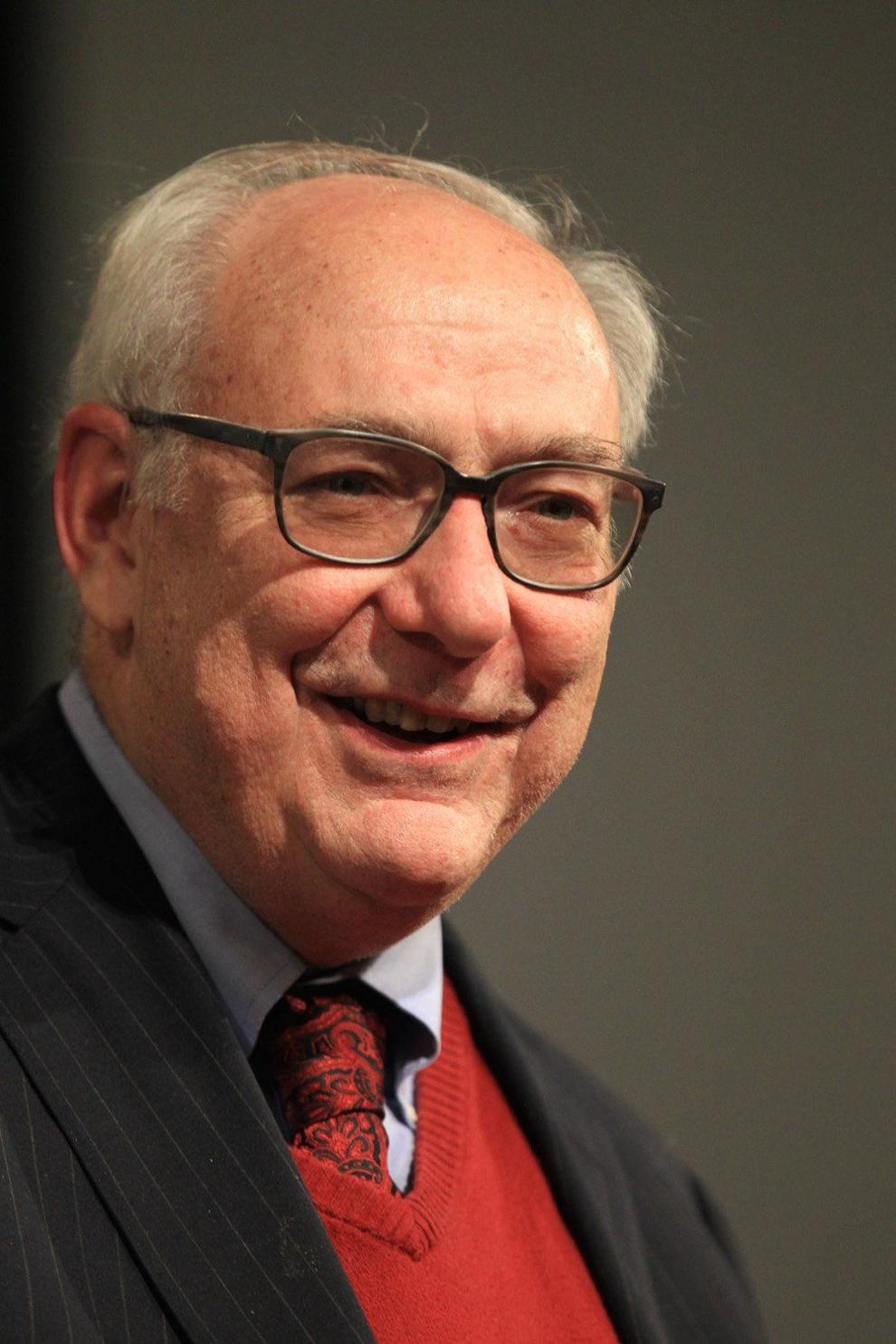 "I understand that there are different agendas and, frankly, being confined, I'm sure, is a very difficult situation," Krewson said. "But in terms of keeping folks here safely and providing them with adequate food ... we are doing a good job here but we'll let the task force really make that determination."
The disturbance at the CJC was the third since December. One inmate was treated for injuries last month. Staff have said inmates have feared catching COVID-19 but Glass said Monday that routine cleaning, a two-week quarantine period for new inmates and regularly supplying inmates with personal protective equipment have kept positive cases to about 85 since the start of the pandemic.
Glass rejected claims that jail staff retaliated against inmates over the recent uprisings and said police, sheriff's deputies and corrections staff have remained professional.
Edwards on Saturday said those involved in the weekend disturbance were among the city's most violent detainees. He said that the St. Louis Medium Security Institution on Hall Street, known as the workhouse, where dozens of inmates were moved after Saturday's riot, is more secure. More than 80% of the downtown jail's inmates are awaiting trial on felony charges, according to city records.
The reason the workhouse is more secure, Glass said, is that the cells there have manual locking mechanisms that are "harder to compromise."
"The detainees find ways to do what they want to do," Glass said. "When we discover those, we address it and fix it. And then they move on to the next thing that they can find to do. And so that's a constant occurrence."
Willie Dewalt, 65, of St. Louis, stood in the snow Monday outside the CJC with about 15 other people in support of those incarcerated there. Above the rally, windows were boarded up and black scuffs from fire and smoke were still visible. A leader read off what the person said were inmates' descriptions of the lack of personal protective equipment, social distancing, heat, food and visits from friends and family behind a glass.
Dewalt said he's been incarcerated at the CJC numerous times.
"I know what they're going through. Some of them probably deserve to be in jail, but they are still innocent until proven guilty. But even though you might deserve to be in jail, you still should be subject to humane treatment," he said.
Glass said he expects criminal charges against those who damaged jail property and for the assault on the corrections officer.
Edwards, a former St. Louis circuit judge, also said Monday that he is "very empathetic" to detainees and their families "for the slow disposition of their pending cases." Despite 600 cases disposed of by plea agreement since the start of the pandemic, Edwards said it is "problematic" that there have been no jury trials held in St. Louis since then.
"The responsibility to keep individuals safe is the responsibility of corrections," Edwards said. "We are one part of a very precarious process." He pointed out that the authority to admit and release people to and from jail rests with judges.
The six-story CJC on Tucker Boulevard opened in 2002 and can hold up to 860 inmates. As of Monday, the jail held 704 people while the workhouse held 191.
Photos: Inmates set fire, smash windows at downtown St. Louis jail
Prisoners break windows, set fires at city jail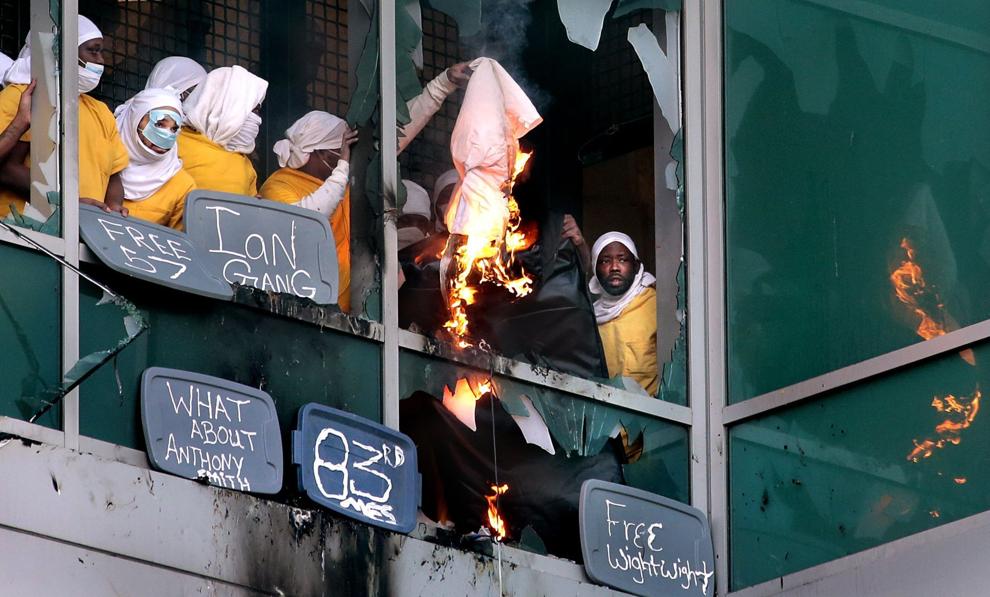 Inmates break windows, set fires at city jail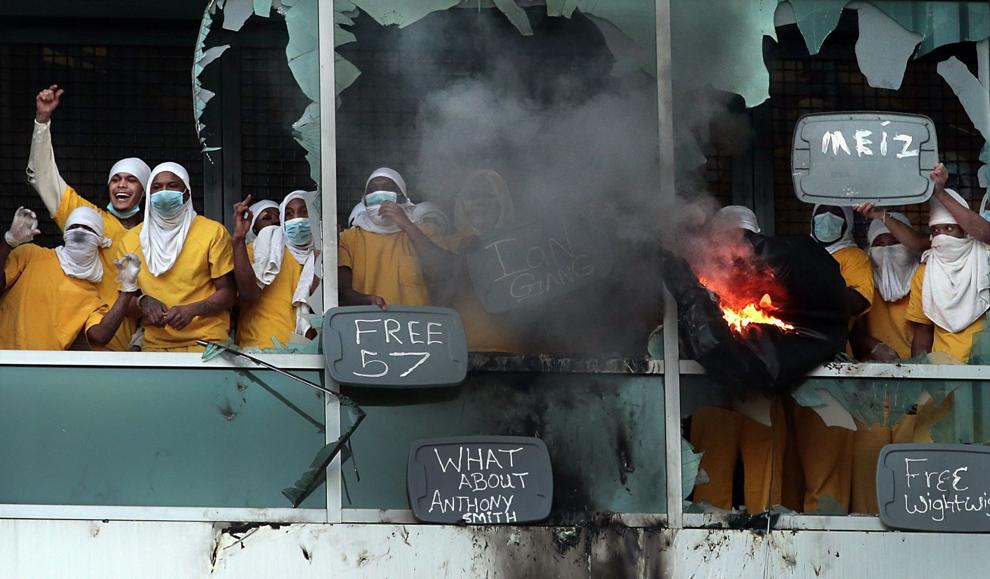 Inmates break windows, set fires at city jail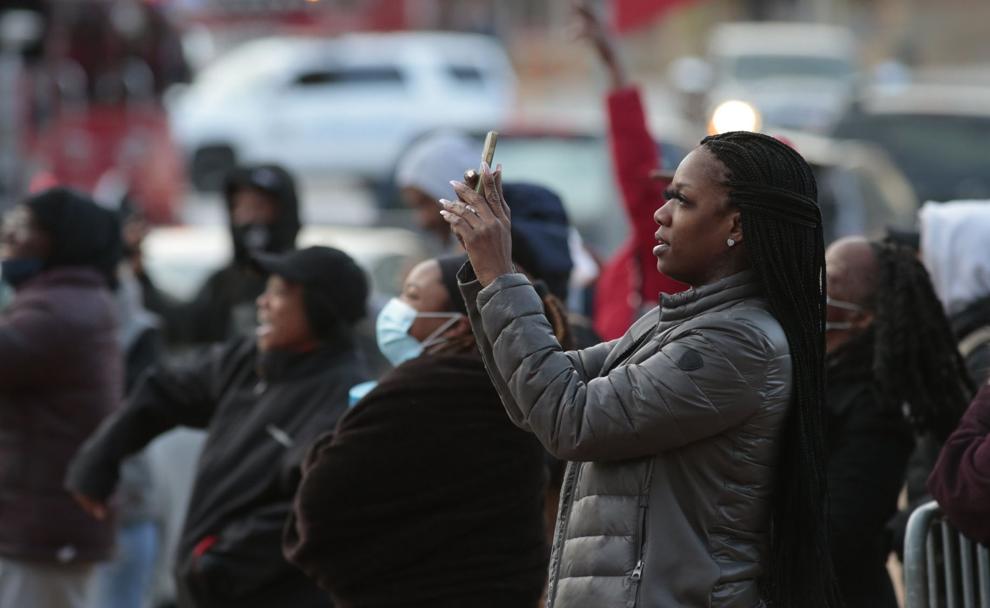 Inmates break windows, set fires at city jail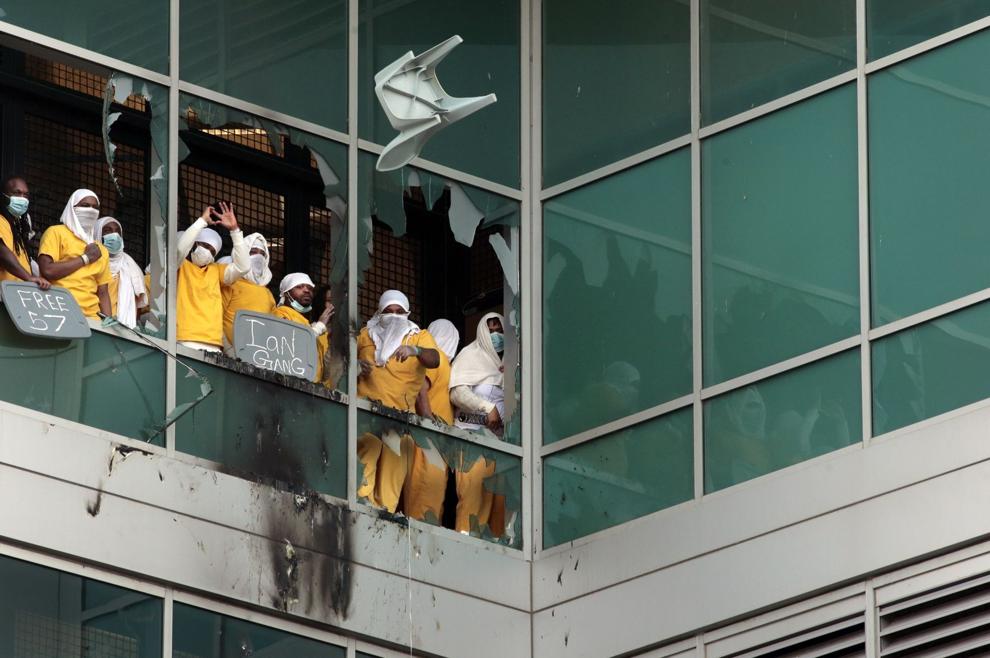 Inmates break windows, set fires at city jail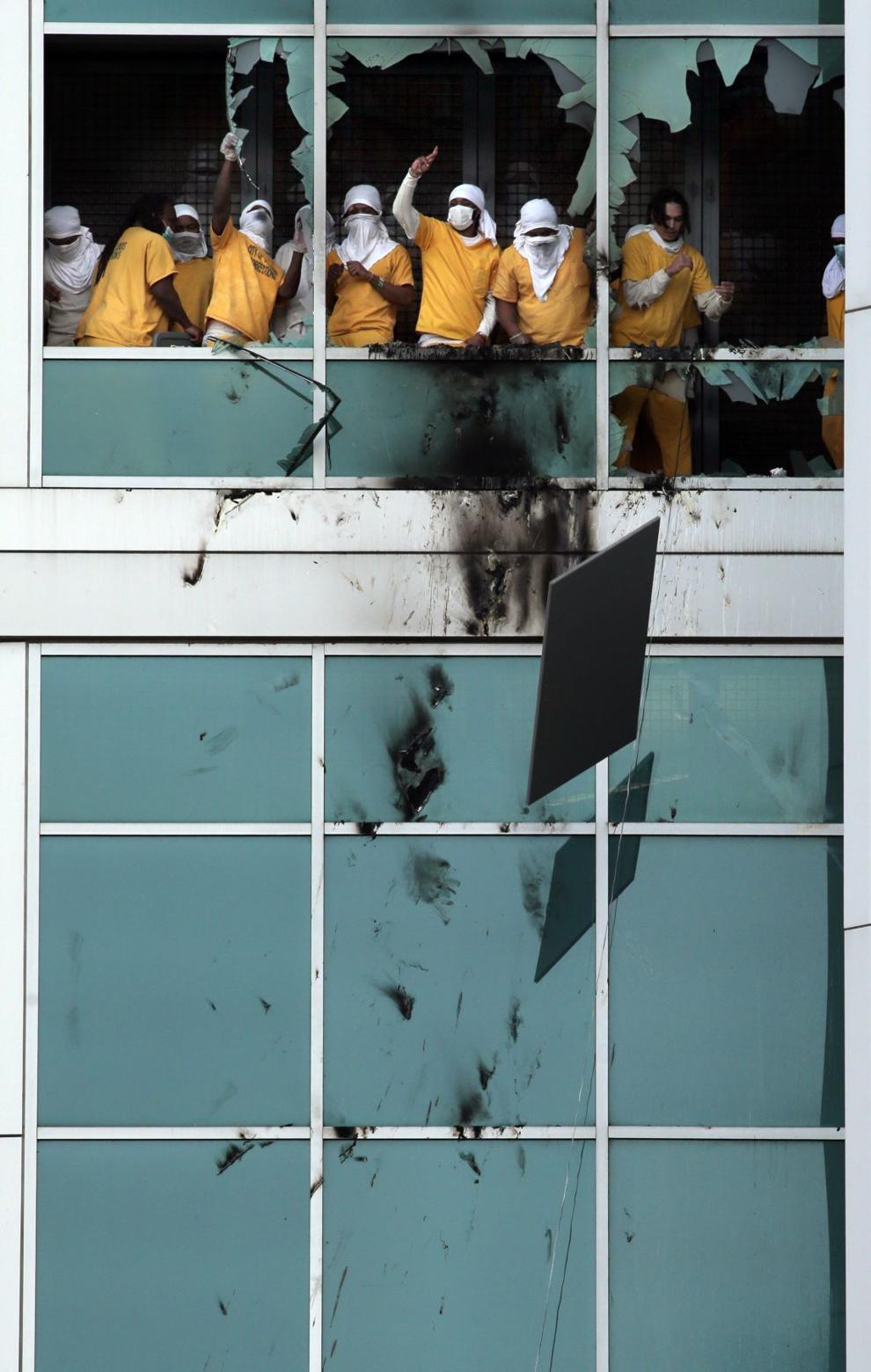 Inmates break windows, set fires at city jail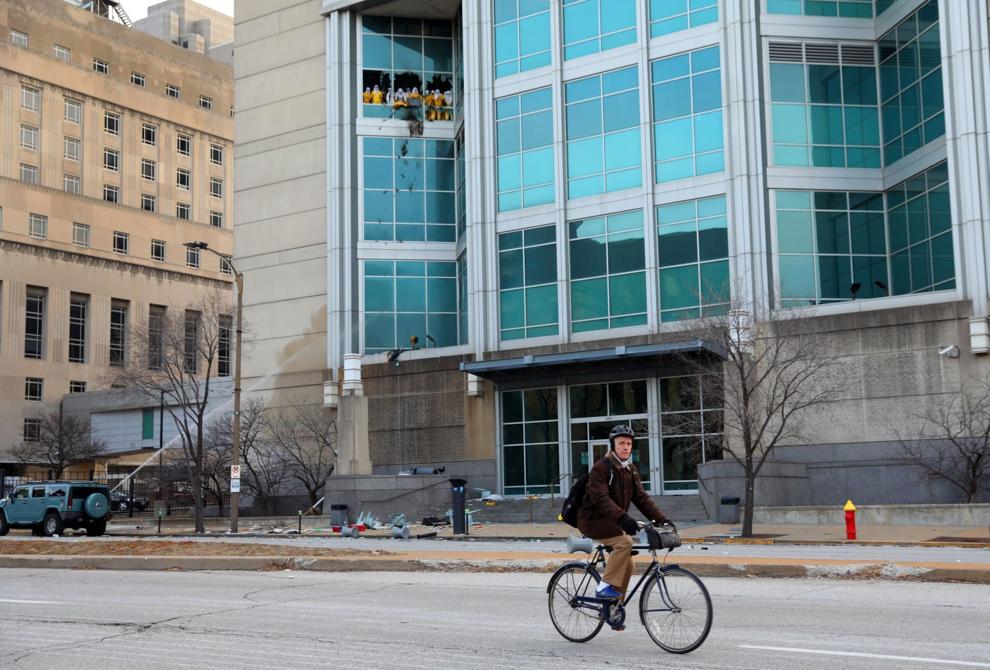 Inmates break windows, set fires at city jail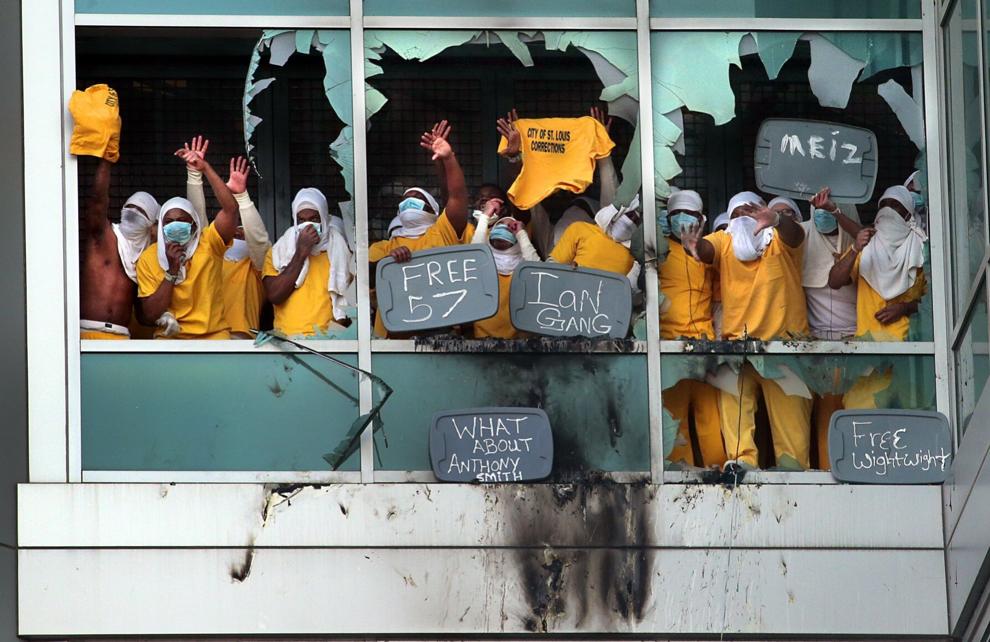 Inmates break windows, set fires at city jail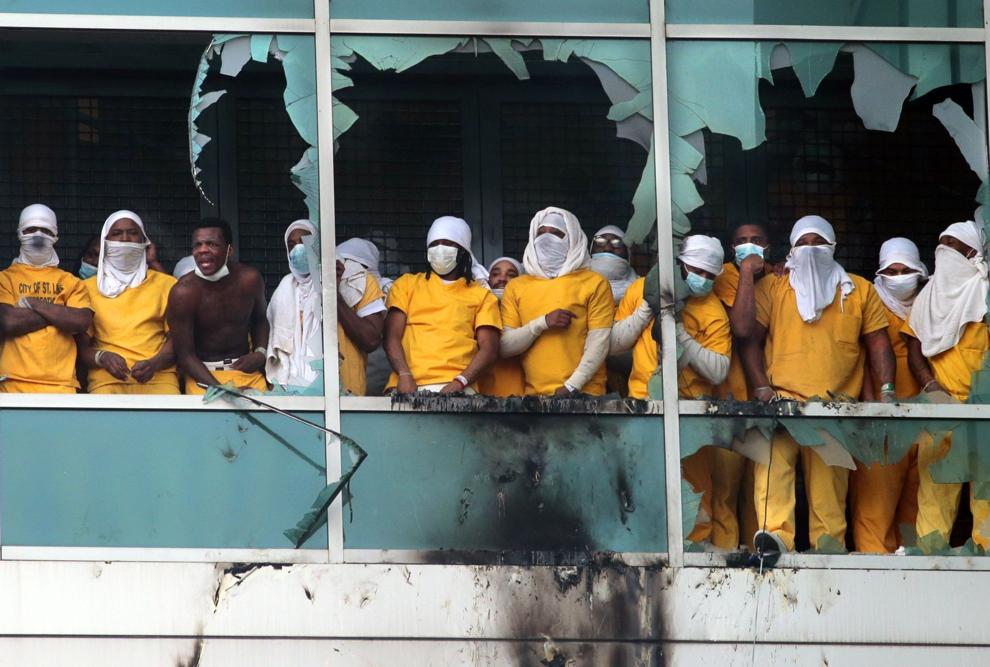 Prisoners break windows, set fires at city jail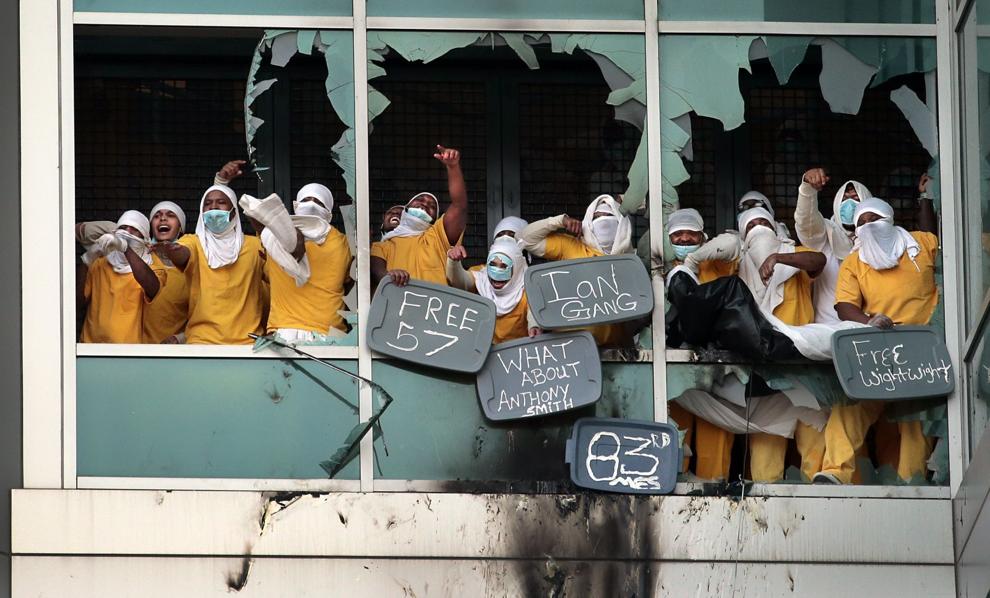 Inmates break windows, set fires at city jail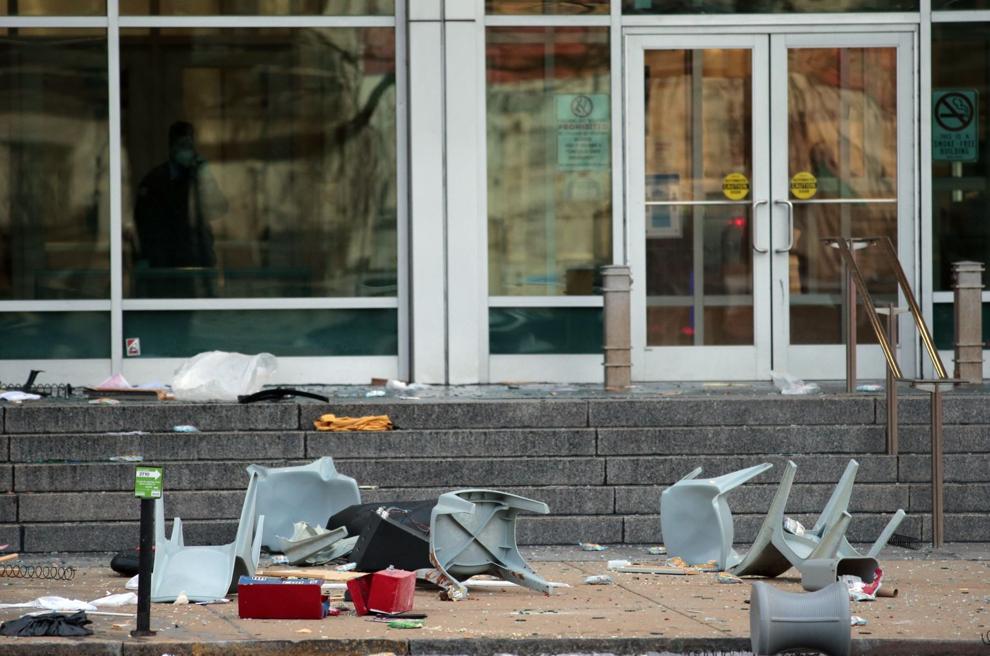 Inmates break windows, set fires at city jail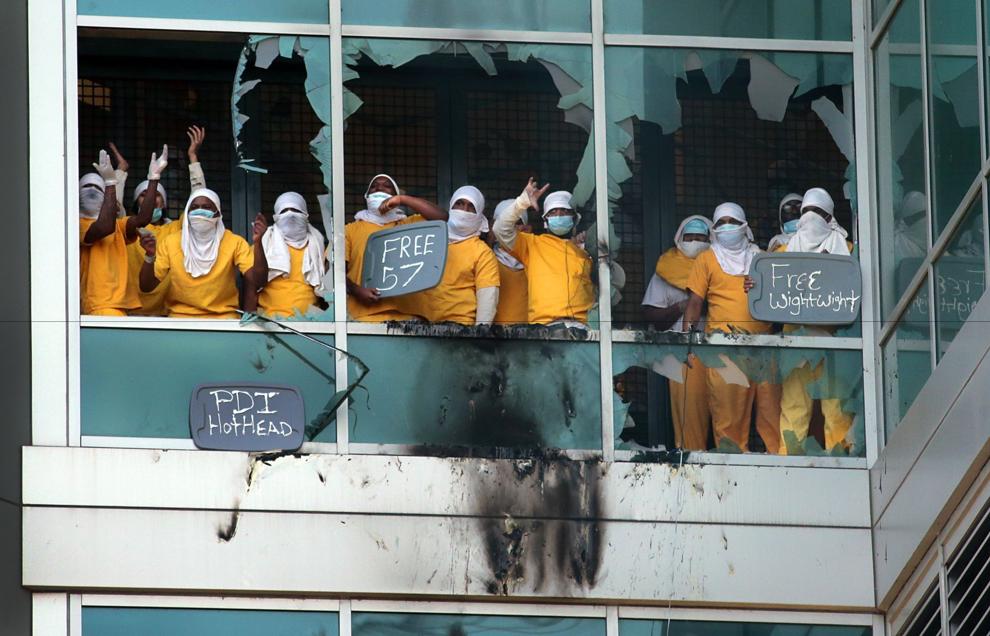 Prisoners break windows, set fires at city jail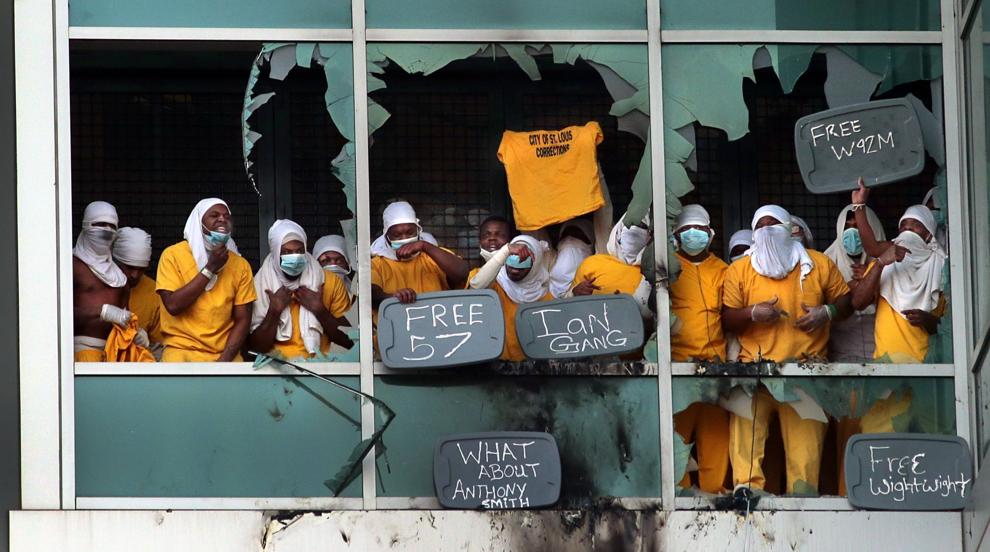 Prisoners break windows, set fires at city jail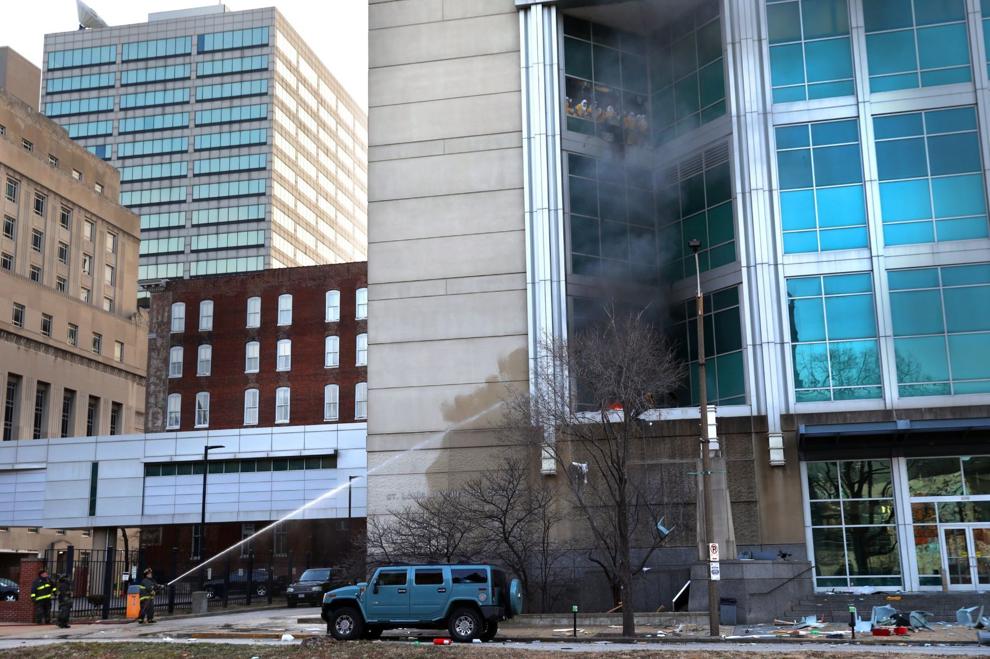 Prisoners break windows, set fires at city jail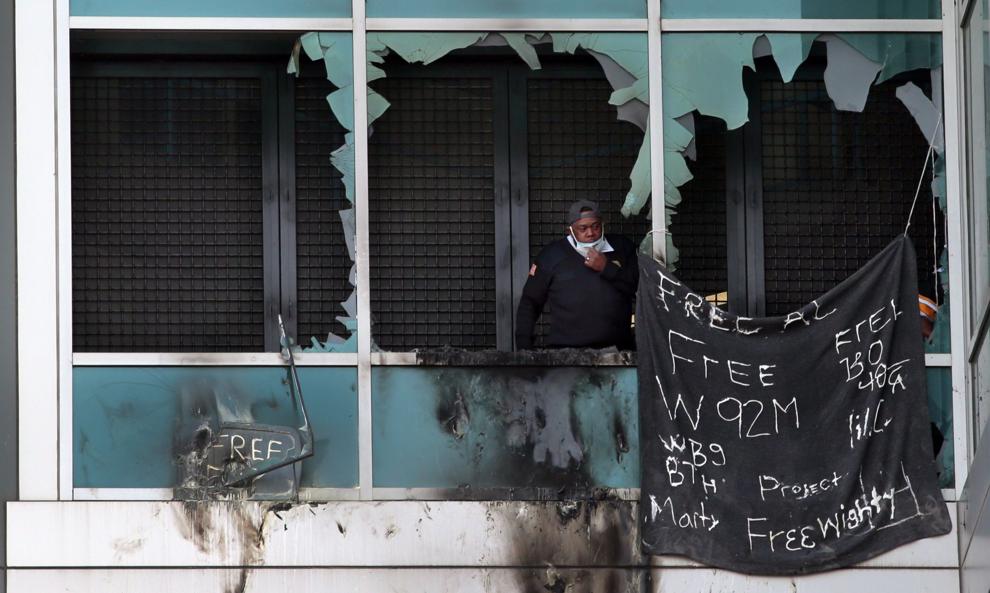 Prisoners break windows, set fires at city jail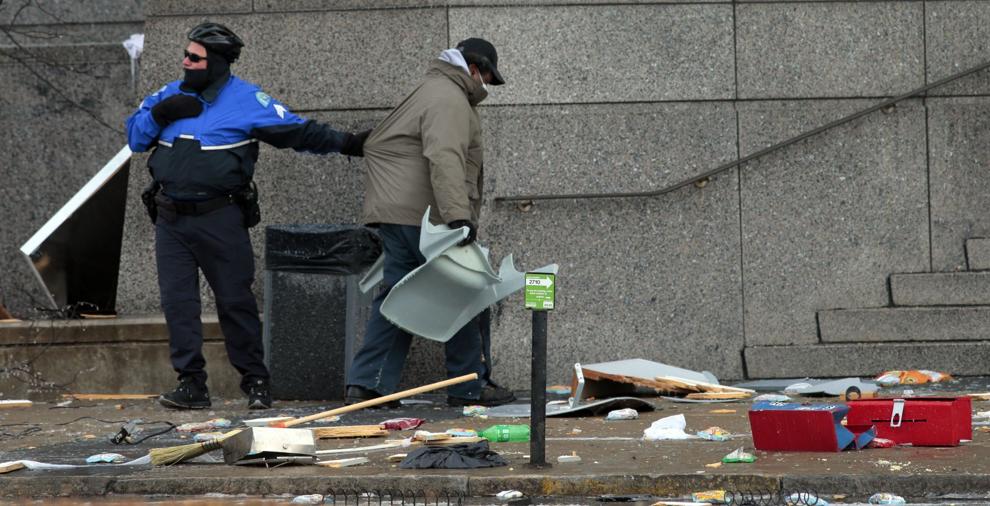 Prisoners break windows, set fires at city jail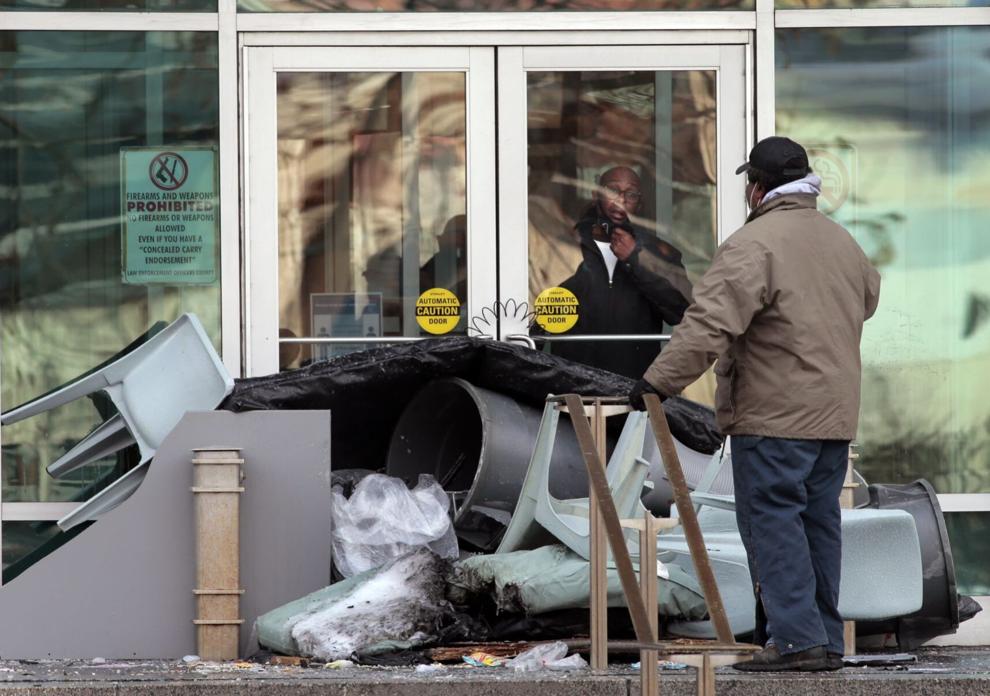 Prisoners break windows, set fires at city jail