ST. LOUIS • A St. Louis man was indicted Thursday on federal charges and accused of killing Laclede Cab driver Boris Iouioukine in June, the U.S. attorney's office said.
A grand jury indicted James Flannel, 37, on one count of carjacking, one count of possession of a firearm in furtherance of a crime of violence resulting in death and one count of being a felon in possession of ammunition.
Iouioukine, 66, of Ballwin, was found unconscious and bleeding on June 25 in the street near East Dodier and North 25th streets in the St. Louis Place neighborhood, near where he'd been summoned by a potential customer, police said at the time.
His cab was missing. It was later found outside a vacant home in the 10000 block of Duke Drive, in the Castle Point neighborhood of north St. Louis County.
Charging documents do not disclose a motive in the crime. They accuse Flannel of possessing a 9 mm handgun on June 25, the day Iouioukine was killed. The documents also say he called an unidentified person to get a ride from Castle Point, where the cab was found abandoned.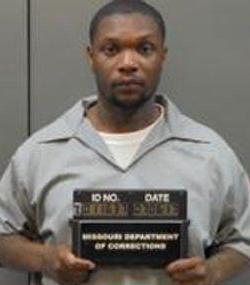 The person Flannel called refused, and Flannel threatened to harm that person, charging documents say. Less than an hour later, multiple gunshots were fired "at and into" the home where that person took the call.
Flannel was originally charged June 27 with the ammunition offense. He was arrested July 14. Thursday's superseding indictment accuses him of the killing of Iouioukine on June 25.
Flannel has been ordered held in jail until trial, in part because prosecutors say he also recently threatened someone with a gun in a convenience store and because of prior convictions for "numerous violent offenses," including an assault conviction in Missouri that resulted in a 10-year prison term. Flannel was released in October.
Iouioukine had driven for Laclede for more than 20 years after emigrating from Russia.
Laclede Cab president Adam McNutt told the Post-Dispatch after the killing that Iouioukine "was one of our hardest-working drivers" and "was a reserved, quiet man."
Friends of the Iouioukine family set up a GoFundMe account to help pay his funeral expenses and to help his children keep the family home.
U.S. Attorney Jeff Jensen praised the quick work of St. Louis and St. Louis County police, the Bureau of Alcohol, Tobacco, Firearms and Explosives and federal and state prosecutors in a news release Thursday announcing the indictment.
"This case is a good example of the cooperative, 'all hands on deck' philosophy our state, local and federal partners have embraced in response to the persistent gun violence in the St. Louis area," Jensen said.