ST. LOUIS — The man who fatally shot a Laclede Cab driver during a 2018 carjacking was sentenced Thursday to life in prison.
James Flannel ordered a cab on June 25, 2018, got in at 8:52 p.m. and shot Boris Iouioukine, 66, with a 9 mm pistol 22 minutes later in the 2500 block of East Dodier Street. Flannel drove away in Iouioukine's minivan, leaving Iouioukine's unconscious and bleeding body in the street.
Police found Iouioukine's cab the next morning in the Castle Point neighborhood of north St. Louis County. They found Flannel's fingerprint on a water bottle inside and the gun about six weeks later in Spanish Lake Park.
Flannel said in Thursday's Zoom sentencing hearing that Iouioukine picked him up that night, even though he couldn't afford the full fare. He denied robbing Iouioukine but said he didn't know what else happened. "I don't know why I killed Mr. Boris. I don't even remember," Flannel said.
It is the first time Flannel has publicly spoken about what happened.
Flannel, directing his comments to Iouioukine's children, said that although he suffered from bipolar disorder and PTSD, "I'm not using my mental health as an excuse."
His lawyer, Michelle Monahan, said Flannel's mental illnesses were exacerbated by drug use.
Iouioukine grew up poor, in a "shack" with a thatched roof and earthen floor, his twin sister recalled in a letter to U.S. District Judge E. Richard Webber. He worked as an interpreter and translator until he moved to the U.S. from Russia in the late 1980s.
His daughter, Anna Iouioukina, said during Thursday's Zoom sentencing hearing that although her father spoke languages including Russian, English, Ukranian and Amharic, "he predominantly communicated through acts of service," to family, friends and strangers.
Anna Iouioukina recalled a co-worker who said Iouioukine drove from shelter to shelter one night, trying to find a place for a homeless person to stay.
After struggling for years with health problems, Iouioukine was finally healthy at the time of his death.
"He had so much healthy time left to share with us," she said.
In an interview after the hearing, Slava Iouioukine said that although his father had a translating business when he first moved to the U.S., he likely became a cab driver because "it was good money for hard work."
Iouioukine, of Ballwin, started working for Laclede in 1994. Laclede President Adam McNutt said in a letter to Webber that Iouioukine was one of the hardest-working employees and "a quiet, kind man who took his profession seriously." He was well-dressed and maintained a spotless cab, McNutt said.
McNutt said many drivers have left the profession since Iouioukine's death, and others now refuse to work at night.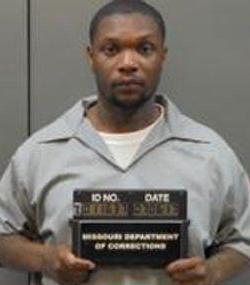 Flannel, then 37, pleaded guilty in August 2019 to one count of discharging a firearm in furtherance of carjacking. His sentencing has been delayed multiple times due to the COVID-19 pandemic and his lawyer's attempts to get more information about the physical and mental abuse he suffered as a child, court records show.
Flannel still faces federal and state charges after being accused of breaking out of the Lincoln County jail in July 2019, carjacking a vehicle and crashing it in St. Louis County after a police chase. His co-defendant in that case, Kurt Wallace, is accused of federal crimes connected to the 2017 murder of a St. Louis man, Ladareace Pool, and the fatal carjacking that killed De Smet Jesuit High School assistant football coach Jaz Granderson.
A GoFundMe account was set up after Iouioukine's death to help with funeral expenses and to help save the family home.