CLAYTON • A St. Louis County jury Monday found a St. Louis man guilty of murdering an Illinois college student by luring him to an abandoned railroad spur in Hazelwood to buy the victim's sports car via Craigslist.
"Nothing but greed and avarice drove him to kill Taylor because he wanted that car," Assistant St. Louis County Prosecutor Patrick Monahan told jurors Monday. "This case drips with deliberation."
Relatives of Clark sobbed and hugged outside the courtroom.
"It's the verdict we wanted, but it's kind of bittersweet," said Clark's mother, Kelly Clark, of St. Jacob. "My kid's not coming back."
Gordon's scheme, Monahan argued, was to replace his repossessed red Nissan 350Z by killing Clark and taking the car Clark was selling, which was the same model. Monahan said Gordon lured Clark to an area behind the MTC Truck Driver training school at 12000 Missouri Bottom Road in Hazelwood where Gordon worked, shot him once in the face with a .40-caliber pistol, dumped his body and tried to cover it up.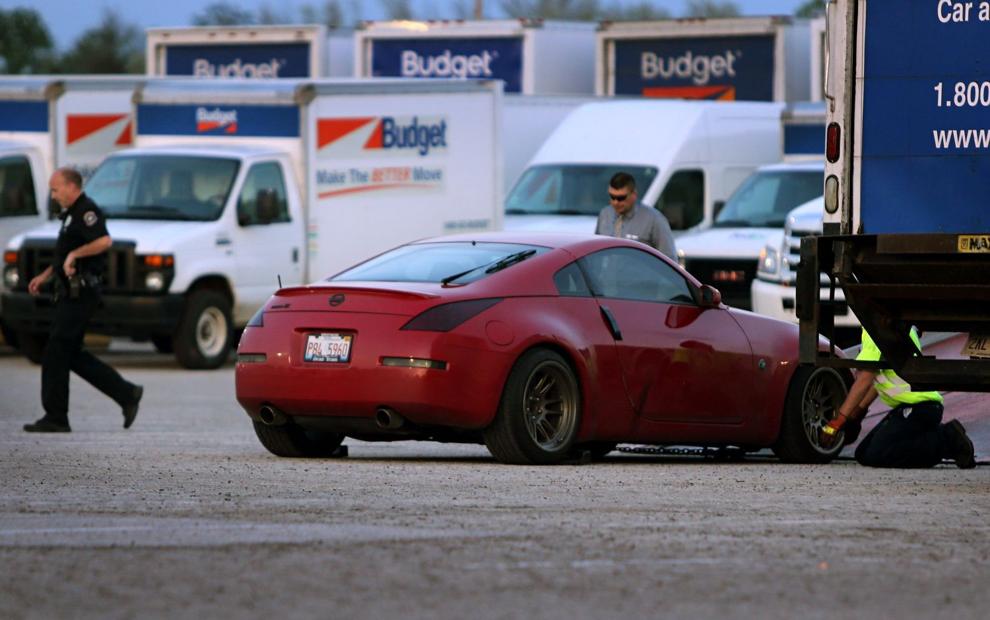 A co-worker of Gordon's testified that he saw Gordon meet a man later identified as Clark in the truck school parking lot during Gordon's lunch break, drive off with him and return in the sports car a few minutes later — alone.
Gordon had hidden his own Nissan 350Z for about five months by the same railroad spur until it was repossessed March 30, 2015, Monahan told jurors. Evidence of Gordon's "harebrained scheme" to kill Clark for his car, Monahan said, included emails Gordon sent to companies days before Clark's death seeking to buy replacement dashboard VIN panels for a Nissan 350Z as well as calls and texts to Clark about the car before and after Clark's death.
Gordon did not testify. Jurors were shown surveillance video of Gordon making two separate trips about an hour apart to a Walmart in Bridgeton on the evening of Clark's disappearance. First, he bought a 50-gallon plastic tote, three bottles of bleach and latex gloves. He came back later for a refund for the tote — in which authorities believe he tried to store Clark's body — and instead bought a shovel. The scene where Clark's body was found was stained by and reeked of bleach, Monahan said.
Police found Walmart receipts of those purchases and the shovel at home in the 6600 block of Minnesota Avenue in St. Louis where Gordon had been living. Gordon had bought a .40-caliber handgun at a Cabela's in March; the gun used to kill Clark was not found.
Gordon's lawyer Matt Vigil told jurors there was no physical evidence tying Gordon to Clark that day, that his only link to Clark was a co-worker who testified seeing Gordon and Clark together in the parking lot. That witness was arrested and compelled to testify last week after he failed to show up to court on a subpoena.
Further, no bleach or blood were found on Gordon's clothes, and it wouldn't make sense for Gordon to leave Clark's blood-streaked Nissan parked in the trucking school lot in plain sight if he had just killed him, Vigil said. He said tests comparing soil samples taken from the shovel and crime scene were inconclusive.
Vigil said the Winchester-brand .40-caliber bullet casing found near Clark's body didn't point to Gordon. The evidence showed only that Gordon bought Smith & Wesson brand ammunition when he purchased the gun at Cabela's in March. Vigil also said police didn't bother to investigate Gordon's claim that Clark had arrived with another man.
The police "were focused so much on Michael that they ignored all the other issues, the things that could have pointed to whoever did this," Vigil said.
The automatic sentence for a first-degree murder conviction is life without parole because the state did not seek the death penalty. Sentencing is set for Dec. 19.