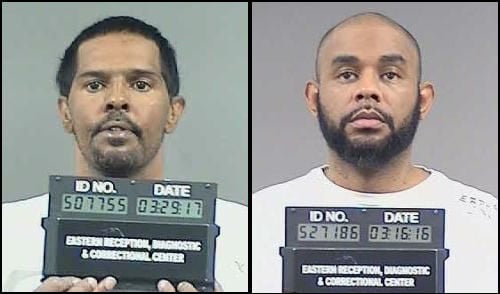 ST. LOUIS — A St. Louis man was sentenced Tuesday to 20 years in prison in the drug-linked shooting death of a Ferguson man in 2014. 
Marquis D. Reasonover, 42, admitted to the killing of Antonio Jones when he pleaded guilty in May to one count of using a firearm to commit murder in furtherance of a drug trafficking crime and one count of conspiracy to distribute cocaine and heroin. 
Reasonover is one of three men indicted last year in U.S. District Court in St. Louis on federal charges in Jones' death. Hairl T. Johnson, 46, and Randell Patton, 47, have also pleaded guilty to the same charges. They are set to be sentenced in October in separate hearings.
Jones, 43, was fatally shot on Nov. 10, 2014, in the basement of a home on Georgia Avenue in Ferguson. Police at the time said that he was shot twice in the abdomen, then placed in the trunk of a Buick that was set on fire in East St. Louis. 
Reasonover came with a .45-caliber pistol and shot Jones in the basement of the home, prosecutors said. They searched Jones and his Buick LeSabre and found the missing heroin in his car.
The men then put Jones' body in the trunk of his car, drove the car to East St. Louis, then set the car on fire with Jones' body still inside. 
Reasonover tried to destroy the evidence of the crime, giving the gun away and bleaching his clothes and shoes before throwing them away, according to prosecutors. Reasonover threw unspent .45-caliber cartridges in a storm drain, where police would later find them. 
As part of his plea deal, Reasonover also admitted bringing cocaine and heroin into the St. Louis area beginning in 2014 and re-selling it. He is currently serving a 10-year state prison sentence for drug, forgery and theft charges, according to court records. 
Patton was given probation in 1989 on a drug charge, online court records show.
Johnson is serving a 15-year sentence for drug and stealing charges.