ST. LOUIS • St. Louis Mayor Lyda Krewson and the city's interim police chief have called for a third-party investigation into the department's handling of protests over the last two weeks.
They have pledged an investigation into complaints, but called on the U.S. attorney to conduct an independent probe.
Police used a technique called kettling to box in dozens of people at a busy downtown intersection and arrest them for failing to disperse.
Protesters have taken to the streets since Sept. 15, when a judge found a former police officer not guilty of first-degree murder in the on-duty shooting death of Anthony Lamar Smith. Smith was killed following a high-speed pursuit after he fled from officers trying to arrest him on suspicion of dealing drugs in 2011.
Some rounded up in the Sept. 17 arrests at Washington Avenue and Tucker Boulevard said they couldn't leave when told to disperse because they were hemmed in by police who wouldn't let them pass. Some claim they were hit or kicked by police, put in painfully tight restraints and pepper-sprayed though they were complying. Among those taken into custody were journalists, an Air Force officer who lives downtown and says he wasn't part of the protest, and an undercover officer who was embedded with protesters and was bloodied during his arrest.
In a statement released by Krewson's office Wednesday, she and Interim Police Chief Lawrence O'Toole say they have pledged "an objective, thorough, and fair investigation of all complaints and lawsuits." But they say a third-party investigation is needed because "it is important that the public have confidence" in the results.
"These are troubling and difficult allegations, and it is important to determine if they are merited and, if so, what policy, training or discipline issues need to be addressed," the statement said.
The American Civil Liberties Union of Missouri applauded the move.
"Based on the evidence we've seen, we believe an outside investigation into police treatment of protesters and those engaged in civil disobedience following the Stockley verdict is a step in the right direction," Tony Rothert, legal director of the group, said in a statement. "In a robust democracy, we must always protect the Constitutional rights of those observing, recording or participating in protest activity."
Defending officers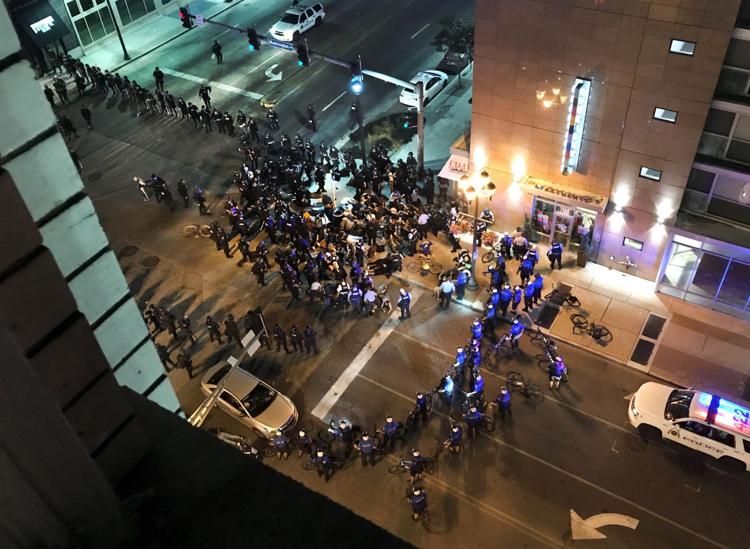 Despite the statement, O'Toole defended his officers' actions overall in an interview on KMOX with Charlie Brennan on Wednesday morning. The department has not made the chief available for interview by the Post-Dispatch.
O'Toole addressed the police technique called kettling, in which police corralled at least 120 people at Washington and Tucker on Sept. 17 and arrested them. He disputed claims by the ACLU and some of those arrested that the tactic did not allow people to leave once they were ordered to disperse.
"There was room to leave and orders were given to leave," O'Toole said. "But all these things are going to come out in the investigation. … I'm confident they were told to disperse and the way we document these things is that we time-stamp things and there is plenty of video that we'll go through and it will be able to show that."
But he said he had told the mayor he was open to a review of the department's conduct by the U.S. Attorney's office.
"We hold officers to high standards of professionalism, and any officer who doesn't meet those standards, they're going to be held accountable for that," O'Toole said.
He said the department also is investigating whether officers chanted "Whose streets? Our streets" after the arrests, co-opting a common protest refrain. Bystanders and journalists at the scene heard the chant.
Later that night, O'Toole and Krewson gave a press conference in which the interim chief announced that police had "owned tonight."
O'Toole said on KMOX that 30 officers have been hurt while responding to protests, including five who required hospital visits for their injuries, mostly after being struck by bricks. An officer sustained a dislocated jaw, another officer suffered an injured shoulder and another had a concussion. One officer had lung issues after being exposed to an unknown chemical and another required stitches after being cut by broken glass.
O'Toole noted that officers have been blocking streets to allow protesters to safely demonstrate.
"But once it turns to violent destruction of property, officers being assaulted, then we're going to take a different stance and I think the facts are going to show that's what we've done," he said.
The statement released Wednesday by the mayor's office ends with the mayor saying she thanks and respects officers for their service.
"The men and women of the St. Louis Police Department have repeatedly demonstrated their commitment to the safety of our city and citizens," the statement said. "They have worked thousands of extra hours in high tension situations to ensure that demonstrators can march safely in our streets and to protect people and property from those who intend destruction and harm."
The mayor's statement said citizens can lodge any complaints with Internal Affairs or with the city's Civilian Oversight Board.
Protesters have also called for an outside probe into arrests made by officers during a demonstration at the St. Louis Galleria in Richmond Heights on Saturday. Critics called it a "police riot" and said officers overreacted. St. Louis County Police Chief Jon Belmar said the use of force at the Galleria would be reviewed but said his department "used an incredible amount of discretion" during protests.
Christine Byers of the Post-Dispatch contributed to this report.