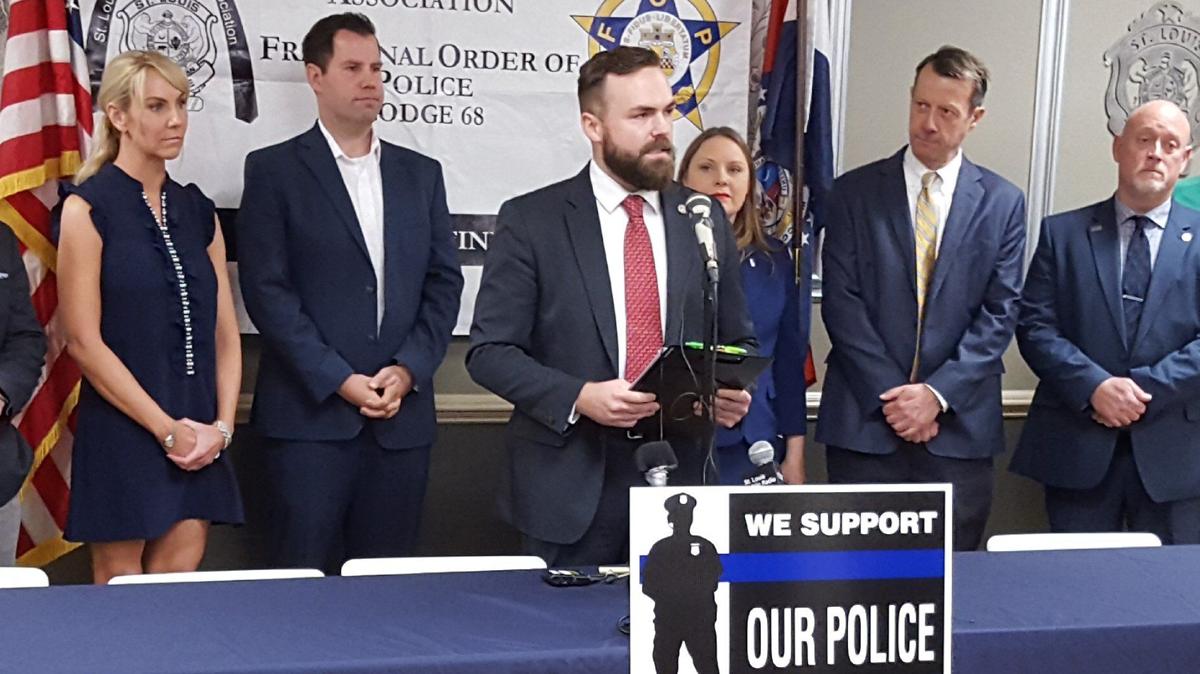 ST. LOUIS — Mayor Tishaura O. Jones on Wednesday said a special session sought by some Missouri legislators aimed at blocking police budget cuts here would be "government overreach and a waste of taxpayer dollars."
Jones, in a statement issued shortly before a news conference led by state Rep. Nick Schroer of St. Charles County to promote the idea, alleged that Schroer "is chasing clout while I'm chasing solutions" to the root causes of crime.
Schroer, joined by four other Republican state representatives, said the Legislature should consider legislation to keep St. Louis and Kansas City from carrying out plans to reduce money spent on law enforcement amid soaring homicide rates.
"While violent crime is increasing on our streets, it is absolutely insane to think about cutting funding for police," Schroer said.
Schroer also cited the widely circulated images on social media of an incident May 23 downtown in which some people leaving a party surrounded a police car and danced and jumped on top of it.
"Who can forget the disgusting video?" he asked. "Those individuals clearly did not have any respect for police, most likely because our city government has routinely disrespected our law enforcement officers at every opportunity."
Jones, a Democrat, also has condemned the incident.
The lawmakers, who spoke at the St. Louis Police Officers Association hall on Hampton Avenue, didn't advocate any specific legislation. Instead, they said Gov. Mike Parson should include a general request for public safety measures in calling a special session. Lawmakers already have made at least five different requests for special sessions.
Schroer said one idea to consider would be barring local governments with certain rates of homicides from reducing their operating budgets for law enforcement.
Later Wednesday, Jones in a joint statement with Kansas City Mayor Quinton Lucas accused the lawmakers of "grandstanding" and advocating taking away the rights of residents of the two cities to make decisions for their own communities.
At issue in St. Louis is Jones' proposal, pending before the Board of Aldermen, to remove $4 million from the proposed police budget that had been earmarked for 98 long-vacant officer positions that the department has tried unsuccessfully for years to fill. In past years, some of the money has been used for police overtime pay.
Under Jones' plan, the money instead would be allocated to affordable housing, homeless services, a crime victims' support program and civil rights litigators.
In Kansas City, some GOP lawmakers have criticized a move by city leaders to shift $44 million to new crime strategies such as community engagement, prevention and mental health services.
Griesheimer said the city's crime problem hurts efforts to bring new businesses to the metro area. Walsh said the way to prevent violent crime "is not through more social programs but through good guys trained well to be able to go out there and face evil."
Also taking part was Wildwood Mayor Jim Bowlin, who said many of his constituents work in St. Louis or have family and friends in the city and are worried about crime there.
Jeff Roorda, the police officers association's business manager, said the organization supports the lawmakers' effort but wasn't pushing for any specific bill.
Jones, in her statement, said she is extending an open invitation to Schroer and his colleagues to visit north St. Louis "and see firsthand why my administration is investing directly into neighborhoods to address the root causes of crime."