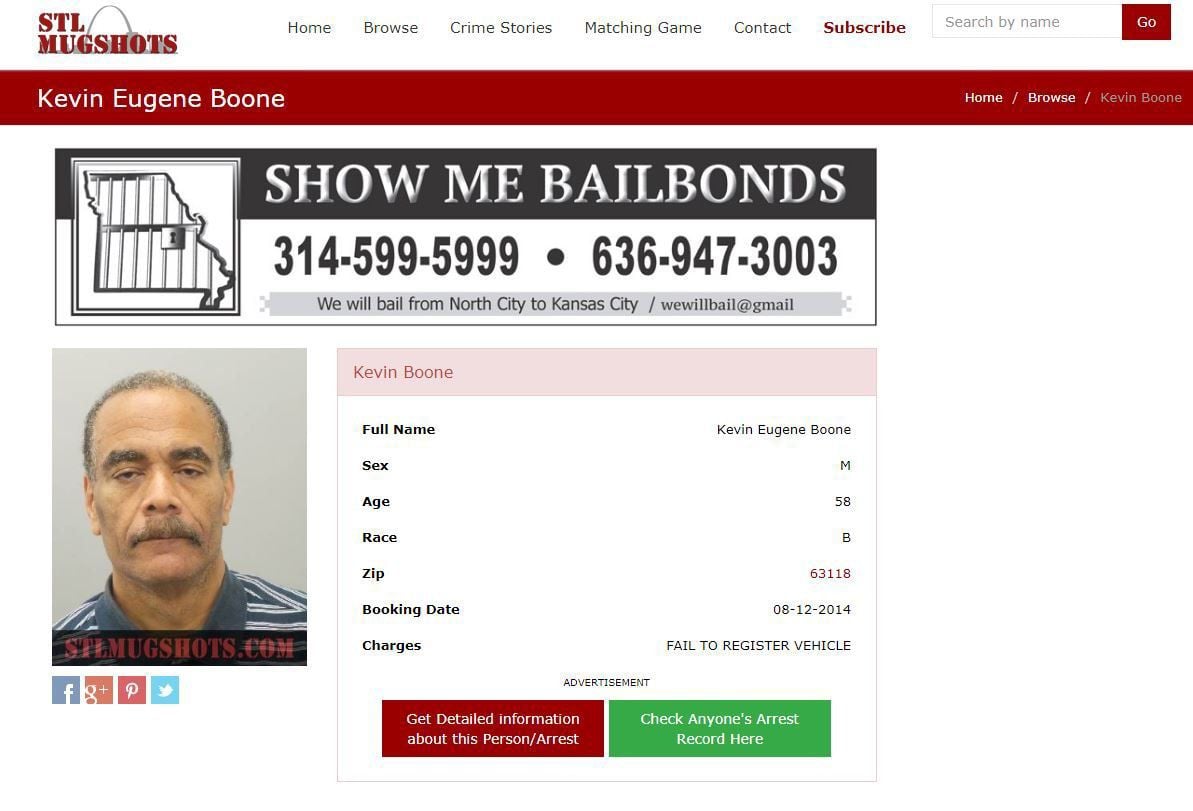 ST. LOUIS • The man who runs a website that has posted arrest photos of St. Louisans for years is accused of breaking the law by seeking payment to take those pictures offline, according to two lawsuits filed Monday.
Kevin E. Boone, 62, and Jardena M. Green, 27, filed separate lawsuits Monday in St. Louis Circuit Court against Edmund Ben Tauk, claiming he owns and runs STLmugshots.com and an associated Facebook page. The suits claim Tauk is violating a state law that prohibits anyone from profiting off people's criminal histories.
"He's dragged so many people through the mud," Boone and Green's lawyer Justin Meehan said. "I want to shut down his entire shakedown operation and stamp it out of existence. He's basically kidnapping people's reputations and besmirching them for the rest of their lives."
Boone and Green were arrested several years ago for allegedly failing to register their vehicles, but their photos remained on the site, their lawsuits say. When Boone and Green contacted STLmugshots.com to request their arrest photos be removed, they were told they would have to pay to have them taken down, the suits say.
Boone, a teacher in the St. Louis school district and former Post-Dispatch sports writer, learned that his mug shot was online from his students and colleagues, his lawsuit says. Green, a tai chi teacher, found out from relatives, friends and students.
The suits claim Tauk is breaking a Missouri law that took effect in 2014 making it a misdemeanor to publish police booking photos online and also seek money to take down those images. The law, which applies to someone's name, address or charges combined with a solicitation to remove the information, says people who suffer "humiliation or embarrassment" by such websites may sue for damages.
One problem is that even pictures that have been removed tend to linger in web search results, Meehan said.
Tauk could not be reached for comment Monday but he told KTVI (Channel 2) in a recent story reporting complaints about the website that he "100 percent" does not own the website. Tauk is the owner of Behind the Bars, a newspaper sold primarily at gas stations and convenience stores that publishes galleries of arrest photos similar to those found on STLmugshots.com. Tauk told the television station that he obtains the photos from the St. Louis city and county jails through public records requests.
Police booking photos are public records for 30 days after someone is arrested but become closed if no charges are filed, according to the Missouri Sunshine Law.
Boone and Green's lawsuits claim Tauk obtained the pictures from the Regional Justice Information Service , a partnership supported by criminal justice and other government agencies in Illinois, Kansas and Missouri since the 1970s for information technology and storage.
Dan Isom, executive director of the partnership and former St. Louis police chief, could not be reached Monday. A spokesperson for the partnership told KTVI it had been selling photos to Tauk and another mugshot website owner from Texas.
Tauk's newspaper is facing a lawsuit in Franklin County by Missourian Publishing Company accusing Tauk of failing to pay more than $16,500 for printing the paper.
Boone and Green's lawsuits each seek more than $25,000 in damages.