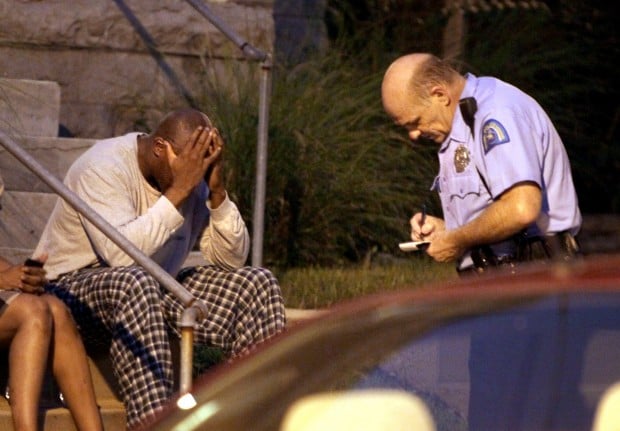 ST. LOUIS • Two neighborhoods were trying to comprehend Wednesday how youngsters in their communities became the city's latest gunshot victims.
Both incidents, while different in nature, involved youths and guns. They were within two hours of each other.
Police believe Lilianna Moore, 3, found a gun between two mattresses at her home and fatally shot herself in the head. Police said she was unattended but others were in the apartment at a six-unit building in the 3800 block of Flad Avenue.
Markeyki Carter, 11, was playing basketball with other boys his age when he was shot in the neck. Police are looking for a male, believed to be 15 to 18 years old. Markeyki lives with his aunt at the O'Fallon Place Apartments in the 1700 block of Preservation Place, where the shooting occurred. On Wednesday he was in serious condition, but alert, responding to commands and wiggling his fingers and toes.
Police are investigating both shootings.
While some neighbors were trying to derive meaning from the gun violence, others were shaking their heads at the senselessness of it.
Lilianna's neighbors recalled watching a paramedic run from the apartment carrying her limp body to an ambulance.
"It's more sad than anything," said Ali Lee, 24. "Sad that you can have a 3-year-old running around with a loaded gun."
Meanwhile, in East St. Louis, a 13-year-old girl was being treated for what authorities called an accidental self-inflicted gunshot wound to her side, which also occurred between 7 and 9 p.m. Tuesday. The girl is expected to survive.
As in the St. Louis incidents, no charges have been filed. It was unclear whether any were being pursued in the cases involving the self-inflicted wounds.
O'Fallon Place residents blamed an ongoing turf war between teens there and at the neighboring Murphy Place apartments, both owned by McCormack Baron Salazar, for the shooting of Markeyki.
Theresa Jones, who lives next to the basketball courts, said shootings occur almost every other month. Teenagers ride around on their bikes with guns, she said.
"They are shooting people just to be shooting people," she said.
A 13-year-old who was playing with Markeyki when shots were fired said they were trapped by the fences surrounding the courts. Dozens of youths milled about, and a 2-year-old's birthday party had just wrapped up.
"It could have been any one of those boys," Jones said, adding that Markeyki "is just a baby."
Shelly Sykes, Markeyki's aunt, said he and his two siblings came from Jefferson City to live with her after their mother died of cancer four years ago.
She said Markeyki had a gun held to his head in an apparent robbery attempt in May as he was walking to a gas station on Florissant Avenue. In March, she said, a young boy was shot behind her house as he got off the school bus.
She fought back tears, talking about how Markeyki's siblings, 14 and 13, witnessed his shooting.
"How much are you supposed to take?" she asked.