ST. LOUIS • After roll call, an assault report. Then a call for a burglary alarm.
Those were the first stops for St. Louis police Officers Nathaniel Hendren and his partner, Patrick Riordan, as they began their overnight shift on Jan. 24. At least on paper.
But Riordan said later that they never went to the alarm call at a business, according to sources familiar with his statements. Instead, they called another police officer by cellphone to check on the alarm while they hung out with off-duty Officer Katlyn Alix at Hendren's house, about a 6-mile drive from the business, the sources said.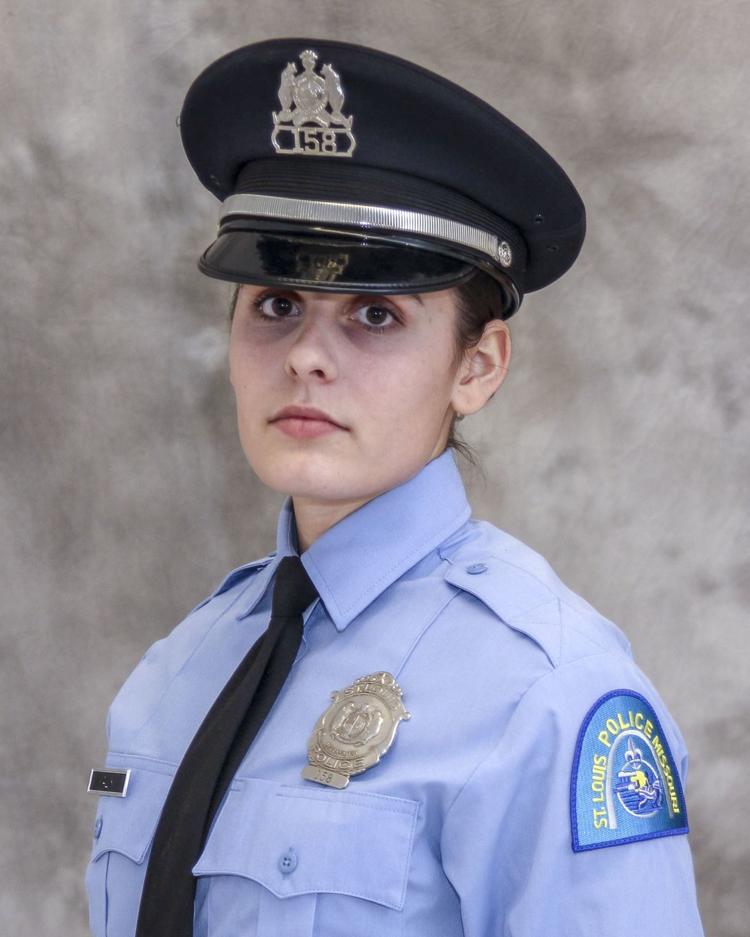 Hendren and Riordan are accused of drinking at the home while on duty, according to a police document obtained by the Post-Dispatch. And shortly before 1 a.m., Hendren killed Alix, 24, in a Russian roulette-like shooting, according to court documents.
Lawyers for the officers declined to comment for this story, as did the police department, citing an ongoing investigation. The department would not confirm whether an Internal Affairs investigation into the officers' actions that night would look into whether they responded to the burglar alarm, and whether other officers covered for Hendren and Riordan that night.
It's difficult to verify exactly where Hendren and Riordan were and when they were there. They attended roll call at 2nd District headquarters on Sublette Avenue at 10:50 p.m. on Jan. 23. Within minutes, at 10:58 p.m., the two officers were assigned to investigate a reported assault at an assisted living facility near Lindenwood Park.
By 11:33 p.m., records show, the officers concluded the call. The department said the call was categorized as unfounded, and no report was written. Workers at the facility declined to speak to a reporter about the call, and whether they remembered the officers who responded.
Then, at 11:48 p.m., a burglar alarm started ringing at a dialysis center on Manchester Avenue, according to police records of the officers' assignments. That's the call Riordan said he and Hendren never answered, sources say.
Instead, at some point, the officers went to Hendren's house on Dover Place. Riordan said other officers checked out the burglary alarm at the dialysis center and called to say nothing appeared awry, the sources said.
Riordan or Hendren then reported that to dispatch as if they had gone to the scene. Police records list Hendren and Riordan as handling the call. The department refused to release audio recordings of the calls to dispatch, citing the ongoing investigation into the shooting.
A manager at the dialysis center in the St. Louis Marketplace confirmed there had been a burglary alarm that night — she received a bill for $100 from the city for responding to what turned out to be a false alarm. But she wasn't called to the business that night, so she did not know which officers showed up.
The dialysis center call concluded at 12:14 a.m., according to the department's records. At 12:56 a.m., 42 minutes later, Hendren and Riordan were rushing Alix to the hospital with a gunshot wound to her chest. By 1:07 a.m., she was pronounced dead.
Court documents allege that Hendren killed Alix as they took turns pointing a revolver loaded with one bullet at each other and squeezing the trigger while at his home on Dover Place.
According to the statement of probable cause, Hendren took all the bullets out of a revolver, then put one back in. He spun the cylinder, pointed it away and pulled the trigger. The gun did not fire, court records say. Alix then took the gun, pointed it at Hendren and pulled the trigger. Hendren took the gun again and pulled the trigger.
This time it fired, striking Alix in the chest, records say. Hendren's attorney, Talmage Newton IV, has called Alix's death a "tragic accident" and said his client never intended to kill her.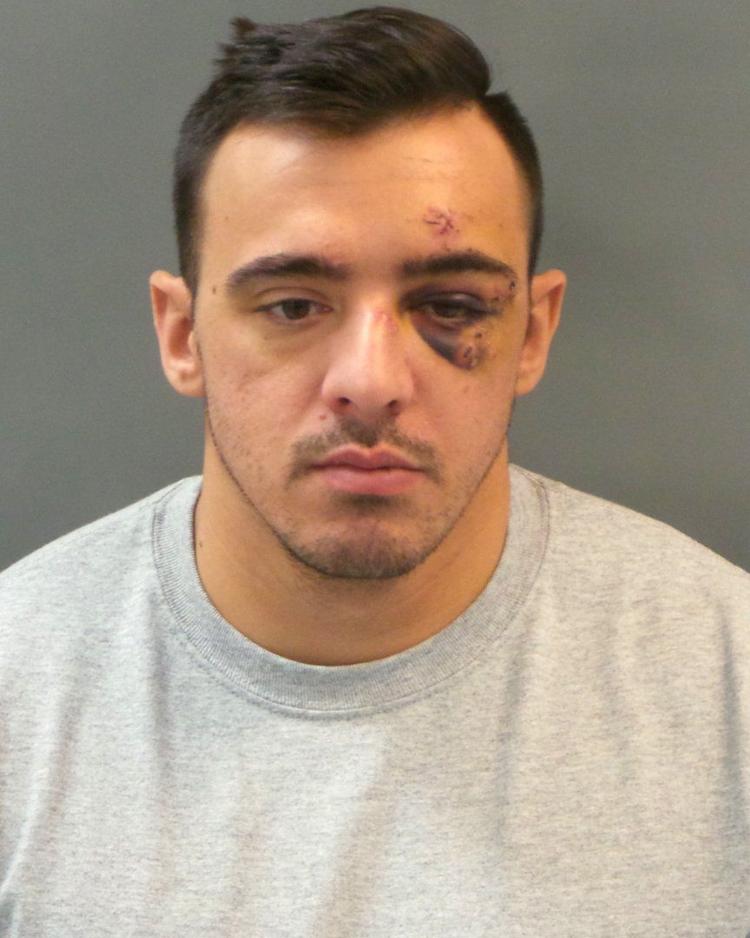 Riordan has not been charged, but is on administrative duty pending the outcome of an Internal Affairs investigation, sources say.
A police department disciplinary document obtained by the Post-Dispatch alleges the gathering at Hendren's house included drinking while on duty.
Lt. William Brown alleged in the document that Hendren "recklessly discharged a firearm resulting in the death of another officer," and that Hendren and Riordan "consumed alcoholic beverages while on-duty."
Hendren's attorney said he didn't know the results of Hendren's breath and urine tests because the police department and Circuit Attorney Kimberly M. Gardner's office had not shared the results with him.
Riordan's lawyer, James Towey, has said that his client "blew all zeroes" when he was given a breath test after the shooting.
Riordan told investigators that he had taken "a few sips of a beer" while at Hendren's house, Towey said.
Hayden called her assertions "unwarranted" and "absolutely irresponsible," and Public Safety Director Jimmie Edwards said urine and breath test results would be made public. He has not said when those results will be released.
Toxicology results are pending on Alix.
She had no disciplinary record. Other than the drinking allegation from the night of the shooting, Hendren and Riordan have little else in their disciplinary files, according to records provided by the police department.
The only complaint about either came from a motorist who alleged Riordan was among several officers who were unprofessional while responding to a car accident in February 2018. It's unclear whether the complaint was substantiated, or whether he had faced any discipline because of it.
One St. Louis resident remembers Hendren. She told the Post-Dispatch he was the officer sent to her home after a man burglarized it last May. She ran after the burglar while on the phone with a dispatcher, hoping officers would soon arrive to nab the man. But she said it took an hour and a half for Hendren to show up. The woman did not want her name used, saying she feared police could retaliate against her for speaking negatively about Hendren.
"The first thing he said to me was, 'Hey, sorry, I was late to work tonight, so that made me late to your call,'" she said.
She recognized Hendren's name when he was charged last month, and found a photo she'd taken of his name and the burglary report number, written down for her by Hendren.
Tracking officers
Hayden said at a news conference a week after the shooting that he had instructed supervisors to check on the whereabouts of city officers hourly by calling them on their radios.
But that would not appear to stop officers from lying about their location. Police spokeswoman Michelle Woodling said supervisors and dispatchers can check the locations of officers using satellite GPS technology built into laptops in their cars.
Hayden said after the shooting that the department had not determined whether the laptop in the police SUV Hendren and Riordan were using was equipped with GPS. Woodling has declined to answers questions about their laptop's GPS capability, saying it is "part of the investigation."
Several of Hendren's neighbors said they had not seen the police SUV parked outside Hendren's home before the night of the shooting.
One neighbor, Tom Stockman, 57, said he had moved in two doors down in November — about the same time as Hendren. Having a cop living among them made most of the neighbors feel safer, he said. He and Hendren had made small talk a few times, Stockman said, and he had helped the officer dig his Ford Mustang out of the snow once. Stockman had met Alix while walking his dog just a few days before the shooting, he said. She introduced herself as "Kate."
Early on Jan. 24, Stockman was watching a movie when he heard a gunshot, then heard someone shout "Help me!"
He rushed to his window and saw Hendren and another uniformed officer dragging a woman toward their police SUV. They were pulling her so forcefully that her hoodie came off. They left it in the street, loaded her in their SUV and sped away, Stockman said.
About two minutes later, Stockman said, police swarmed the block. He said he could tell Hendren was one of the officers dragging the woman, but assumed Hendren had responded to an issue at another house. He didn't realize the woman was the woman he knew only as Kate until he saw news coverage the next day.
Officer Katlyn Alix

Officer Katlyn Alix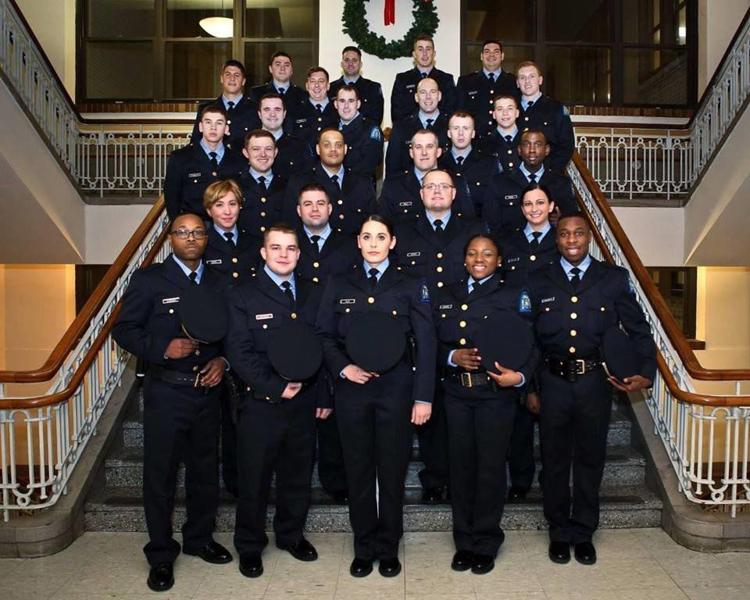 St. Louis Police officer shot, killed by another officer
Hanging Bunting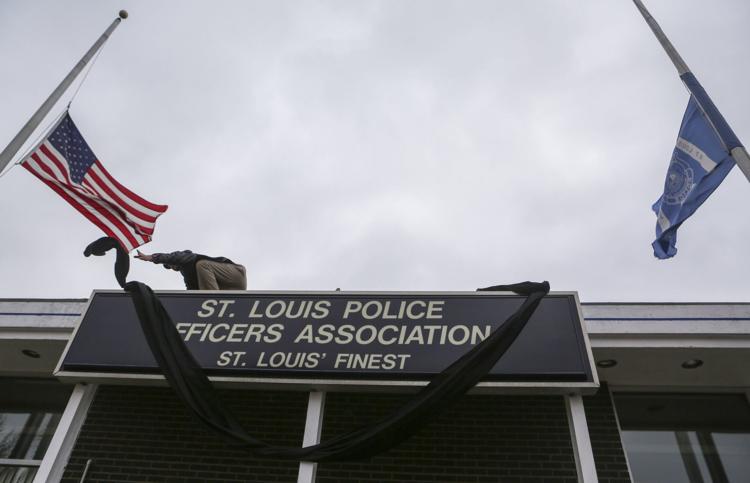 Funeral for St. Louis Police Officer Katlyn Alix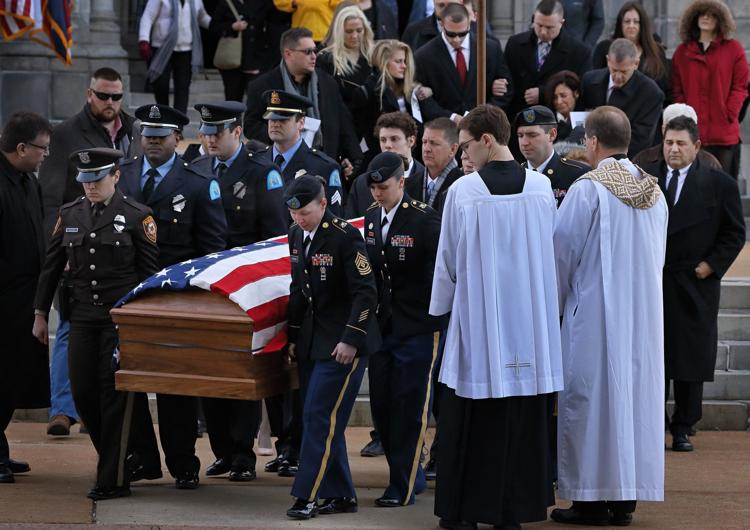 Funeral for St. Louis Police Officer Katlyn Alix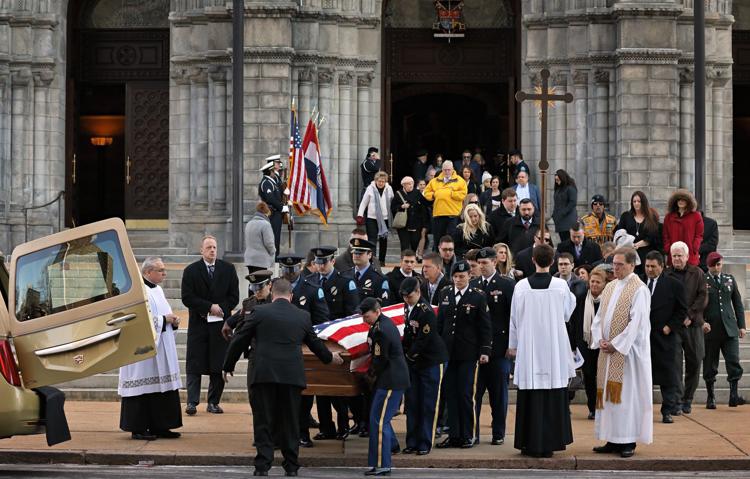 Funeral for St. Louis Police Officer Katlyn Alix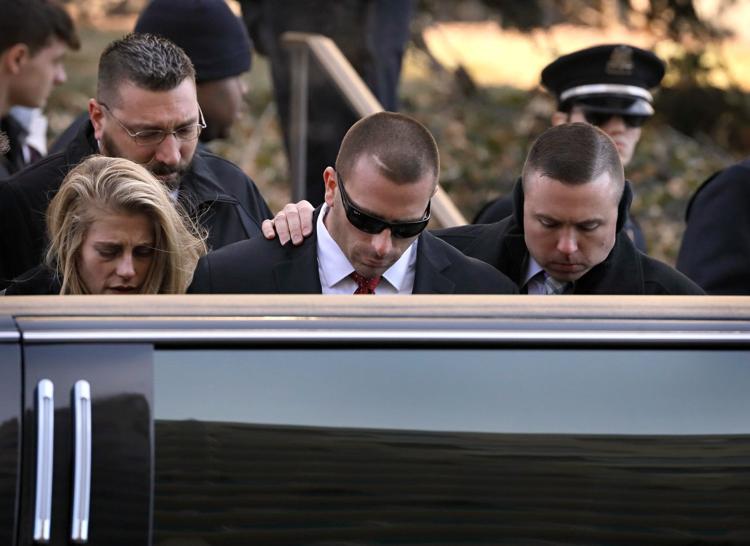 Funeral for St. Louis Police Officer Katlyn Alix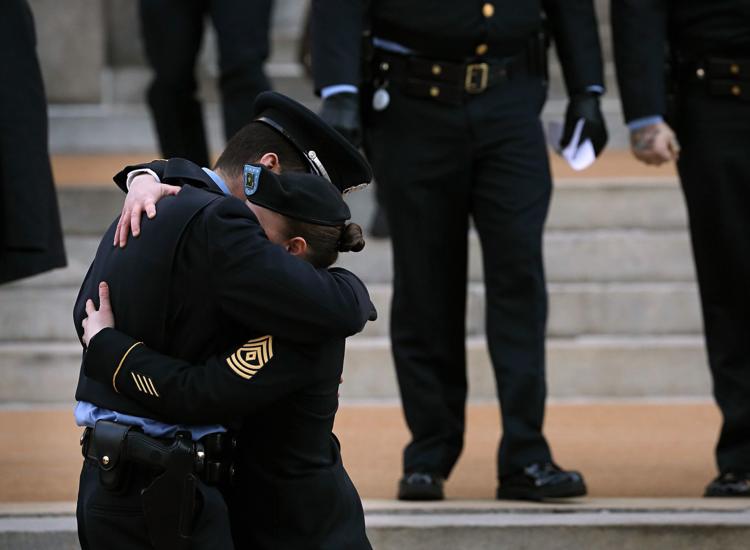 Funeral for St. Louis Police Officer Katlyn Alix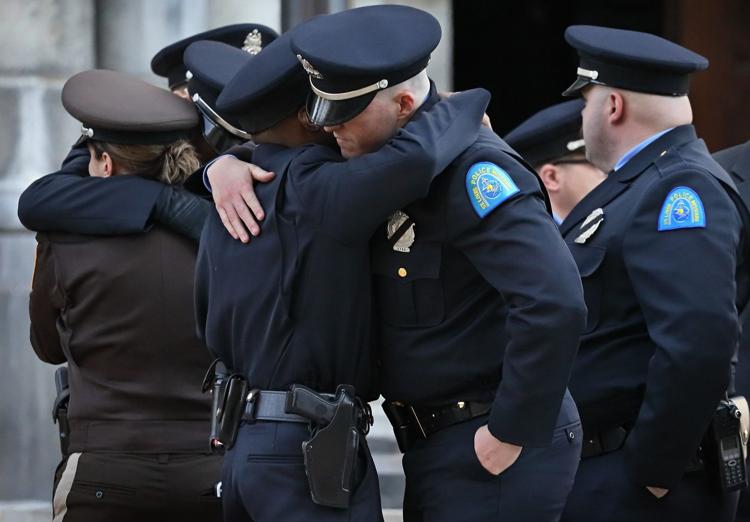 St. Louis Police Chief John Hayden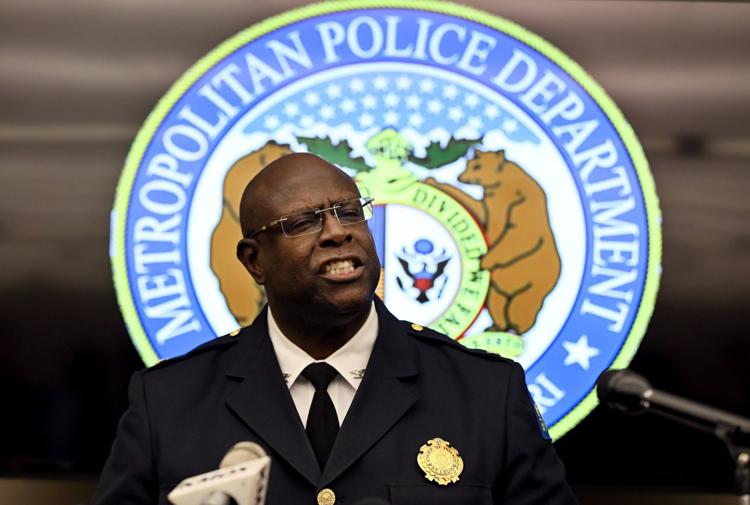 St. Louis Police Chief John Hayden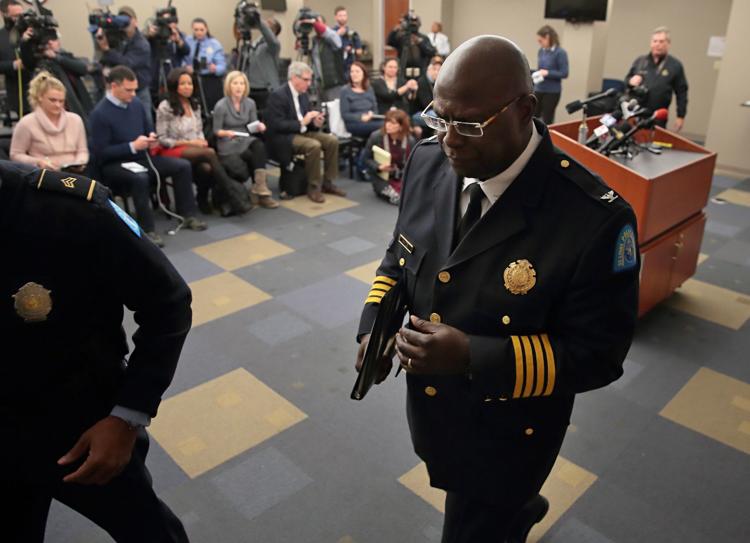 Nathaniel Hendren Makes Bail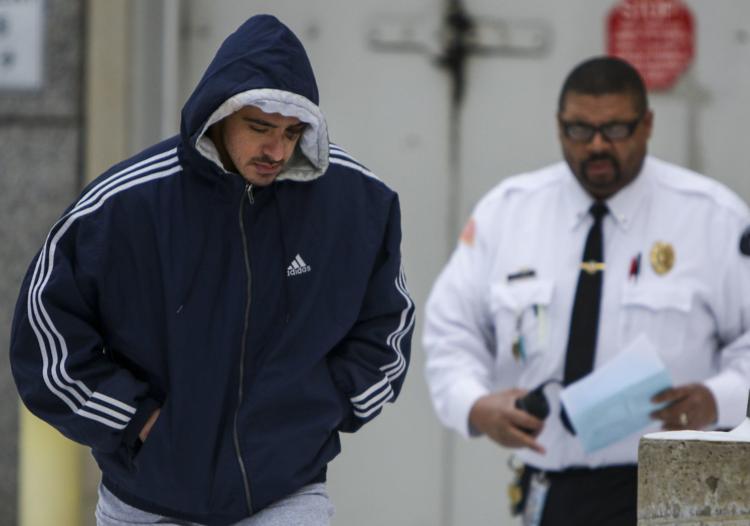 Nathaniel Hendren Makes Bail