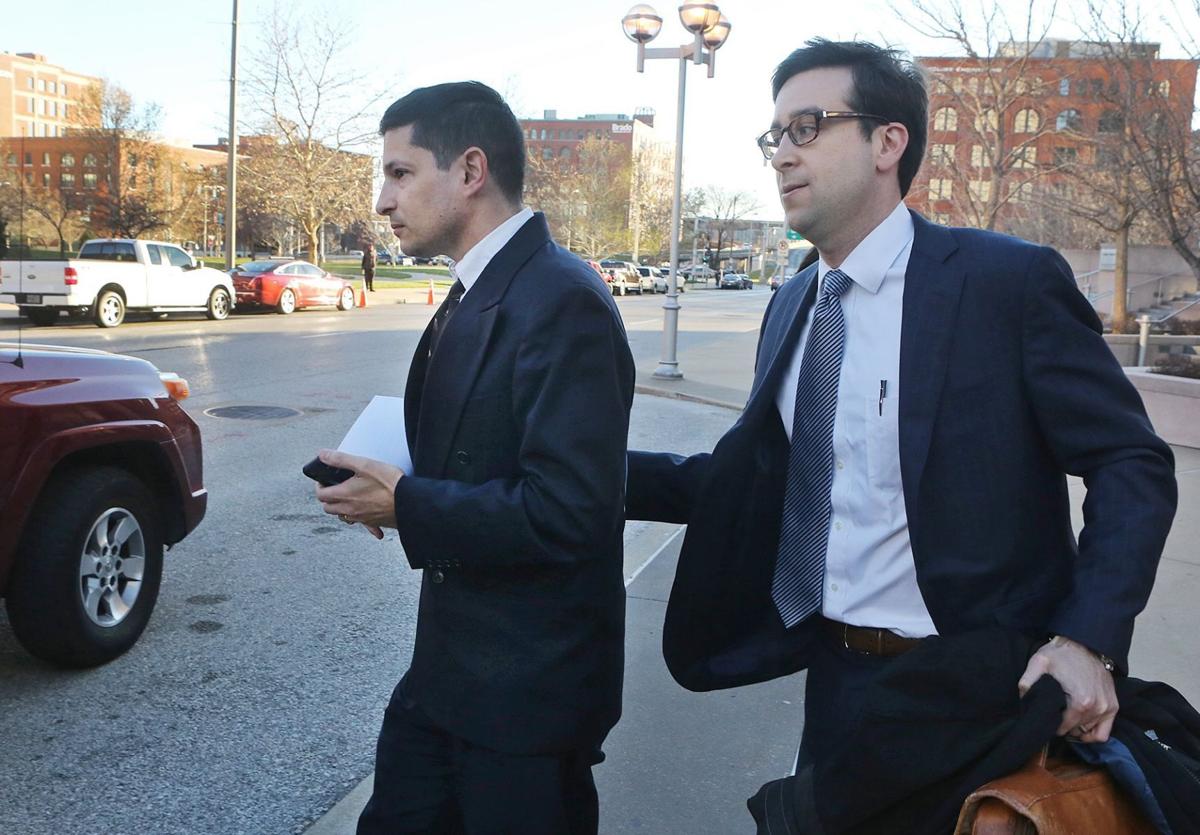 UPDATED at 1:30 p.m. with pleas from chiropractor, wife, former officer Terri Owens and information from prosecutors and a defense lawyer.
ST. LOUIS • A chiropractor and his wife on Thursday admitted bribing at least four St. Louis police officers for years to get nonpublic information on hundreds of accident victims, and one former police officer admitted in court that she'd accepted some of those bribes.
The chiropractor's wife, Galina Davis, used the information to solicit patients for her husband, Mitchell E. Davis, who then pressured some of those victims into exaggerating their symptoms to win larger insurance settlements, according to his plea. Mitchell Davis focused on low-income patients because he thought they would be more receptive to his solicitations, Assistant U.S. Attorney Dorothy McMurtry said in court.
Mitchell Davis pleaded guilty to two felonies: conspiracy and making a false statement concerning a health care matter. Galina Davis pleaded guilty to a misdemeanor charge of conspiring to access a computer without authorization.
Former Officer Terri Owens pleaded guilty to a felony bribery charge Thursday and admitted taking thousands of dollars in bribes from 2011 to 2016. During one 10-day period in February 2016, she accessed 168 accident reports and provided them to Galina Davis, her plea says. Owens left the department Sept. 17, but it's not clear under what circumstances.
The Davises and Owens pleaded guilty in three separate hearings lasting a total of more than 90 minutes Thursday morning as agents with the FBI and the Department of Health and Human Services Office of the Inspector General looked on.
One other officer, identified in court documents as Mark Taylor, entered the courtroom before the end of Owens' plea hearing, but Taylor's hearing did not go forward. He has not been indicted. Taylor's lawyer, Joseph Hogan, said that if indicted, his client would plead not guilty and go to trial. Taylor started his police career in St. Louis in 1990 and is still an employee, the department said.
Taylor is accused of replacing Owens in the conspiracy in October 2016 and agreeing to supply reports for $7 each.
Two former officers, Cauncenet Brown, 42, and Marlon Caldwell, 50, were each indicted on a felony conspiracy charge Wednesday and also accused of taking bribes.
Caldwell was an officer from 1990 until he retired Jan. 3, 2011, and Brown was a St. Louis officer from 2003-2011 and 2013-2015.
Warrants were issued for their arrest Thursday. No lawyers were listed for either former officer in court files.
A spokeswoman said the police department cooperated with the investigation and referred questions to the U.S. attorney's office.
"We are committed to ensuring that the men and women of our department are held to the highest standards," police spokeswoman Schron Jackson said in a statement.
'Sunshine Heroes' turn to bribes
Davis' office was formerly known as Davis Chiropractic, at 4144 Lindell Boulevard, but is now known as City Health & Chiropractic, the indictment says.
The couple have struggled for years to obtain accident report information.
Greg Saikin, a lawyer for Mitchell Davis, said accident reports had been publicly available in the past, but full reports were no longer made public after a change in department policy.
The couple were recognized in 2012 by the Missouri Sunshine Coalition as "Sunshine Heroes" for challenging the St. Louis Police Department under open records laws. A suit they filed resulted in a court ruling that the public has a right to accident reports at no charge, according to the Columbia Daily Tribune.
But while the couple were fighting public battles, they were also working surreptitiously from 2007 to 2016 to get to the information they wanted, according to their plea agreements.
The police department's policy said reports provided to the public would have addresses, telephone numbers, birth dates and insurance information for occupants of vehicles redacted. Reports with that information were only supposed to be released to those involved in the accidents, the companies insuring them or their lawyers.
The Davises asked lawyers to get the information for them, their plea agreements say. Mitchell Davis' employees also got accident reports from the department by pretending to work for the victims' lawyers, the pleas say.
But Galina Davis also bribed police officers for the contact information of accident victims, meeting officers in shopping center parking lots to pay them off in cash.
Galina Davis would use that information to approach victims and try to persuade them to use the chiropractic practice's services, using the name "Gail" and four other names, her plea says.
They focused on neighborhoods with a large number of low-income victims, believing "that low-income individuals would be more receptive to their solicitations and offers of free services," Galina Davis' plea says.
Davis Chiropractic typically received more than $2,000 from insurance settlements for patients they treated, the pleas say, and more than $1.5 million total.
Investigators also apparently listened in as one patient told Davis "I'm not in pain..." and "I'm tired of getting in accident (sic) to get money." Davis responded that higher medical bills would increase the amount of any insurance settlement, his plea says.
Davis directed the firm's chiropractors to include exaggerated "pain levels in their treatment notes and to order as many services as the patients would accept, whether the patients needed or wanted the services, though Dr. Davis disputes this contention," the plea says.
He sent patients to pain management doctors before determining whether they actually needed those services, his plea says, and had chiropractors perform therapeutic massage on patients knowing that they were not licensed to do so.
100 reports a week
The couple obtained information from Caldwell until he retired in 2011 and Brown from 2007 to 2011 and 2013-2014, Mitchell Davis' plea says.
Brown told Owens she should contact Galina Davis if she was willing to provide information, Mitchell Davis' plea says.
At one point, the couple were obtaining about 100 police reports a week from Owens, Galina Davis said on one call.
Officers were accessing reports from police stations and their cruisers, according to court testimony. Owens accessed the department's computer system to obtain the information despite a banner warning that the information was for law enforcement use only, McMurtry said in court.
But Owens refused on Oct. 12, 2016, to provide any more information, for unexplained reasons.
Using methods including wiretaps and records of text messages, federal agents watched and listened as Davis and his wife discussed the difficulty they had in replacing Owens.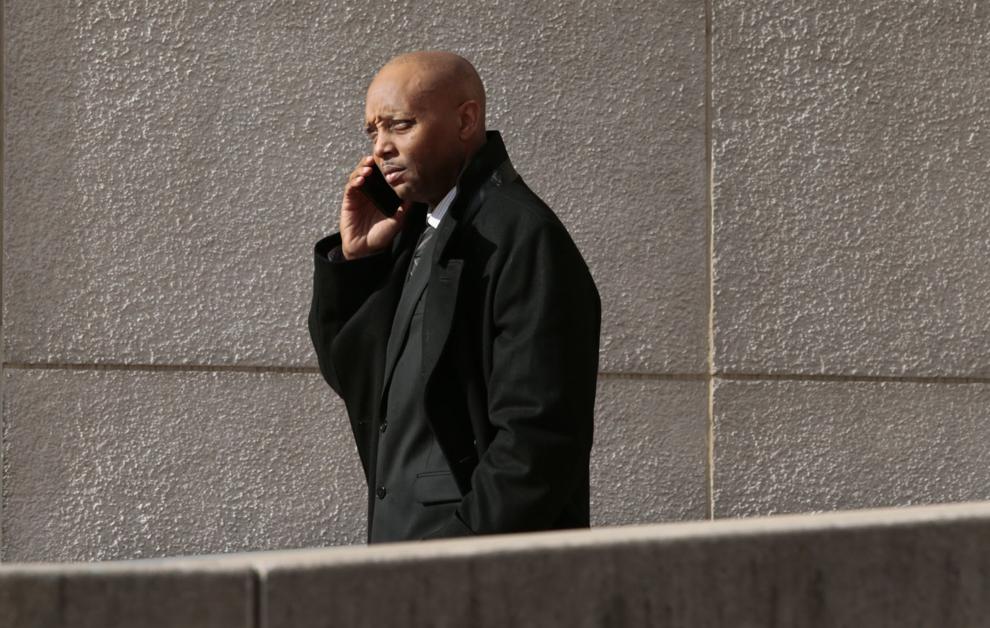 They were rebuffed by three officers. Caldwell suggested Taylor after being offered $1,000 for a referral, Mitchell Davis' plea says.
Mitchell Davis told his wife on one call to keep Taylor's name "a secret … in case we're being recorded," according to a partial transcript of a call that was being recorded.
On Oct. 17, 2016, Galina Davis and Taylor met on the parking lot of Whole Foods in Brentwood, where Taylor accepted $357 for reports, Mitchell Davis' plea says.
Doctor could face years in prison
Saikin, one of the lawyers for Mitchell Davis, said in a statement that Davis took responsibility for "encouraging two patients, who had in fact been in serious automobile accidents, to mark their pain levels as high on intake forms." He also admitted buying access to reports. The statement emphasizes that his patients received quality care and said Davis is "proud of his work helping the injured."
Federal sentencing guidelines place Mitchell Davis' possible sentence above the maximum for the crime of five years. He could also face hundreds of thousands in fines and will be ordered to pay restitution of $550,000 to insurance companies and $136,000 to the police department to represent the officers' time that was spent on the conspiracy, Assistant U.S. Attorney Reggie Harris told the Post-Dispatch.
Galina Davis will have to repay $9,750 to the department and could face probation or up to six months behind bars under federal sentencing guidelines.
Owens' sentence will vary depending on how many bribes she took, but could be at least two years in prison. She claims the bribes totaled less than $40,000, but prosecutors say the total was between $40,000 and $95,000.
Christine Byers of the Post-Dispatch contributed to this report.