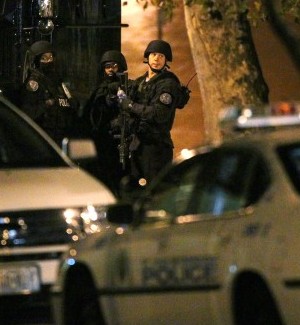 ST. LOUIS • While the city Police Department considers reducing its force, it is arranging greater firepower for those who remain — adding shotguns to patrol cars and higher-powered rifles for supervisors.
The move comes against the backdrop of news that armed assaults are on the rise and the department may lose 80 of its 1,300 officers through attrition because of budget cuts.
"When you get out of a car with (a shotgun) and you hear the sound of the racking action, everyone knows the next thing you're going to hear is an exceptionally large bang," said Sgt. David Bonenberger, president of the St. Louis Police Officers' Association. "It's a confidence thing. It means business."
The department abandoned shotguns years ago in favor of short-barreled rifles that use the same 9 mm pistol ammunition as its semi-automatic handguns.
"After testing and training, we found the 9 mm configuration to be inadequate," Lt. Mike Deeba said Wednesday. "The shotgun is cheaper than the rifles and more effective in shorter distances, and most shootings occur within 15 yards of the officer."
While pistols and rifles fire a single bullet with each shot, a typical 12-gauge police shotgun shell fires a tight pattern of about eight bullet-sized balls.
New .223-caliber rifles will be issued to supervisors to provide greater long-distance shooting capability that also can penetrate body armor, officials said.
Lt. Col. Larry O'Toole said the department has been re-evaluating weapons since the 2010 ABB Inc. shooting, in which tense officers methodically searched a factory for a heavily armed disgruntled employee who fired more than 100 shots in killing three co-workers and himself.
The new weapons will be financed by a $137,000 donation from the St. Louis Police Foundation, approved Wednesday by the Board of Police Commissioners.
The group donated $56,000 for 140 Remington Model 870P pump-action shotguns to replace the Beretta Storm rifles carried in district patrol vehicles. The nonprofit also donated $81,000 to buy 45 Titan B/SL rifles for all district supervisors' vehicles.
Mayor Francis Slay, a member of the board, voted to approve the plan but scolded Chief Dan Isom for not briefing the board about the request for donations to change weapons.
"If we change our firepower and decide to put new weapons in police cars, and the Police Foundation knows about it before the board does, that's backwards," Slay complained.
Isom responded that presenting the donations to the board members was informing them.
"The board can certainly turn down the donations and ask for more time to review it," Isom said.
News about the weapons should not overshadow the impact of Isom's proposal to reduce the force, said Police Officers' Association Business Manager Jeff Roorda.
"These things go hand-in-hand, us being outgunned and outnumbered on the street," Roorda said. "We'd like for there to be some people to actually carry these guns."
Bonenberger called the weapons "a step in the right direction" but said the organization would like the department to let officers carry personally owned rifles as well.
St. Louis County officers have been allowed to carry their own rifles, with pre-approval, for about a year. County Chief Tim Fitch said it was a way to get more rifles on the streets in tough financial times.
County police began equipping supervisors with rifles in 1995 but has since issued them to patrol officers as well.
"The officer is usually the first one on the scene," spokesman Rick Eckhard said. "This way, we can have more rifles on the scene and now we're not just relying on the supervisor."
The county force has about 400 shotguns in use. About 100 sergeants and 158 officers have department-issued AR-15 rifles, and 29 officers carry their own rifles, Eckhard said.
Many smaller police departments around the region equip patrol cars with 12-gauge shotguns and some have both a shotgun and a rifle.
The city's shotguns are intended for short-range encounters, within 25 yards. The new rifles' .223 -caliber ammunition is designed to disintegrate upon impact and not exit the target, making it less likely to wound bystanders, said Officer Scott Valentine, the city police armorer.
It was unclear what will become of the old 9 mm rifles, The department has traditionally destroyed obsolete firearms but is considering selling or trading these, a spokeswoman said.