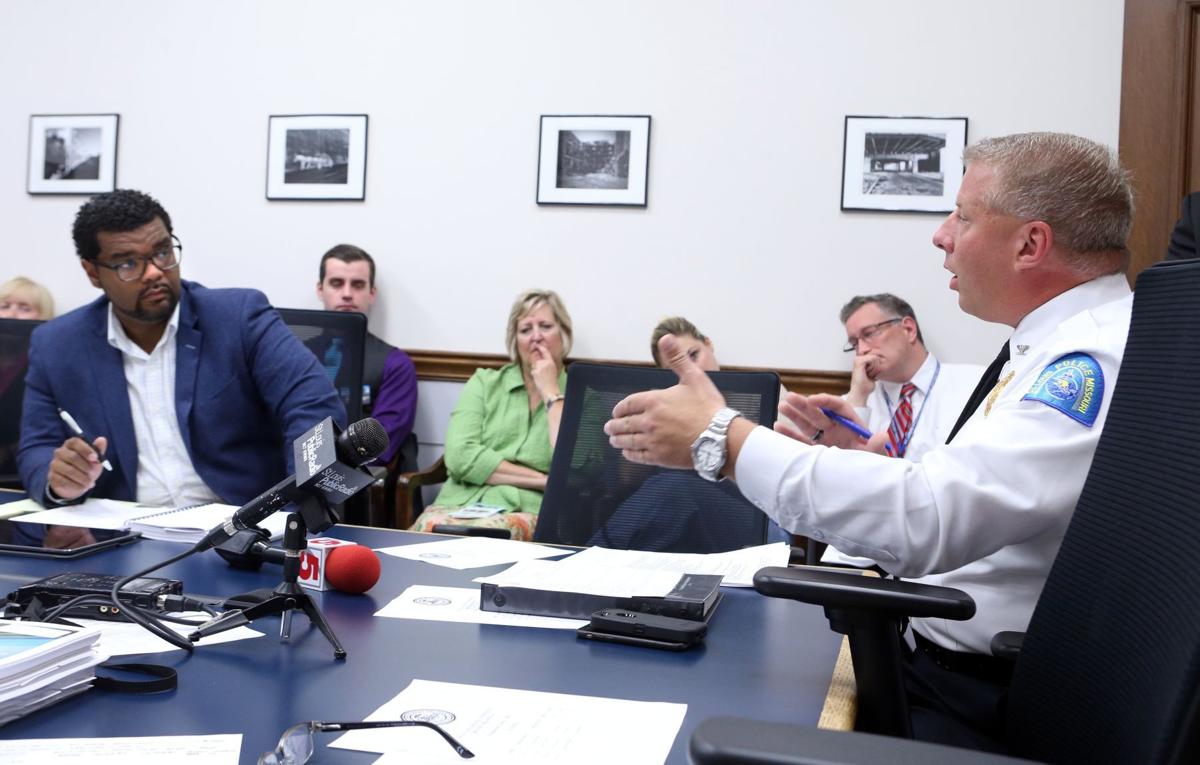 ST. LOUIS • Police Chief Sam Dotson, amid a renewed public focus on crime, said on Wednesday that his department has become "too small" and needs to grow.
Dotson, appearing before an aldermanic finance committee, which includes several members who have asked him to resign in recent days, said the department is 117 officers short of its authorized strength of 1,300.
"We've let our police department get too small," Dotson told the aldermen.
But Antonio French, an alderman who has asked for Dotson's resignation, questioned why the department has reduced in size. French noted that in 2012 Mayor Francis Slay's administration reduced the city's police force by 80 officers through attrition.
"That was a decision you made," French said. "You all came to us and said you were going to operate with less officers."
Dotson, who previously served as Slay's operations director, responded that the city was in a different place then. He noted that crime was dropping as it dealt with budget problems and rising pension costs.
"If you want to live on statements that are three years old that's fine," Dotson said.
Now, Dotson says, the department is working on returning to full strength. But he said even that won't be enough. Dotson said the department had about 1,600 officers when he joined the force in the 1990s — and that it should return to those levels.
"We need more officers in general," Dotson said. "Thirteen hundred does not give us the same amount of flexibility."
The prospect of a major increase seems unlikely. Aldermanic legislation to hire more officers has failed to gain traction at the board in recent years. Some also note the city has lost population over the decades.
The force is charged to patrol the city's neighborhoods, respond to calls for service, and solve crimes. Currently it appears the department is struggling to handle all the volume. Dotson has put in a mandatory overtime program to keep patrol cars on the streets 24 hours a day.
The department has 27 homicide detectives for a city that had 188 murders last year. This year, the city is on pace to match that level.
On Saturday night, Dotson walked Washington Avenue with officers doing increased patrols. That focus often angers the board's 28 aldermen — most of whom want additional officers in their own wards.
The meeting included a dash of political intrigue. Dotson, a familiar face to city residents, is considering a run for mayor in 2017 when Slay retires. So is Board President Lewis Reed, who attended the meeting but did not ask questions.
While Dotson's political ambitions were a topic at a recent public safety committee meeting, the subject faded into the background on Wednesday.
Alderman Scott Ogilvie questioned the department's inability to hire officers and get them on the streets.
"A breakdown happened," Ogilvie said. "Police officers are suffering. And the public is suffering because we don't have enough people doing the job."