ST. LOUIS • One of the biggest regrets of some investigators of the assassination of Robert F. Kennedy is not preserving a door frame.
Nearly five decades after the presidential candidate was gunned down at a hotel in Los Angeles, conspiracy theorists insist that there could have been a second gunman, whose bullets struck the frame. But the frame has long since been destroyed, along with at least some crime scene photos. Witnesses and investigators have died.
St. Louis police Lt. Roger Engelhardt doesn't ever want to forget the metaphor of the door frame when conducting one of his high-profile investigations of officer-involved shootings.
So, as the leader of the Force Investigation Unit, he has partnered with a company called St. Louis Accident Reconstruction to use its surveying equipment as an economical way to provide digital records of shooting scenes. Their devices and precise measurements let detectives create electronic three-dimensional models.
"In a sense, this preserves that door forever," Engelhardt said.
The gear, known as a total station, uses lasers to measure distances. The data are transferred to a computer program that generates a three-dimensional model of the scene, both as images on paper and in animated clips.
But it can only survey outdoor scenes.
Within months, Engelhardt said the department will acquire additional technology that will create animated models so detailed that the user can control his or her own perspective. For now, the department controls the point of view.
The new technology, for which the department will begin training in February, is known as a Leica Geosystems Scanstation. Company representatives say the closest agency to St. Louis with any is Chicago, which uses them to investigate officer-involved shootings.
The cable TV channel A&E has a show called "Crime Scene 360" that shows how forensic investigators use the machines.
The department paid $185,000 for the new machine. Initially, it will be used only for officer-involved shootings, but, depending on its success, it could be used to digitally preserve other crime scenes, such as homicides, Engelhardt said.
In the meantime, a representative for Leica, which also manufactures the total station, called St. Louis' use of it to map police shootings "innovative."
"They're in the top 2 percent of the agencies who have total stations that are using it in that regard, so my hat's off to them," said Tony Grissim, major account representative for Leica Geosystems Inc. "The total station is a subjective system and totally dependent on what the operator thinks is important at the time. The Leica nukes everything."
So far, the department has used Tom Morris of St. Louis Accident Reconstruction as a consultant. He has surveyed six police shooting scenes using a total station at a total cost of about $10,000.
Indoor spaces have too many angles and points that take too long to calculate, Morris said.
The incoming Leica system can do either in about half the time it takes Morris to take measurements in the field, Engelhardt said.
High-tech mapping
One of the largest scenes Morris has been hired to map was a nonfatal shooting near Ridge and Academy avenues. In April, three officers opened fire on Alfred Graves, 41, who they said flourished a gun at them. He survived his wounds, and has since been charged with attempted assault on a law enforcement officer, resisting arrest and armed criminal action.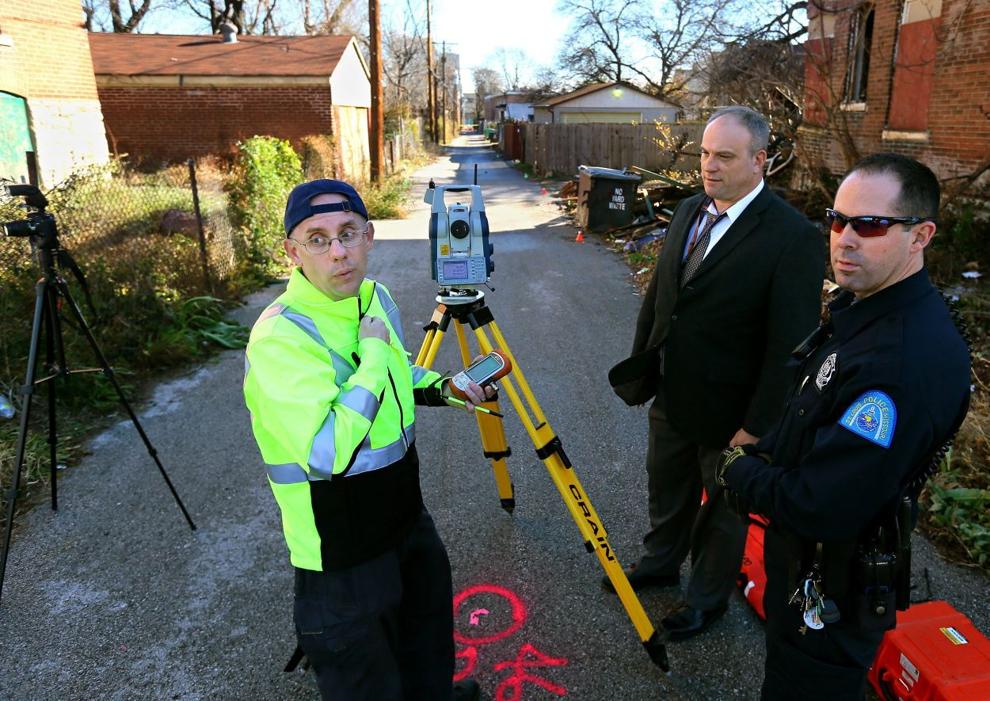 In mid-December, Morris, Engelhardt and Officer Eric Moran returned to the scene for a third day to survey the alley where Graves ran and officers fired. Typically, Morris said, it takes him four to six hours to survey a scene.
In the alley, he laid out small orange plastic pyramids with pingpong balls attached to the tops, and a robotic camera used a laser to measure the distance between them. He photographed buildings and other objects along the way, to draw them in a computer program later, based on calculations from the placement of the cones.
The Kajieme Powell investigation is the only one so far in which Morris' work was included in the department's final report to prosecutors.
But it also showed how video evidence doesn't tell an entire story, he said. For example, it looks in the video as though the officers parked their SUV nearly on top of a light pole before approaching Powell. Morris' analysis showed the car was really about 21 feet away from the pole, but the camera's focal length had compressed the distance.
"That accounted for some discrepancy in the witness testimony," Engelhardt noted, without being specific.
Morris measured sidewalk squares, utility poles and other objects, and took the cellphone's characteristics into account in calculating Powell's pace and the officers' distance. He also used crime scene photos, Powell's dimensions, officers' dimensions and witness statements to conclude that Powell was about 15 feet from the closest officer when the first shot was fired.
"If you saw the video and nothing else, you would have had a totally different interpretation of what happened," Morris said.
Powell continued toward police for about 10 feet before falling, and was about 1.2 to 2.4 seconds away from that officer when the first shot was heard on the bystander's cellphone video, Morris said.
"That case was all about the reactionary gap," Engelhardt said. "That was one of the most important questions, 'How long did the officers have to react, and was that reasonable to be afraid that those distances would close?'"
But the ultimate goal is not exonerating officers, Engelhardt said.
"It's about justice, and proving as objectively as possible what happened. Now, if a (new) witness comes forward even years from now, and casts doubt on a conviction, we can put it into this virtual crime scene and test those theories."
Judges, juries and prosecutors have almost come to expect to see three-dimensional representations of crime scenes in court, said Tom Bevel, an expert on the use of forensic technology. He is president of Oklahoma-based Bevel, Gardner and Associates Inc., a forensic education and consulting company.
Bevel said he believes St. Louis' use of the total station in the absence of the gold-standard Scanstation technology could hold up in court, even though its use for a crime scene is unorthodox.
"If it can re-create everything that's physically there in a crash scene, it can certainly do the same thing in other incidents, such as officer-involved shootings," he said.
Engelhardt said he hopes the technology will make it easier for jurors and the public to grasp crime scene evidence that otherwise may be hard to visualize.
"This way," he said, "all of the information will be presented to prosecutors, at trial or to the civilian review board because the more facts we can give them, the more digestible the facts become.
"I think this is going to become like DNA, everyone will want videos of crime scenes to look at in court."