ST. LOUIS — Police tried to arrest a man for marijuana possession early Thursday, but when the man reached for his gun, police said, an officer fatally shot him.
Police identified the man Thursday afternoon as Cortez Shepherd, 28, of the 1900 block of 13th Street in St. Louis.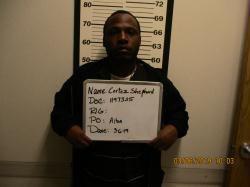 The shooting marks the sixth time this year that a police officer in St. Louis has fatally shot someone. It was the second fatal police shooting across the St. Louis metro area since Saturday, when a Richmond Heights police officer shot and killed a man near the St. Louis Galleria shopping mall in the county.
The details of the shooting on Thursday — specifically, the attempted marijuana arrest — drew stern criticism from some city officials.
"This is a waste of Police resources," Alderman Megan Green said on Twitter on Thursday morning. "This interaction never should have happened."
About an hour later, Circuit Attorney Kimberly M. Gardner commented on Green's post: "Exactly," she wrote.
Last year, St. Louis aldermen reduced the fine for getting caught with less than 35 grams of marijuana to a maximum of $25. It used to be as high as $500. A suspect caught with more than that could still be prosecuted in state court.
But then Gardner declared that she would not prosecute possession of marijuana cases if the amount was less than 100 grams.
Police Chief John Hayden said the shooting happened about 12:50 a.m. Thursday in the 3900 block of Garfield Avenue. The street, largely vacant lots choked in weeds, is west of Vandeventer Avenue in the Greater Ville neighborhood.
The area, inside "Hayden's rectangle" — a section of the city the chief has targeted for extra crime-reduction efforts — has a reputation for "heavy" drug activity, Hayden said.
Officers in uniform were patrolling the stretch in a two-man patrol car, when they noticed a car parked on Garfield with several people around it. The officers went up to the car and talked to Shepherd, the driver.
"They noticed the occupant had marijuana on his lap," Hayden said.
The officers asked Shepherd to get out of the car, but he refused, police said. The officers opened the car door and "removed" Shepherd from the car to arrest him, police said.
As police searched Shepherd, one of the officers, 24 years old, alerted his partner that Shepherd had a gun in his pocket. "A struggle then began as the suspect attempted to retrieve the firearm from his pocket," police said in a written summary.
The other officer, 28 years old, pulled his Taser and used it on Shepherd. But Shepherd kept struggling, police said. The older officer then pulled his department-issued handgun and fired one shot, hitting Shepherd in the chest.
Police tried to perform first aid at the scene, but Shepherd was taken to a hospital and died.
The younger officer suffered a hand injury.
A 7-year-old girl who was in the car with Shepherd saw him struggling with police and ran to her mother nearby, Hayden said. The girl was unhurt. Hayden didn't say if the girl witnessed the shooting. He also said he didn't know if the girl was Shepherd's daughter.
Police said they recovered a fully loaded revolver and marijuana. Hayden didn't say how much marijuana Shepherd was holding in his lap.
Shepherd was placed on supervised parole in February after serving nine years of a 15-year-prison sentence on charges out of St. Louis, including resisting arrest, assaulting a law enforcement officer and stealing a motor vehicle, according to online court records.
He pleaded guilty in June of 2010 to the charges, each a felony, as well as a fourth charge of misdemeanor endangering the welfare of a child, according to the records. At the time, Shepherd was on two years of supervised probation after pleading guilty in 2009 to tampering with a motor vehicle in the first-degree, a felony.
• On Jan. 15, Quency Chavez Floyd was shot and killed by police near a parking lot of a grocery store at 3431 Union Boulevard. Police say police shot Floyd, a carjacking suspect, after he ran from officers and fired a gun at them.
• On Jan. 24, St. Louis Police Officer Katlyn Alix was fatally shot by another officer while they were playing with a gun at a home in the 700 block of Dover Place, authorities say. The officer who allegedly fired the gun, Nathaniel R. Hendren, faces manslaughter charges.
• On March 25, Kaylon Robinson, 18, was killed by police after he ran from officers and pointed a gun at them in the 300 block of Walsh Street.
• On April 11, Demetrious Brooks was shot and killed by St. Louis police in a struggle over a gun in the 3400 block of Virginia Avenue. Hayden said Brooks was shot after he ran from a car, pulled a gun and refused to drop it.
• On June 6, Rodnell Cotton was killed by St. Louis police after he shot an officer in the leg near Delmar and Josephine Baker boulevards. The shooting happened as U.S. Marshals aided by plainclothes St. Louis police officers were attempting to arrest Cotton on a federal weapons charge.
Police said there were 13 police shootings in 2018, six of which hit the subject. The police department could not immediately say how many of those shootings were fatal. At least one was, according to Post-Dispatch reporting, when a police officer shot a man on Dec. 12, 2018, in a stolen SUV at a St. Louis gas station at 5003 Goodfellow Boulevard.
Police said the man backed the vehicle into the officer. The officer fired his gun and hit Demario Bass, 29, in the chest.
Officer-involved shootings in the St. Louis area during 2019
These are the incidents of police officer shootings in the St. Louis area during 2019.
Shake off your afternoon slump with the oft-shared and offbeat news of the day, hand-brewed by our online news editor, Mandy St. Amand.