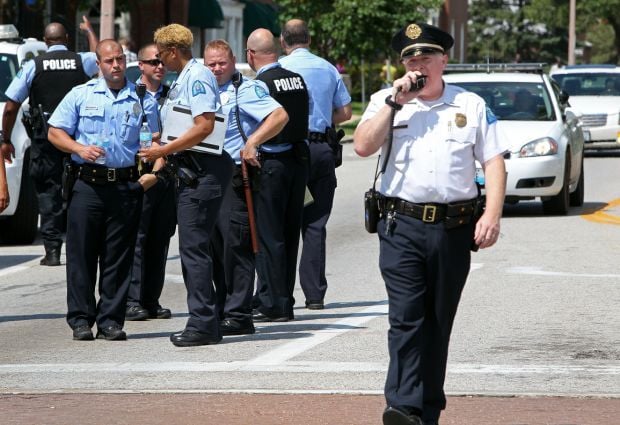 ST. LOUIS • As nightly protests continue to flare in Ferguson over a police shooting there, St. Louis Police Chief Sam Dotson went to an extreme Wednesday to provide details of the killing of a man by two of his officers.
He took the unusual steps of releasing 911 audio and surveillance, and cellphone video that show the shooting the day before.
Kajieme Powell, 25, who lived with his grandmother in the 1500 block of Hornsby Avenue in St. Louis, tried to attack two officers with a steak knife about 12:20 p.m. near the Six Stars Market, 8701 Riverview Boulevard, officials said. Powell is seen approaching an officer, shouting, "Shoot me! Kill me now!"
The two officers each fired six shots, police said. It was unclear how many hit Powell. One officer, 25, has been on the department for a little more than three years. The other, 31, has about 2½ years of service.
Dotson said their names would be released only after he reviewed a "threat assessment" of whether disclosure would put them in danger. He also said they had been "in a lethal situation, that their lives were in jeopardy."
The recordings appear to support police and witness accounts, with Powell ignoring commands to drop his knife. Dotson acknowledged the materials' release was uncommon, intended to provide transparency in light of events in Ferguson.
"I don't think any of us can deny that the tension, not only in St. Louis but around the country and the world because of the activity in Ferguson over the last 10 or 12 days, certainly has led to us making sure that we got this right," Dotson said.
About 150 protesters gathered outside the market Tuesday night, some shouting chants similar to those heard in the Ferguson protests. There were no arrests or reports of injuries.
The city shooting came as the national spotlight is on the St. Louis area, 10 days after Ferguson Officer Darren Wilson, 28, shot Michael Brown, 18, who was unarmed.
Surveillance video from the Six Stars Market shows Powell entering about noon Tuesday. He steals energy drinks, leaves and then returns to take pastries without paying. Powell did not have a physical confrontation with the shopkeeper, Dotson said. Powell is then seen pacing in the street and talking to himself.
Also released was a bystander's cellphone video of the shooting.
Dotson said Tasers would not have been an option because they are not always accurate, and Powell was wearing a jacket that could have deflected the probes. He said that by policy, St. Louis police may use deadly force if an attacker with a knife is within 21 feet.
Dotson said he, Mayor Francis Slay and a police major talked with Powell's grandmother.
Dotson said Wednesday that the recordings' release was part of a new practice of revealing more information on police shootings. He said a new "Force Investigative Unit" would be dedicated to examining use of deadly force. It will have four detectives, led by Sgt. Roger Engelhardt. He said he would release as much information as the law allows "as quickly as I can."
Joe Steiger, president of the St. Louis Police Officers Association, said Wednesday the union does not oppose the release of the audio and video. But he said it would be "irresponsible" to release the officers' names while tension was still running high over the Ferguson case.