Updated at 5:40 p.m.ST. LOUIS — The St. Louis Police Officers' Association has urged its members to use a controversial symbol on their social media pages to show solidarity with officers who are now under investigation for using a similar image online.
The union's president, Ed Clark, posted a letter late Wednesday on the organization's Facebook page, asking members to use the "Blue Line Punisher" image as their profile picture on social media. The union represents about 1,200 officers; the union's Facebook site has more than 14,000 followers.
The image depicts a white skull modified with a blue line flag. The skull is taken from "The Punisher," a Marvel Comics character created in 1974 by writer Gerry Conway. The Punisher is a vigilante who uses violent means to combat crime. The blue line flag — a black-and-white U.S. flag with a blue stripe — is intended to convey support for law enforcement.
Added to the image promoted by Clark is the number 6265, which is the Designated Service Number that belonged to former St. Louis Police Officer Michael Langsdorf who was killed in the line of duty last month. Langsdorf's family declined to comment through a spokesman.
Clark's recommendation was sharply criticized by another St. Louis police organization, the Ethical Society of Police, whose membership consists primarily of black officers from St. Louis city and county police departments. "Under no circumstances" should officers use that image, the organization's president, St. Louis Police Sgt. Heather Taylor, said in an email to members.
Late Thursday, St. Louis Police Chief John Hayden issued a department-wide memo on the matter. He did not tell officers not to post the image, but urged officers to be mindful of how their communications are perceived by the public.
It read, in part: "Although fictional in nature, the Punisher logo does not coincide with our mission to protect life and property and achieve a peaceful society. … While social media can be an asset in continuing relations with family, friends and colleagues, we all must remain cognizant of the messages certain posts may send and the interpretation the community may have of them."
The controversy over social media communications by officers follows the release last month of a report by the Plain View Project, which identified officers in eight cities, including St. Louis, who had posted racist, sexist or otherwise offensive posts.
Emily Baker-White of the Plain View Project said that while the Punisher image "doesn't have a racist connotation, it does have a problematic connotation."
"This is a character who distinctly does not deal in due process, right down to his name, this is a person who is interested in meting out punishment or pain rather than process," she said Thursday. "Police officers who identify with that character is problematic in our justice system, which separates a police officer's duties to protect us from the role courts, judges and juries play to determine what should happen to people who might be a risk."
After the release of the Plain View Project findings, Hayden launched internal investigations of the 22 officers. And Circuit Attorney Kimberly M. Gardner added them to her exclusion list. That list now includes about 60 officers who are not allowed to bring cases to her office.
In Clark's letter, he wrote that some of the officers in question are in trouble for "merely posting a pro-police image of the Blue Line Punisher symbol."
Clark also directed union members to post his message or a message of their own to the police department's Facebook page asking Chief Hayden to "clear the officers' good names and get them off of the Circuit Attorney's exclusion list."
Clark did not respond to a request for comment.
But union business manager Jeff Roorda said in a statement: "Nobody seems to care what the Punisher symbol means to the officers who posted it. Just because it's offensive to one hypersensitive activist in Philadelphia, doesn't mean it's offensive. There are people who think the Black Panther comic book character promotes black nationalism or vigilantism. That's absurd too and I'd defend my members just as aggressively if they were attacked for posting that symbol. But that's not the viewpoint Kim Gardner and others are trying to regulate."'An outlaw' Police use of the Punisher image also has been criticized by its creator.
In an interview with SyFy Wire in January, Conway said police using the image to promote law enforcement is as offensive as "putting a Confederate flag on a government building."
"Whether you think the Punisher is justified or not, whether you admire his code of ethics, he is an outlaw. He is a criminal. Police should not be embracing a criminal as their symbol," he told the publication.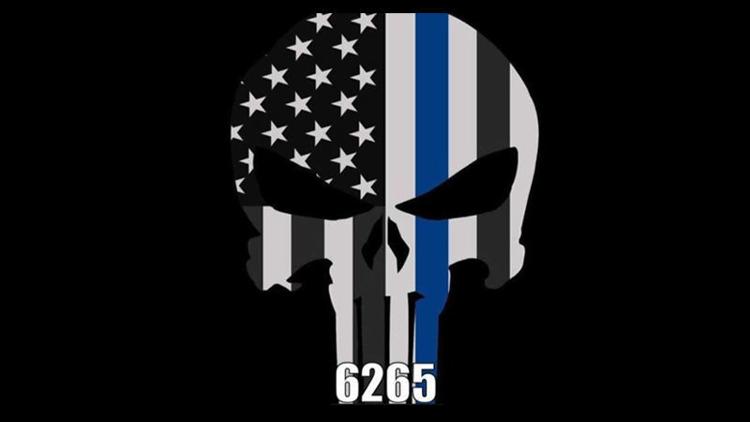 Use of the image has been controversial elsewhere, as well.
In February 2017, a police precinct in Kentucky branded vehicles with Punisher decals and the words "Blue Lives Matter" across them, according to the Lexington Herald Leader. The police chief removed them after public backlash.
Taylor, the Ethical Society president, warned that officers could jeopardize their careers by using the image.
"Under no circumstances should you make your photo that of the Punisher logo or make any statements on social media that are inappropriate about the Chief or the Circuit Attorney," she said in an email. "Do not place your careers as officers in any situation where your cases and hard work will not be heard in a criminal court."
It continues: "If you want to make a statement in support of law enforcement on social media show your solidarity with the numerous civilians that keep this place afloat everyday that receive very few thank yous, or for the officers who have been murdered in the line of duty or injured."
Taylor told the Post-Dispatch she believes in free speech, but "free speech has restrictions when you're in law enforcement."
And, she added, if an officer doesn't like that, "They should seek employment elsewhere."
Mark Schlinkmann of the Post-Dispatch contributed to this report.
Shake off your afternoon slump with the oft-shared and offbeat news of the day, hand-brewed by our online news editor, Mandy St. Amand.