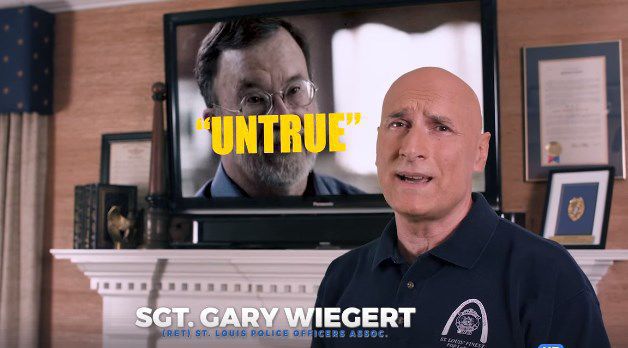 ST. LOUIS • The St. Louis police union wants ads in support of an anti-union ballot initiative that feature its former president taken off the air. But the ex-union official says he is violating no laws with his endorsement.
The St. Louis Police Officers Association opposes Prop A, which it calls an "anti-worker Right to Work bill," in a news release. That release states that retired Sgt. Gary Wiegert has been notified to cease and desist "false representations and copyright infringements." He appears in the ad wearing a shirt with a police union logo.
Wiegert is not authorized to speak on behalf of the union, which expelled him in 2012 for "unauthorized activities," according to a news release.
"The SLPOA and the Fraternal Order of Police encourage their members and police supporters to vote No on Prop A and to ignore the deceptive ads featuring their disgraced former member that attempts to mislead voters into believing that cops support Right To Work and Prop A," according to the release.
Wiegert said he believed his former union was trying to "inhibit" his First Amendment right to free speech.
"It's a shirt with a logo on it. Are they trying to say I can't wear a shirt?" Wiegert said. "To me it looks like they're just trying to intimidate me and shut down my First Amendment rights, and the ad clearly states I'm a retired police officer and I was the president of that organization."
In the commercial, Wiegert's title is given as "Ret. St. Louis Police Officers Association."
Despite the union's request that the TV ads be removed, they continue to air on various social media sites and on network television stations, business manager Jeff Roorda said.
"Our logo is copyrighted and he's using it not only without permission, but in a way that sullies our organization and misleads voters," Roorda said.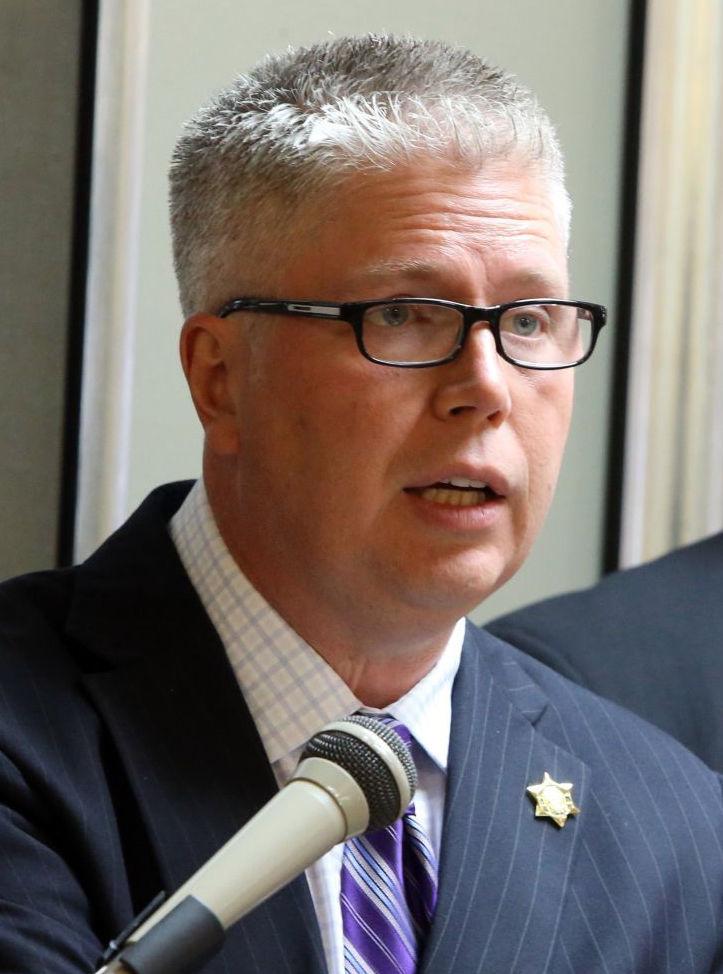 Wiegert said he still considered himself a union advocate but did not agree that nonunion workers who are covered by a collective bargaining agreement must contribute a "fair share" to the union in lieu of dues.
"It is wrong to take money from a private individual and give it to an organization," Weigert said.
The National Right to Work Committee sharply criticized on Friday the police union's criticism of Wiegert.
In a statement, Mark Mix, the committee's president, said: "This type of bullying is exactly why Missouri needs the protections Right to Work laws offer. The fact that these are the lengths union officials are willing to go silence any dissent among rank-and-file workers demonstrates exactly why every worker should be able to refrain from supporting a union if they choose."
Current police union president Ed Clark wrote in a statement: "Worker deaths are 41 percent higher in Right to Work states and wages are significantly lower. We've worked too hard to get raises for our police officers and reduce police officer deaths to stand idle on a harmful issue like Right To Work."