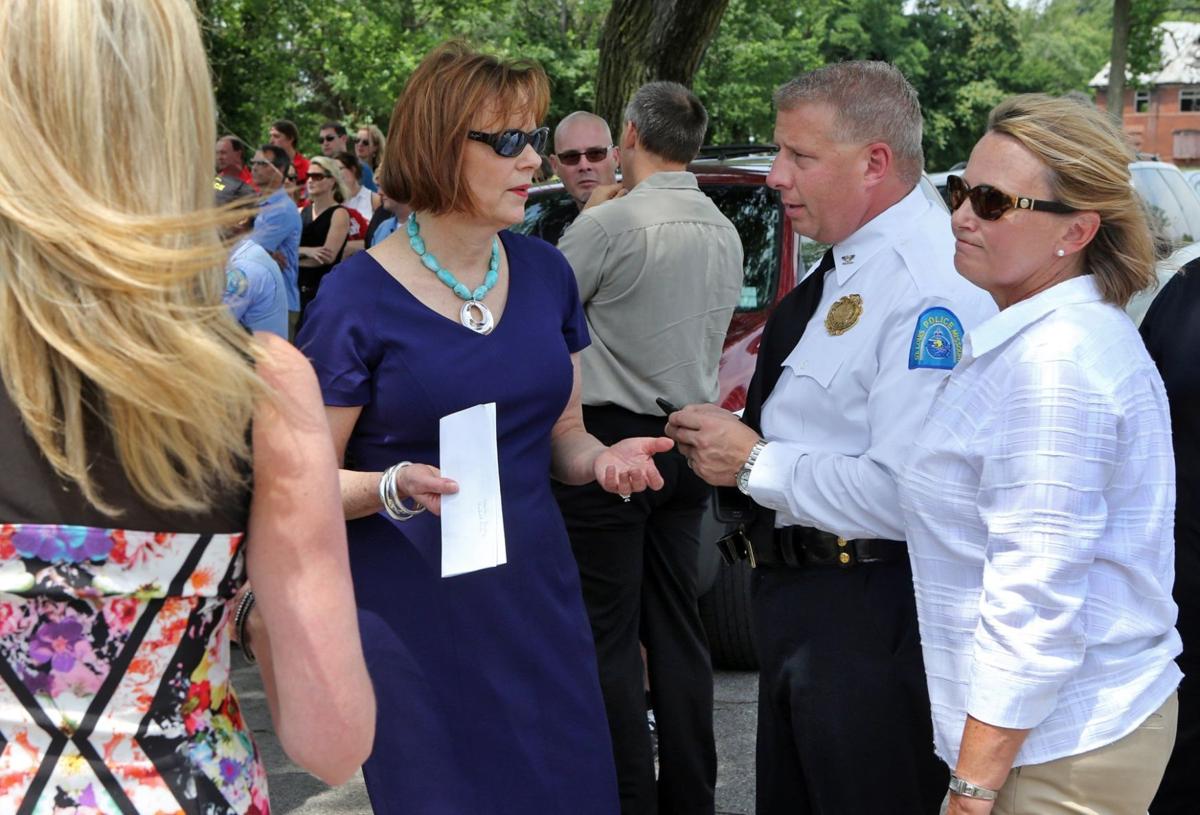 ST. LOUIS • Police Chief Sam Dotson and Circuit Attorney Jennifer Joyce have pressured judges into setting unfairly high bail in gun crimes, public defender Mary Fox says in court documents.
She has issued subpoenas to both for a hearing sometime next week that has not yet been scheduled. It was not clear what she wants to ask them under oath.
Dotson, Joyce and Mayor Francis Slay have been proponents of assigning dedicated judges to handle gun crimes for accountability and faster results, but the court resisted. Judges do often set initial gun-crime bail at $30,000, a high level for many of the defendants.
Tension between Fox and Joyce has simmered since June, when the public defender filed a motion seeking to compel the prosecutor to stop routinely redacting witness information from police reports provided to defense attorneys.
Judge Bryan Hettenbach disqualified the whole 22nd Judicial Circuit bench from that case, so Judge Gael Wood, from Franklin County, will preside at a hearing on that in St. Louis on Jan. 7.
Fox claimed Joyce "systematically" withholds witness information without seeking protective orders to authorize it. "These practices then necessitate the continuous creation and litigation of motions to compel such as this one, which in the aggregate are unnecessarily burdensome to defense counsel and the courts," Fox wrote.
Joyce has responded that witnesses are made available for the defense for depositions. But she said withholding of personal information was necessary for their protection. The practice predates the Internet, she noted, but is even more important in an era in which sensitive information can be easily shared on social media.
Fox has suggested that the police chief and top prosecutor have used social media posts and private meetings to improperly influence judges on the bail issue.
The subpoenas seek their attendance at hearings on two motions in the case of Dontrell French, 26, of the 4900 block of Beacon Avenue. He was charged with unlawful possession of a firearm, accused of trying to hide a gun under his feet during a traffic stop Aug. 28.
In a motion to reduce French's bail, Fox attacks the $30,000 frequently set.
Fox cites social media comments by Joyce, Dotson and Missouri Attorney General Chris Koster in her filings.
"Unfortunately, the bail amounts set in these cases in the 22nd Judicial Circuit are based ... on demands by the Chief of Police and the Circuit Attorney," she wrote. "Those demands are made not in a court on a case-by-case basis as they should be, but rather in social media, the press and in private confidential meetings to which the defendant and defense counsel are not invited."
Fox declined to comment and would not make French available for comment.
Dotson and Joyce indicated they did not know the purpose behind the subpoenas.
Joyce issued a statement, which says, in part: "The defense attorney's request for me to testify at a bond hearing in court is unnecessary and theatrical. Like anyone in the community, the public defenders have many options to discuss important matters with me."
In court documents, Fox argues that bail is a constitutional right, with limits, and that judges should set the amount based on each defendant's unique situation. Bail is intended to compel appearance in court, and as a mechanism to impose special conditions if a defendant poses a threat.
In French's case, Fox argues that he is a single father with no means to flee the area.
Joyce's statement said judges had a "great deal of independence" regarding bail, and noted, "The fact is, private attorneys ask for bond reductions far more frequently than public defenders do, according to our data."
Joyce and Dotson vowed to continue voicing criticisms of the criminal justice system.
Dotson has complained in particular about judges' use of a suspended imposition of sentence for a first-time defendant. Because it is not considered a conviction if terms are successfully met, he argues, the individual can be arrested later and treated as a first-timer again.
Court documents show French has had suspended imposition of sentences revoked several times on various charges, including dealing marijuana, endangering the welfare of a child, knowingly burning or exploding and property damage. Those charges date to 2010.
Fox's filings say Joyce's and Dotson's data on gun crimes show that higher bail settings do not reduce homicides, which have ebbed and flowed since their inception.
Responded Dotson: "I've never pigeonholed this discussion into homicides, I'm talking about violence overall and not trying to pick a data set to prove a point."
Fox also refers to Joyce's website, which shows 90 of 402 gun cases in 2014, or about 22 percent, did not result in a guilty plea. She says that implies that a "large" number of innocent people have been held on high bail.
But Joyce's spokeswoman, Susan Ryan, said Thursday that the 22 percent included cases shifted to the federal court for prosecution or re-charged.
The office's data show that of 111 gun docket cases dismissed by prosecutions from May to October, 91 were shifted to federal prosecution, eight were re-indicted and 12 were lost to problems with victims, witnesses or other evidence.