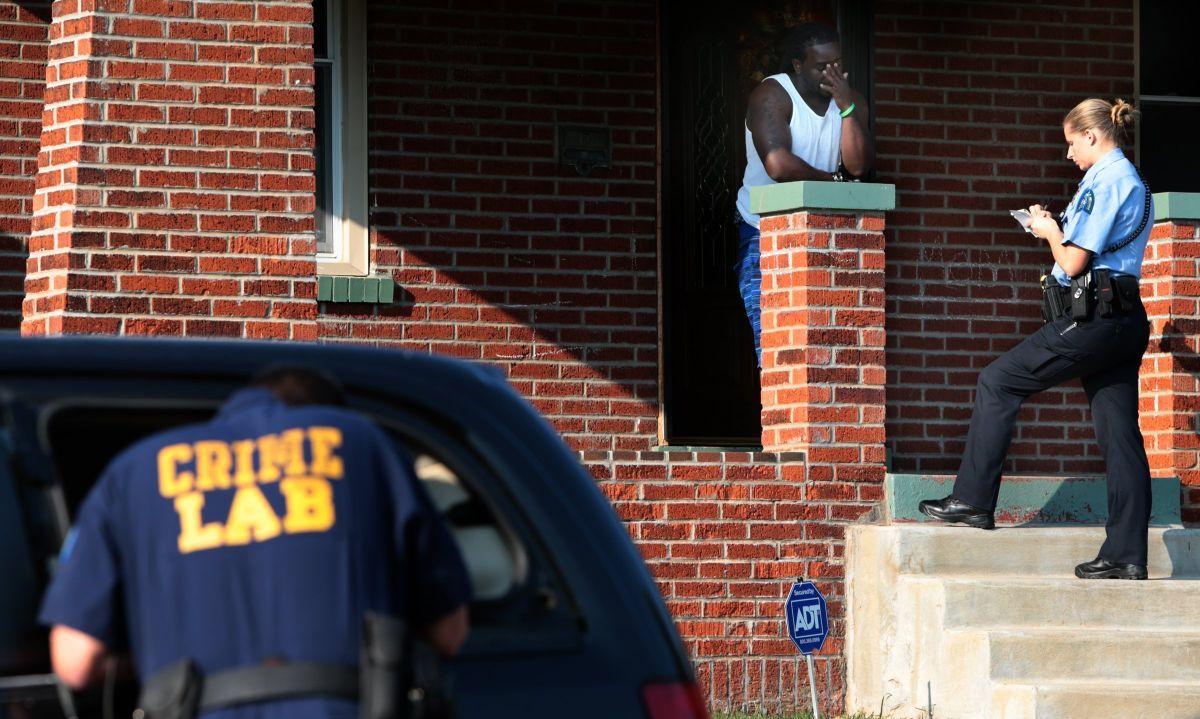 ST. LOUIS • The worst of the city's crime spike could be behind us.
Data from the city's police department show total reported crimes, and the categories of crimes against persons and crimes against property, each declined from July to August, and declined again in September. Partial October information was not available.
It marked the first succession of decreases in more than a year.
Year-to-year comparisons of overall crime declined as well. By the end of July, overall crime was running 14 percent ahead of the year before. After August, it was 13 percent ahead, and at the end of September it was 10 percent.
Homicide numbers generally mounted through 2015. But unlike the broader crime categories, which mostly increased each month until tipping downward in August, murders have alternated up or down each month since April.
An increase in police activity, coupled with the cyclical nature of crime trends, could be responsible for decreasing numbers, according to Rick Rosenfeld, a University of Missouri-St. Louis criminologist who studies the city's crime trends.
"But we have to be cautious from drawing meaning from just a few months," Rosenfeld said. "Typically we reserve judgments about what's driving crime until we have a 12-month perspective, but what's happening this year is that we were seeing large increases on a month-by-month basis, and that rate began to slow about two months ago.
"And that, of course, is good news if there is a decrease in the rate of the increase."
Police Chief Sam Dotson is cautious, but hopeful.
"Crime is still up, but it's trending in a more positive direction," he said Friday.
Dotson noted that in the past 20 years, the city's crime rates had spiked four times. And, each time, he said, that spike has lasted for two years.
"We've seen this cycle before and that's why it's important to look at three-, four- and five-year trends," he said. "It's like the stock market, crime goes up and down."
Rosenfeld and Dotson don't always agree. Dotson has a theory that the anti-police sentiment that followed a Ferguson officer's shooting of Michael Brown last year contributed to increased crime by demoralizing officers and contributing to a sense of "de-policing" that emboldened criminals. But Rosenfeld says city crime stats already were edging up before the Ferguson shooting.
Each week, Rosenfeld attends meetings in which police commanders use crime statistics to inform their decision-making. The so-called CompStat meetings, modeled after New York City Chief Bill Bratton's approach in the 1990s, also include reviews of officers' self-initiated activities.
Rosenfeld has noticed an increase since July in Field Interview Reports — known as FIRs — the documents officers fill out after every interaction. They note as much about a person as possible, including clothing, tattoos, hairstyle and any information they provide. It's an age-old tool that Dotson said his commanders have emphasized in recent months, as part of encouraging more contact with the public.
He says it's not the same as New York's controversial stop-and-frisk policy.
"FIRs give us a chance to get out of our cars and interact with people," he said. "They are voluntary, they don't require frisking, and it helps create a database which we can use in our investigations to tell us who is in an area and what they were wearing.
"Whether we get it by being confrontational or casual, an FIR can have a residual effect."
For example, if someone reports a crime, police can use the FIR database as a starting point to investigate whether police encountered anyone matching a suspect's description in the area.
"That's how police work starts, knowing who the people in your area are and having information to act on," Dotson said. "It's exactly what we should be doing."
Dotson said the increase in the number of reports showed that fatigue from what he has called the "Ferguson effect" may be wearing off. "Maybe that trepidation is disappearing," he said.
Rosenfeld remains hesitant to say the effect ever existed. Also, he said, other police activities, such as inspections of unoccupied buildings and vehicles, are down.
"I'm not certain if these are genuine decreases or the recording of other activities has gone down as the emphasis has shifted to Field Interview Reports," he said. "If police are directly engaging with people in the community, it sends the message that the police are present, and that can avert crime."
Emergency room admission and overdose data show that heroin abuse has been rising, Rosenfeld said, and he believes heroin trafficking is at the root of many St. Louis homicides. He said he hadn't seen any evidence that the epidemic was slowing, making him cautious about the glimmer of hope in the city's crime stats.
"The hopeful sign here is that we may not be looking at a long-term upward trend," Rosenfeld said. "That's a hopeful sign, but we won't know it for sure for several more months."
Monthly crime stats for St. Louis
| Month | Homicides | Crimes Against Persons | Property Crimes | Total reported crimes |
| --- | --- | --- | --- | --- |
| Jan 2014 | 14 | 290 | 1398 | 1688 |
| Feb 2014 | 5 | 247 | 1034 | 1281 |
| Mar 2014 | 14 | 429 | 1340 | 1769 |
| Apr 2014 | 11 | 466 | 1543 | 2009 |
| May 2014 | 8 | 434 | 1631 | 2065 |
| Jun 2014 | 6 | 418 | 1758 | 2176 |
| Jul 2014 | 13 | 435 | 1789 | 2224 |
| Aug 2014 | 14 | 504 | 1961 | 2465 |
| Sep 2014 | 16 | 531 | 1930 | 2461 |
| Jan 2015 | 16 | 511 | 1757 | 2268 |
| Feb 2015 | 7 | 289 | 1073 | 1362 |
| Mar 2015 | 12 | 453 | 1698 | 2151 |
| Apr 2015 | 20 | 488 | 1671 | 2159 |
| May 2015 | 15 | 528 | 1709 | 2237 |
| Jun 2015 | 22 | 537 | 1778 | 2315 |
| Jul 2015 | 20 | 591 | 2050 | 2641 |
| Aug 2015 | 24 | 525 | 2041 | 2566 |
| Sept 2015 | 17 | 483 | 1844 | 2327 |