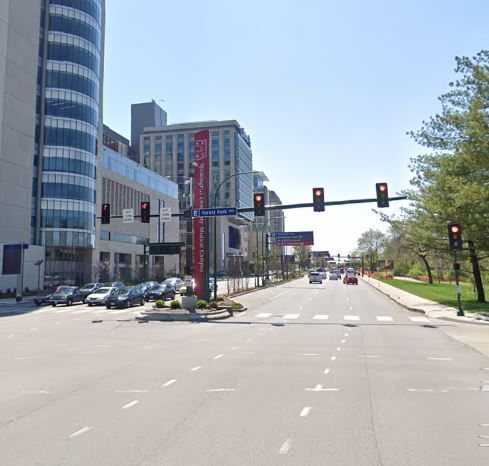 ST. LOUIS — A steer escaped a trailer and trotted down a busy St. Louis street surprising drivers Sunday afternoon in what was at least the city's second cattle roundup in a little over three years. 
St. Louis police say they were called about 4:30 p.m. Sunday to the stretch of Kingshighway Boulevard near Barnes-Jewish Hospital and Forest Park for reports of an "animal at large." 
The steer was returned to its trailer after a short time, police spokesperon Evita Caldwell said Monday 
Videos spread through social media showing a man in a tie-dye shirt trying to corral the animal with a rope, and the red bovine poking its head through median bushes and running down the street next to cars. 
The break out Sunday was a reminder of a 2017 cattle escape that has become a local legend known as the "St. Louis Six." 
That roundup lasted much longer. On March 30, 2017, six steers escaped the Star Packing Co. slaughterhouse in north St. Louis and led police on an hours-long chase through the city.
News helicopters tracked them as they trotted through neighborhoods flanked by police SUVs. SWAT officers responded with rifles as protection. Crowds gathered to watch and cheer. And when some of the rogue cattle seemed to be cornered at the Little Sisters of the Poor residence on North Florissant Avenue, one barreled through a fence to break free and led pursuers on a chase of more than a mile.
That steer was later named "Chico," by a large crowd that started chanting in support of him at the scene because "he's smooth." 
Five of the surviving "St. Louis Six" were bought by The Gentle Barn, an animal rescue organization out of California, and sent to live at a sanctuary created in their honor near Grubville in Jefferson County, about 40 miles southwest of St. Louis.
Shake off your afternoon slump with the oft-shared and offbeat news of the day, hand-brewed by our online news editor, Mandy St. Amand.