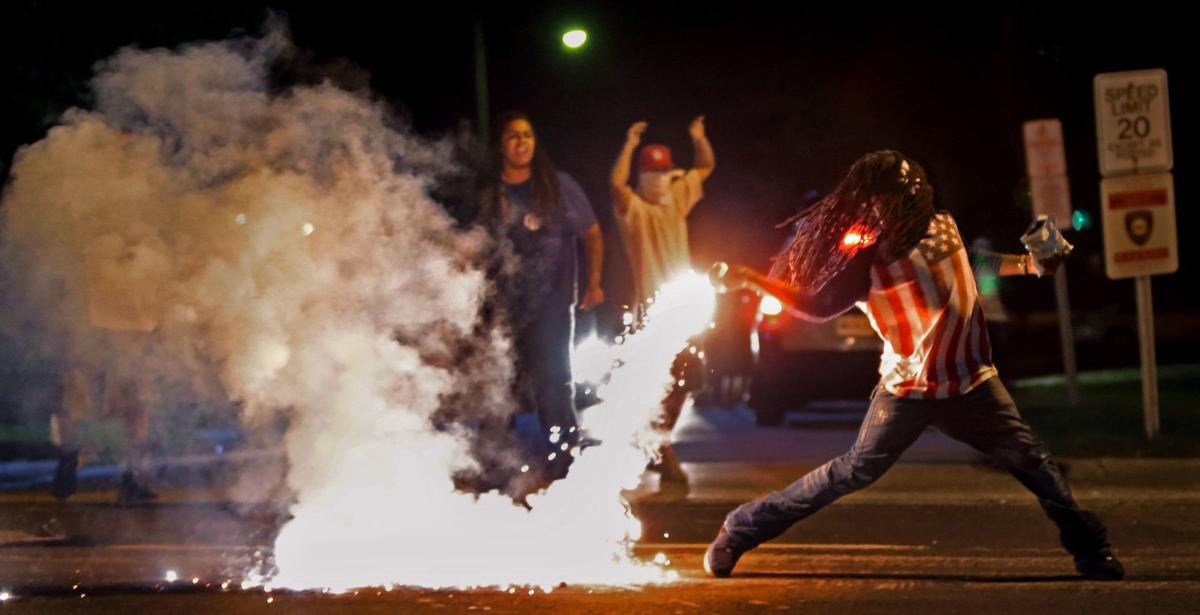 He's 25, went to University City High School and works at a bistro on the Delmar Loop. He's a waiter, a roller skater and a father of three.
And, just after midnight on Aug. 13, he grabbed a sparking, smoking tear gas cylinder, fired by police at Ferguson protesters, and threw it back.
The photo, taken by Post-Dispatch photographer Robert Cohen, has become an iconic image of the now two-week protest along West Florissant Avenue.
For many, the act bottles up all the anger directed at police after the shooting of unarmed black teen Michael Brown. It represents defiance against police aggression. And the shirt Crawford is wearing, with the American flag down the middle, identifies the irony of the moment.
But Crawford says he wasn't angry when he threw it. He was angry beforehand. Afterward — as he was being dragged out of a car, cuffed and jailed — he was mostly just scared.
And throwing it wasn't an act of rebellion, he said. It was instinct.
Crawford lives in University City, as he has since he was a child. His brother lives a few streets from the apartments on Canfield Drive in Ferguson, where Brown was shot three Saturdays ago. His brother told him about the shooting.
On the Tuesday night after the shooting, Crawford got off work at Ginger Bistro and went home to change. He grabbed one of his favorite T-shirts, with three-quarter sleeves and an American flag down the front. He loves the baseball-style tees, and owns two, but the black-and-white one was dirty. He borrowed his mother's Cardinals socks, and tied up his blue Nikes.
Then he and a friend drove to a park to visit her father, who was fishing for catfish and sturgeon, before heading to Ferguson to get a sense of the gathering there.
Crawford does not consider himself unusually brave. Yes, he has a rap sheet, but it is brief: After his stepfather was murdered a few years ago, he carried an illegal gun and got caught.
He quit the U. City High football team after a particularly hard hit on the second day of practice. He lives with his mother. And he takes his children roller skating every Sunday.
This would be his first protest. And what he found in Ferguson that night wasn't violent, he said. It was electric. Alive.
At some point, he saw a guy with a bag of chips. Crawford asked for some. The guy gave him a whole bag of the spicy local favorites, Red Hot Riplets.
"It was cool," Crawford said of the scene.
Then he remembers the police lining up in riot gear. He remembers batons beating on shields, officers pushing protesters back.
"It looked like something you'd see in a movie," he said.
He doesn't understand why police started firing rubber bullets (or wooden pellets, it's unclear which) and all of the smoking canisters. He insists he saw no guns among protesters, no homemade bombs, no projectiles of any kind.
And, at that moment, he was angry. "Why," he thought, "are you all shooting people?"
Then came a boom, like a cannon going off. And an impact, just feet away. "It landed so close," he said. "I didn't know what it was. It was on fire. It was spinning."
Crawford, a slight man with long, neat dreadlocks, a wisp of a mustache and fuzzy chin beard, jumped over the sparks, waited for it to stop spinning, and grabbed it. It was cool to the touch, he said.
Crawford told the Post-Dispatch that he didn't intentionally throw it at cops. He just threw it.
Ten minutes later, he went to get his friend's car. But before he could pick her up, police surrounded him. One beat in a window. Another jerked open a door. "I've never in my life witnessed anything like that," he said.
Police logs note Crawford was charged with officer interference — though his attorney hasn't seen the charges.
He was released from the St. Louis County jail that morning, and, he said, walked home to University City.
But now that the image of Crawford's mighty heave is on T-shirts, posters, walls and all over Twitter, Crawford has new ideas. He'd like to get more involved in the community, he said. Talk to youth. Organize the movement.
And maybe, he said, help change St. Louis.