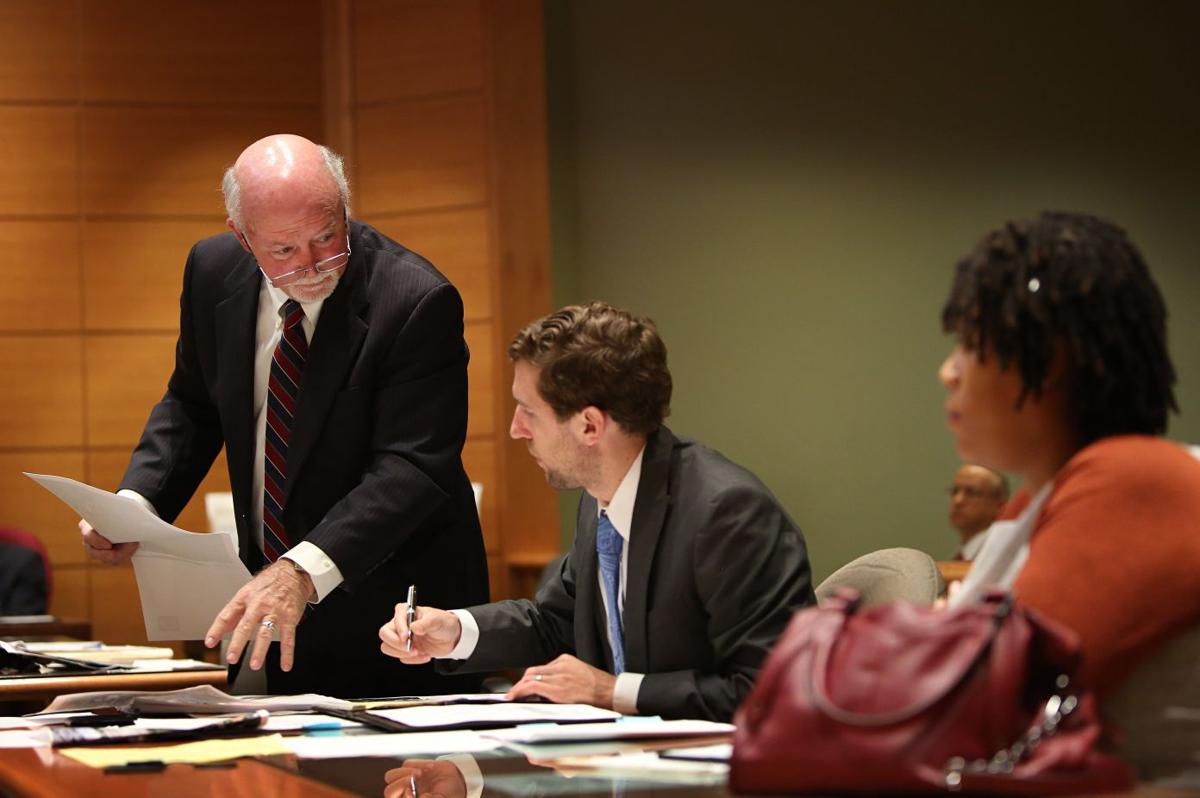 A nonprofit legal organization marked the second anniversary of Michael Brown's death by suing Ferguson, 13 other municipalities, two police officers and two attorneys from a law firm accused of helping facilitate a municipal court system often criticized for profiting off poverty.
On Tuesday, Arch City Defenders, partnering with two other firms, filed two lawsuits in federal court. One targets Ferguson, alleging various constitutional violations, along with malicious prosecution.
The other suit is against the cities of St. Ann, Edmundson, Normandy, Cool Valley, Velda City, Beverly Hills, Pagedale, Calverton Park, St. John, Bel-Ridge, Wellston, Velda Village Hills and Bellefontaine Neighbors. It accuses them of illegally operating debtors prisons in addition to other constitutional violations.
The 79-page suit says that in 2015 alone, the cities issued 1.7 arrest warrants per household mostly "in connection with tickets supposedly involving traffic violations and other petty offenses."
To collect those fines, the cities arrest people who have failed to pay and primarily rely on St. Ann's jail, "where arrestees languish until the Defendant Municipalities can extract enough money from the individuals or their families to satisfy the Municipalities' demands," the suit alleges.
The suit, filed on behalf of 13 people arrested and jailed because of warrants issued by the cities, says the municipalities have collectively reaped nearly $77 million from their municipal courts over the past five years.
The suit seeks class-action status and declaratory judgments that the cities violated the Fourth, Sixth and 14th amendments of the U.S. Constitution.
Arch City is partnering the Washington-based law firm Arnold & Porter in that case.
Last month, Arch City settled a case against Jennings for $4.7 million, alleging the city had illegally operated a debtors prison.
The 31-page Ferguson suit concerns four people arrested at or near protests days after Brown's death in 2014 and claims that the four plaintiffs were wrongfully arrested and prosecuted, despite a dearth of evidence that they had committed any crime.
The Ferguson suit seeks $20 million in damages.
In addition to the city of Ferguson, the lawsuit also names prosecutors Stephanie Karr and J. Patrick Chassaing, Ferguson police officers Sean Gibbons and Tim Harris, as well as unknown officers involved in the arrests of the defendants.
The plaintiffs — Michael J. Powers, Jasmine Woods, Michael Lhotak and Keith Rose — were tried in April in St. Louis County Circuit Court and later acquitted. In Woods' and Lhotak's cases, Judge Joseph S. Dueker granted attorneys' motions for judgment of acquittal, a rare move that means the evidence was so weak no reasonable person could find the defendants guilty beyond a reasonable doubt.
In most of the cases, the city was unable to identify the arresting officer or produce a witness who saw the defendants commit a violation.
Ferguson spokesman Jeff Small said city officials would not comment because they haven't had a chance to thoroughly review the lawsuit.
"These are cases that should not have been brought," said Michael-John Voss, a co-founder of Arch City Defenders. "There's a clear conflict of interest when the prosecuting attorney has an unlimited budget and can bill the city for this."
A Post-Dispatch story in May highlighted how private lawyers from the firm Curtis, Heinz, Garrett and O'Keefe billed Ferguson tens of thousands of dollars for prosecuting the cases.
The article also noted that the defendants had all been charged with "failure to comply." It's often referred to as a "contempt-of-cop" charge, and one the U.S. Department of Justice has accused Ferguson police of routinely abusing.
The lawsuit, filed on the second anniversary of Brown's death at the hands of then-Ferguson police officer Darren Wilson, alleges that financial pressures put on Karr and Chassaing by their firm drove their actions.
Wilson was not charged in Brown's shooting. Federal and state investigations found that evidence supported his story that Brown had fought for Wilson's gun and charged at him.
Curtis Heinz attorneys serve as prosecutors, judges and city attorneys for more than 20 municipalities, including in at least six of the municipalities named in the other suit. Karr is City Attorney in Edmundson and Calverton Park.
Last month, Karr received the Lou Czech Award from the Missouri Municipal Attorneys Association, an award that recognizes exemplary service and upholding the highest standards of ethical conduct and professionalism, according to a press release on Curtis Heinz website.
Karr did not voice mail message from the Post-Dispatch on Tuesday.
"Because the Curtis Heinz firm is a private entity, in competition with other law firms in providing attorney services to local governments, marketplace pressures provide the Curtis Heinz firm with strong incentives to avoid overly timid, insufficiently vigorous, or unduly fearful employee job performance," the suit says. "This is reflected in the unconstitutional behavior of Defendants Karr and Chassaing in pursuing prosecutions for which no probable cause existed, including the absence of any evidence from a complaining witness with direct knowledge of the circumstances of Plaintiffs' arrest, or any other evidence, whatsoever, that Plaintiffs had violated the law."
Until recently, Karr served as both city attorney and prosecutor for Ferguson. The city removed her has prosecutor and she resigned her position as city attorney following a protest outside her Ferguson home.
Lhotak, Woods and Rose were arrested on Aug. 11, 2014. Voss said the firm filed the suit Tuesday because the two-year statute of limitations was set to expire in the next few days.
In an interview Tuesday, Jasmine Woods, one of the defendants, said she lost her job as a home health care worker because of her arrest.
Woods was one of 11 people arrested after a demonstration near the Ferguson Police Department. Police claimed that she failed to heed officers' instructions to leave the area. Woods said she was just trying to get to her car.
Woods was held for 24 hours in the Ferguson jail and forced to share a bed with another woman, she said. She said that she was not allowed to contact her family, which searched for her for more than 10 hours.
The experience frightened her so much that she never attended another protest, she said.
At her trial in late April, Chassaing could not produce an officer who had arrested Woods or a witness who saw Woods disregard an officer's order, or a witness who could testify that Woods heard a police order to disperse, prompting Dueker, the judge, to remark: "There's no testimony regarding this defendant at all, not that she was even there."
In the Ferguson suit, Arch City is partnering with Dowd & Dowd. The president of the firm, Douglas P. Dowd, has experience suing other lawyers and last year won a $78 million verdict against Wells Fargo Bank.
When Dowd read about the prosecutions in the Post-Dispatch, he said he was in disbelief that Chassaing had seemingly argued that defendants were guilty because police had taken them into custody. It seemed to defy of the presumption of innocence, he said. He then called Arch City, the firm representing several of the protesters.
"They said, 'It's all true,'" he said.
Tuesday's lawsuit was the fifth that Arch City has filed against Ferguson over alleged constitutional violations. The nonprofit also has suits against the cities of Pine Lawn, St. John, Jennings and Florissant, and St. Louis County.
"It shows there's a lot wrong here in St. Louis that we need to address," Voss said "It's about bringing about some systemic reform."
Shake off your afternoon slump with the oft-shared and offbeat news of the day, hand-brewed by our online news editor, Mandy St. Amand.