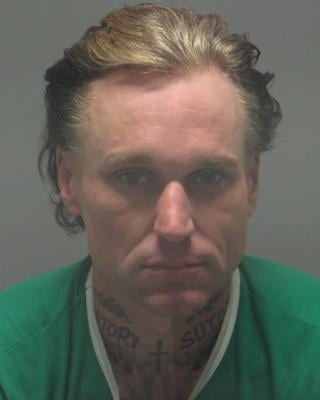 CLAYTON • What one man thought would be his escape led instead to his capture today at St. Louis County police headquarters.
A man running from the police unknowingly ran into police headquarters at about 2 p.m., and was apprehended at gunpoint behind the police chief's office.
Shortly after 2 p.m. St. Louis County Lt. Bryan Ludwig and media relations Officer Randy Vaughn were discussing a policing contract in Ludwig's office when Ludwig saw a man running in the hallway toward the office area he shares with Chief Tim Fitch and other administrative aides.
"I told Randy that if I say, 'Duck,' it's because I might have to use my gun," Ludwig said. 
The officers then saw the man dart to the left of a set of double doors that led into the chief's office and into a hallway that dead-ended at the Intelligence Unit. The man was curled up in a ball when they found him, Ludwig said.
"He acted like if he didn't look up and couldn't see us then we couldn't see him," Ludwig said.
Ludwig and Vaughn held him at gunpoint and were joined shortly thereafter by a Clayton police officer, who had been chasing the suspect.
A Clayton officer pulled over the man—identified as Joseph Meacham, 39, of the 3200 block of Itaska Street in St. Louis city—and his female passenger for a traffic violation as they headed northbound along Central Avenue at Forsyth Boulevard. The officer asked Meacham to step out of the vehicle; as the officer walked back toward vehicle, the suspect pushed the officer out of his way and a short foot pursuit ensued, said Clayton Officer Korey Golcynski.
They ran first eastbound along Forsyth, then into an alley and eventually back to Forsyth and Central. The suspect then ran west on Forsyth into the county police headquarters building and toward the chief's office, Golcynski said.
"It appears the subject had no idea where he was going," Golcynski said. "He was unfamiliar with the area."
The Clayton officer arrested Meacham, and police still are trying to determine why the man ran from police. The female passenger remains in police custody, but is being cooperative, Golcynski said.
Ludwig said he could smell alcohol on the suspect's breath, and the man was initially complaining that he couldn't breathe.
Fitch, meanwhile, walked into his office shortly after the incident to find a Clayton police officer inside. He had been attending an award ceremony at a restaurant in Frontenac where some of his officers were being given awards by the Mental Health Association. 
Nobody was injured during the incident. Ludwig said the incident caused some confusion for some citizens that were in the hallway at police headquarters at the time.
"They were all standing around saying, 'Um, that man has his gun out!'" Ludwig said. 
Clayton police issued Meacham tickets Wednesday and later released him, Golcynski said.