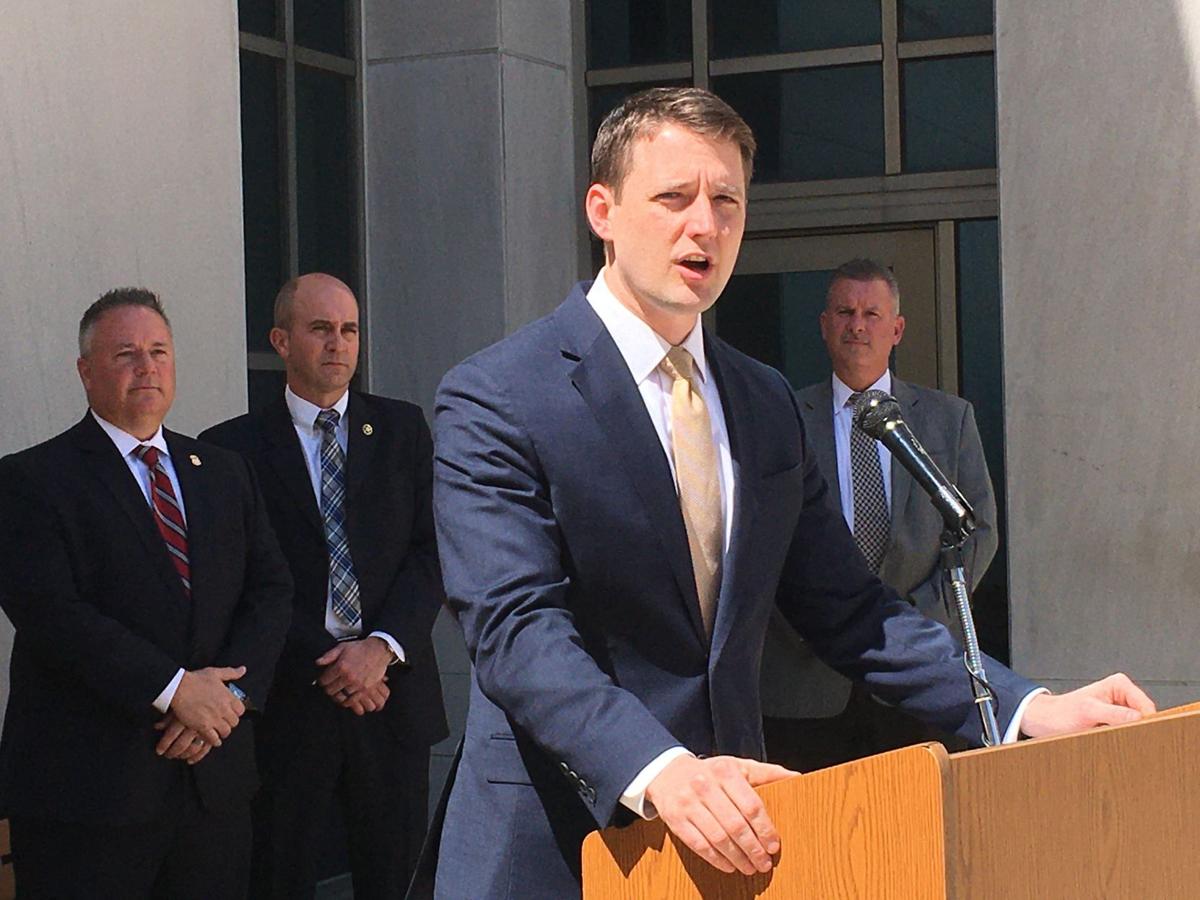 EDWARDSVILLE — The steady flow of lawbreakers traveling into the Metro East from Missouri is among the biggest problems facing Madison County police and residents, State's Attorney Tom Haine said Friday.
"The chorus of citizen complaints in Madison County regarding crimes occurring in their community from individuals coming across the river from Missouri is being heard," said Haine, a Republican who started his first term in December. "Our response is, I think, a testament to the unity of the law enforcement community in Madison County to finally take a united stand against 'cross-river crime.'"
Haine's comments followed the first meeting of a task force focused on enforcement and prevention of crimes he claims are committed by Missourians — mostly from St. Louis and St. Louis County — who target people and property in Madison County.
"When we see people come across the river, that's just the accurate term for it," Haine said. "The reason why this is relevant, and the fact that it's cross-jurisdictional, is that it has an impact on the kind of crime that occurs — individuals that are not part of this community will be likely to heighten the violence level of these individual crimes, and that's what we're seeing."
Haine could not cite data for crimes committed by Missourians in his jurisdiction but he said it's a common complaint from police chiefs in Madison County. He said one of his goals is to send a message that Missouri residents who commit crimes in the county will face aggressive prosecution.
The task force, which includes local and state police officials as well members of federal agencies, plans to spend the next several weeks analyzing and gathering crime data, developing plans and working with federal authorities to propose targeted crime-prevention strategies that could include coordinated enforcement around the county's highways.
"This is not the first time that a high-crime jurisdiction has been divided by a river from a low-crime jurisdiction," Haine said. "So what are other solutions that have happened elsewhere in the country and how can we learn from those solutions and bring those to Madison County?"
St. Louis and St. Louis County police and officials had no immediate response but Haine's comments drew swift criticism from Bi-State Development board member Terry Beach of O'Fallon, Illinois.
1/2: Seriously, WTF? I'm an IL guy (St. Clair County). Crime is a regional issue. It doesn't stop at River bridges in either direction. This Madison County dog whistle reeks of you know what. Create a task force before the facts are in while saying major crime in MadCo are being pic.twitter.com/G7EBkZlcL6

— Terry Beach (@terry_beach) April 9, 2021
"Crime is a regional issue," Beach said on Twitter. "It doesn't stop at river bridges in either direction."
Haine said the task force wants to propose strategies ahead of what he expects could be "tragically, a very hot summer in terms of crime" tied to growing anxiety and pressure built up during the coronavirus pandemic.
"So we need to make sure we're on the roads and ready to take action," he said.