ST. LOUIS • A teenager shot by city police is paralyzed below the waist, his mother said Sunday as her family copes with another episode of gun violence. Not seven years ago, her teenage daughter was accidentally shot to death.
This time, a firearm in the hand of her son, Brandon Claxton, 16, prompted an officer to shoot him three times about 7:15 p.m. Saturday in a housing complex in the 2500 block of Hodiamont Avenue, officials said. Police encountered him while responding to a call about someone with a stolen pistol.
Antoinette Liggins, 42, told the Post-Dispatch that she was still sorting through her feelings with her daughter gone, one son in critical condition and another, who had been with him, held on a probation violation.
"I had to ask God to give me an understanding for my daughter first and I had to forgive," Liggins said. "She helped a few people with me donating her organs." She added, "With the boys, I really don't know what to do."
She said that she respected the police and that her son "shouldn't have had the gun." But from what witnesses have told her, she said, "They didn't have to shoot him down like that."
Liggins is skeptical that Police Chief Sam Dotson said a surveillance camera did not provide a clear view. "I believe they are trying to cover up," she said. "There is more than one camera back there."
And she complained that police would not let her see her son in a hospital because he was in custody.
Liggins said a protest was planned sometime Monday at Police Headquarters.
One of three witnesses interviewed Sunday told a reporter that Brandon did have a gun in his hand. But all three said that he did not point a weapon at anyone as he tried to run from officers.
The witnesses also said they were concerned about the proximity of children on a playground nearby when the officer opened fire. One said a girl, about 6, even ran out of her shoes while trying to get out of the way. Nobody else was hurt.
Dotson said a woman had called after seeing someone she believed recently stole her pistol. Dotson said that five officers had arrived and that two young black men had fled, running one way and then the other, with police on both sides. He said one teen, carrying a gun, had run toward an officer.
That officer, a white man, 29, with seven years on the force, fired three times. "He saw a gun in the suspect's hands," Dotson said."He believed the gun was pointed at him. He feared for his safety."
Dotson said the circumstances would be reviewed by the department's new Force Investigation Unit and then separately by the circuit attorney's office.
He said a loaded .40-caliber pistol was recovered at the scene.
Liggins said police took in another son, Anthony Claxton, 15, who was with Brandon when he was shot. She said they told her he had violated his parole by missing curfew, and would be held. She said a GPS monitor was put on Anthony's ankle last week for a juvenile charge last month of tampering with a motor vehicle.
Her daughter, Brenda Liddell, was 14 when she was shot Nov. 5, 2008, as she sat on a porch in the 5900 block of Alpha Avenue. Brenda died the next day. Liddell said she had forgiven the boy, then 15, who shot her by accident. She said he was charged as a juvenile with reckless homicide, and held until age 18.
Liggins said that the tampering charge was Anthony's only brush with the law and that she had had no problems with Brandon until he was shot. He was about to start the 10th grade at Sumner High School and was recently hired at Goodwill.
"Of course that won't happen now," she said. "I just got to stay prayed up and thank God he still has his life."
Doctors told her that a bullet ruptured Brandon's liver, split his pancreas, which had to be removed, and lodged in his spine, causing the paralysis. Shots also hit his arm and grazed his head.
Liggins, who is unemployed and looking for a job, said she was trying to obtain legal services for her sons.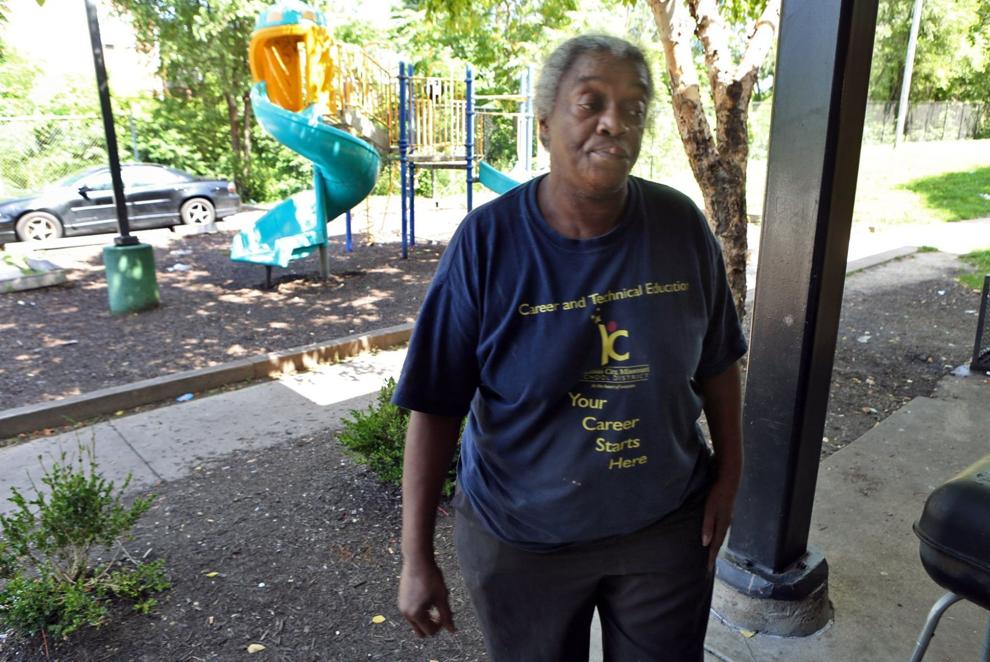 Witnesses estimated that more than 30 people were outside in the area when Saturday night's shooting took place.
Rita Collins, 54, said she looked out her window when she heard a shot and did not see Brandon with a gun. "The other two officers didn't even shoot," Collins said. The officer "shot that boy for no reason."
"If he had a gun, he didn't point it at him," she said. "Cameras don't lie. If they look at the cameras they will see the truth."
Collins said that after investigators were done, she picked up the shoes left by a little girl. "The boy fell where the little girl was playing by the slide. Her shoes was right there."
The officer, she said, "could have hit one of those kids." She added, "He was wrong for shooting around those kids when the boy did not pose a threat. They can't protect no one — that's putting them in harm's way."
Collins said bullets fly so freely in the neighborhood that she just had two shattered windows replaced in her flat.
"It's too much shooting and just too much killing around here," she said. "I plan to move."
Curtis Sykes, 25, said he saw police roll up and Brandon run toward the playground in back, where many people "started running and ducking for their lives."
He said Brandon ran for an opening in a fence to escape the area, and not toward police.
Dustin Ball, 27, saw Brandon with a gun and believes police were justified to arrest him — but not to shoot. He said he thought the teen was just trying to escape, and posing no immediate threat. Ball speculated that the weapon was in Brandon's hand because "it was a big gun and he couldn't run with it on his hip."