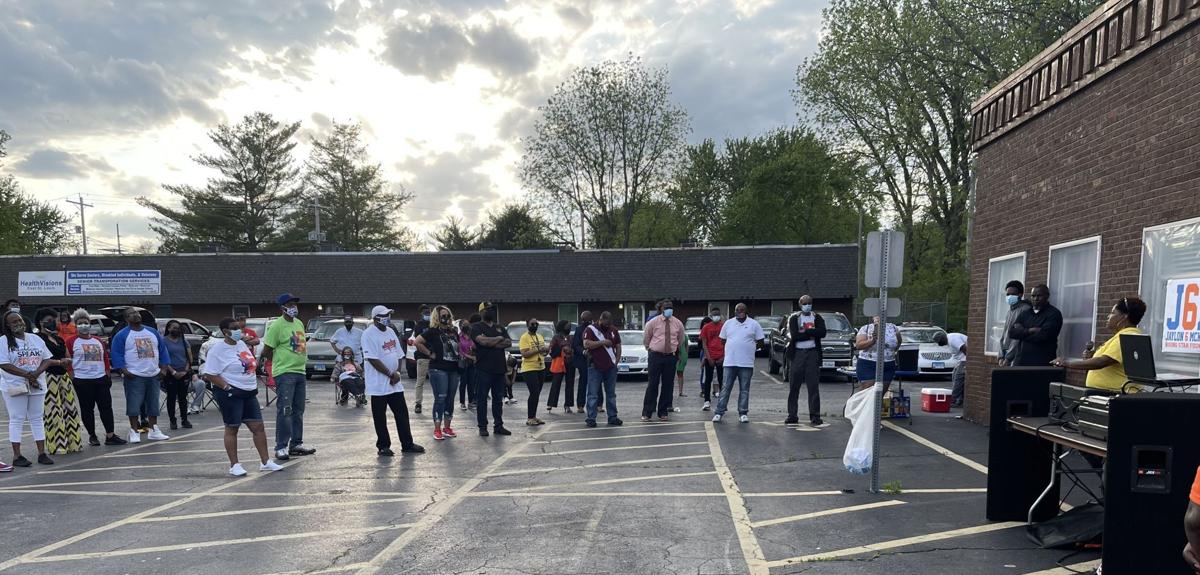 EAST ST LOUIS — A foundation named for an eighth-grade football phenom killed two years ago called for an end to gun violence at a rally Monday night in East St. Louis.
About 50 people attended the rally hosted by the Jaylon "6" McKenzie Rising Star Foundation and organized by McKenzie's mother, Sukeena Gunner.
Jaylon McKenzie, 14, was shot and killed May 4, 2019, at a party in Venice after a middle school dance. McKenzie, an eighth-grader at Mason-Clark Middle School, had received national attention as a football standout. He was featured in Sports Illustrated and had already begun making college visits and receiving interest from college football programs.
Gunner spoke at Monday's rally, in the parking lot outside the former East St. Louis Department of Motor Vehicles building, as did city officials and four other local women who have lost children to gun violence.
A suspect — 20-year-old Jaylen M. Staten — was charged last week by the Madison County State's Attorney's Office with weapons charges alleging he shot his gun at the time and place Jaylon was killed, but he is not charged in the killing.
Gunner said those charges are just a start, and she hopes other people who attended the party will come forward to help authorities solve her son's murder.
"Our theme is, 'End the silence, end gun violence.' Now that we have some people identified, maybe it will take some of the fear away," Gunner said. "I'm really excited about the news, but we have more work to do in order to get the justice we really deserve."
"It's not an East St. Louis thing. It's not a St. Louis thing," said East St. Louis Mayor Robert Eastern, who added that he keeps a photo of Jaylon on his desk. "The new (St. Louis) mayor, Tishaura Jones, she and I have been talking, and we're trying to do things to change the region. It's not a female thing. It's not a male thing. It's not a Black thing, not a white thing. We have a human thing that's going on here. How do we change that? When did it get OK to just get mad or do something idiotic and pick up a gun and shoot randomly in a crowd? It is not OK."
East St. Louis police Chief Kendall Perry made a plea for parents to tend more to their children's actions. In the past week in East St. Louis, Perry said police recovered 17 guns, four of which were assault rifles.
"The police can't do it," said Lt. Elbert Jennings of Illinois State Police, one of the agencies investigating Jaylon's killing. "If the police could do it, we wouldn't be here. Police officers alone cannot solve the problem that we have. We just can't. It starts in the homes. We have to address what's going on in our individual homes."
Gunner said hosting programs and giveaways in her son's name help keep her son's memory alive and motivate other children. On May 5, through the foundation's Facebook Page, she said she will host a raffle to help college seniors with dorm essentials.
"Seeing the impact he made in the community, I know that my baby would have given back to this community. I just feel like this is the way that I can do it in his honor," Gunner said. "I know it's not much, and I can't reach every student. But if I can reach one and let them know that Jaylon didn't die in vain, and that he will continue to live through me."