KOSHKONONG, Mo. — As did her traumatic life, the death of 25-year-old Dianna Holden is challenging the credibility of systems put in place to protect the vulnerable.
Holden was born with fetal alcohol syndrome. Her foster father went to prison for sexually abusing her as a child growing up in Oklahoma. Starting as a teenager, she attempted suicide several times. Her physical injuries and mental illness were treated at hospitals along the way, including in recent years, when she'd moved to this tiny town in southern Missouri near the Eleven Point River, said her widow, Ashley Holden.
Dianna and Ashley married on Halloween in 2017. After about two years of happiness, they ended up fighting a lot.
"It's a really horrible feeling to not know who you were married to," said Ashley, 23. "I loved her with all my heart. I tried to help her. I don't know what happened."
In January, legally married but on the skids, Dianna moved in with a neighbor named Mark Sanders, now 57. The divorced and disabled carpenter used to host and cook for the young couple.
"It blew me away that she would get together with somebody old enough to be her father, especially after she told me that she was raped by an older man when she was younger," Ashley said.
On March 27, after about four months of living together, Sanders reported Dianna's death to Oregon County authorities. He told them that he'd been awakened by a loud pop at 1:30 a.m. There Dianna was in bed next to him, naked, unconscious and shot in the head with his 9 mm handgun.
The coroner and the sheriff's office agreed that it was suicide caused by a self-inflicted gunshot wound. Holden's body was sent across the nearby Arkansas border to be cremated the same day.
Details of the case have since been scrutinized by family and friends. A leading coroner in the state said the case was ripe for review by the new Missouri Coroner Standards and Training Commission, once it's fully appointed.
The Holden case is an easy target because it has a Wild West-flair to it. Documentation to support the conclusions of local officials, long used to working on the rural fringe, is scanty at best.
"Show me something that says she did this?" said Holden's sister, Jennifer Green, 48, of Yukon, Oklahoma, who has been digging into the case for months. "I want to believe that she did it."
"We all deserve dignity in death," she added.
Hard to clear his name
Koshkonong is a town of 212 people in an area that used to be known for commercial peach growing. Sanders still lives there in the rented trailer where Holden died. During a recent visit, he agreed to be interviewed by the Post-Dispatch, saying he didn't have anything to hide.
Though Holden's death was ruled a suicide, Sanders acknowledges he looks bad. He wished more would have been done to clear his name.
For his part, he said, he and Holden did have a sexual relationship. He said he cared for her, including a month before her death when she was treated for cutting her wrists and arms.
He said she and Sanders had a good day leading up to the night she died. He said he went to bed at 9:30 p.m. and Holden stayed up, which wasn't unusual. Four hours later, he jumped out of bed and turned on the light because of the loud pop noise. He saw Holden unresponsive with his gun.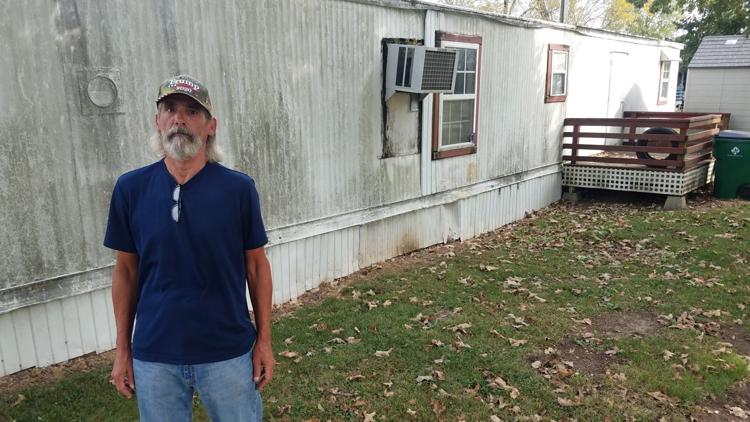 "I lifted her head up," said Sanders, 57. "Blood started coming out her nose."
He said he washed his hands so he could call police on his cellphone. He cleared the firearm before the first officer arrived.
"I wish they would have taken pictures of the blood on me and the dog," Sanders said. "That would prove that I was laying down when she did it."
Holden didn't have a job or much income. Sanders said she would use his cellphone. Sanders showed a text message that Holden apparently typed out to her wife the night she died.
"(I am) so sorry we couldn't make it," the message reads. "All (I) could do for you was cook and clean. But I felt like I wasn't enough for you. Blame it all on me ok. … We both have done things to spite the other."
Sanders' neighbor, landlord and colleague on the Board of Aldermen stands by him.
"I believe it happened just the way Mark said it happened," said George Hunt, 69, mayor of Koshkonong. "If it would have been handled more thoroughly, then a lot of this harassment that Mark has gone through wouldn't have happened."
Others doubted Sanders. They spoke of erratic and abusive behavior, including two standoffs with police. Stemming from one of the incidents, he was charged in 2015 for unlawful use of a weapon in Oregon County. Sanders said he'd been suicidal because of stress and pain from an old back injury. He said he was briefly hospitalized. Agreeing to stay clear of firearms for one year, he said the case was dismissed.
A Post-Dispatch open records request for a copy of the Oregon County Sheriff's Department investigation of Holden's death produced one four-page report with not much more information in it than what Sanders provided. No statements from neighbors. No exact measurements about where the body lay or of the bullet trajectory. No gunpowder residue test.
Deputy Trent Hutchens did note in the report that Holden was found naked on the bed, with blood on the floor and wall of the bedroom. He reported one gunshot wound to the left side of her head. He reported that he photographed the scene and took as evidence: the gun, 12-round magazine and 11 rounds of ammunition. Nothing was mentioned in the report about retrieving a spent shell casing.
Sanders said in an interview that he found the casing a week and a half after the incident in the nearby bathroom. He said it could have bounced or rolled in there. He said he threw it out.
"Everybody said it was all said and done," Sanders said of the investigation.
Deputy Hutchens moved on to a different department in Arkansas. He didn't return a call for comment.
'Not CSI on the TV'
Sheriff Eric King, who also responded to the scene, didn't want to discuss the case, but vowed to follow up on any leads provided by the family.
In a county of 792 square miles, many of them rugged, his staff consists of a chief and four additional deputies, but he was down two. A bailiff helps oversee the 10-person jail, which is also run by dispatchers.
"Some days it's the best job in the world," King said of being sheriff. "Some days it's the worst."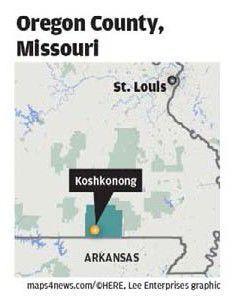 King, who is finishing his first term as sheriff, was chief deputy in 2008, when Michael Amick was charged for the death of Leona Maxine Vaughan, who'd been shot and burned in her home in the tiny town of Myrtle. Vaughan was the grandmother of Amick's wife at the time. Amick was convicted for second-degree murder and arson, but the Missouri Supreme Court overturned the Oregon County jury verdict in 2015 because of a violation of a law pertaining to juries.
The retrial was held in Poplar Bluff, the seat of Butler County. The jury chose not to convict because of a shortage of evidence in the "bad case," the jury foreman said in an interview. Amick was released after spending eight years behind bars. Amick's subsequent wrongful conviction lawsuit alleged officials, including King, concocted or went along with a false story that targeted Amick. In 2019, a federal judge threw the case out, having said there wasn't enough evidence to establish that a reckless investigation occurred.
Asked this month about the lack of gunpowder residue testing in the Holden case, King would speak only in general terms. He said the testing isn't as effective when the crime scene is in a small, confined space, such as a trailer home bedroom. He wouldn't share or discuss crime scene photos. Nor would he say how far the gun was from Holden's head when the shot was fired. Though a bullet wound was found on the left side of Holden's head, according to the incident report, family said she was righthanded.
King wouldn't say if there was an exit wound.
Tom Clary, the local coroner, couldn't remember for sure.
"Maybe it's bad to say, but I try to block it out," he said of the case. "I don't dwell on it."
There weren't autopsy and toxicology reports to consult because Clary didn't have the costly procedures done in the Holden case. In fact, he didn't even write his own death report. Everything was done verbally.
"This is not CSI on the TV," said Clary, 68. "This is real life Oregon County."
Steve Murrell, president of the Missouri Coroners' and Medical Examiners' Association, said he wasn't aware of other coroners who don't write reports.
"As a coroner, and a person who has an EMS background, that's poor business," said Murrell, from Lebanon. "If you go to court three, six, 10 years down the road, what have you got to look back on?"
Murrell hopes report writing and other best practices will be taken up soon by the Coroner Training and Standards Commission, a board he hopes to be a part of. The state law that created the commission went into effect in late August. There have been several applicants but no one has been appointed, according to a representative of Gov. Mike Parson, a former sheriff.
Salary: $11,400
Clary, who runs as a Democrat, has been reelected coroner so many times he doesn't remember when his first term began. The years blend together because he used to help his father when he held the post for decades before him.
He said he puts a lot of stock in what police have to say because they have more training to investigate death scenes and witnesses. He couldn't recall any cases in which he'd disagreed with local law enforcement about the official cause and manner of death, a ruling for which coroners are ultimately responsible.
"There is no need for a separate office," he said.
He does have a lot of experience examining bodies, though. He grew up in his family's funeral home in Alton, the seat of Oregon County government. Now he and his sons have expanded locations in West Plains, and Mammoth Springs, Arkansas.
Indeed, being coroner can help the family business, but, he said, for a job that requires being on call 24 hours a day, 365 days a year, the $11,400 annual salary is paltry. The salary, among the lowest in the country, is set by state statute and is based on total assessed value of property in the county.
Clary said he's never had an opponent run against him. Neither of his sons is interested in taking over. So he keeps at it. He's seen hundreds of dead people who suffered trauma or weren't found for days. He's notified numerous families about their losses.
"In a small town, it's even worse because I know the majority of people," he said from his office in Alton, population 838.
He didn't know Dianna Holden, but he recalled no red flags for anything other than suicide, especially taking in accounts of her previous attempts. He said her wife, Ashley, authorized the cremation. Told that Ashley said in an interview that she didn't recall authorizing it, though she admitted that she drank heavily that night, Clary said: "Ashley needs to be careful what she says because there are witnesses, and I think even video, but that's her business."
Clary said it's common for families not to accept the official rulings on suicides.
"I realize it's somebody's loved one. I am not trying to be hard," he said. "But you do what you gotta do and move on to the next."
Adding to the murkiness, Sanders, who reported Holden's death, told the Post-Dispatch that he recalled authorizing the cremation.
'Handled very poorly'
Whoever authorized it, Ashley picked up the ashes.
"Out of the goodness of my heart," Clary said he let her take them for the $100 deposit because she made a case about being unable to afford the full $1,600 bill.
Ashley put some of the ashes in a locket. She gave the rest to Jennifer Green, Dianna Holden's sister. Green organized a funeral service held Sept. 26 at a small Baptist Church in Blanchard, Oklahoma. Her ashes were spread over the grave of her brother and biological father, whom Holden hadn't seen since she was 5.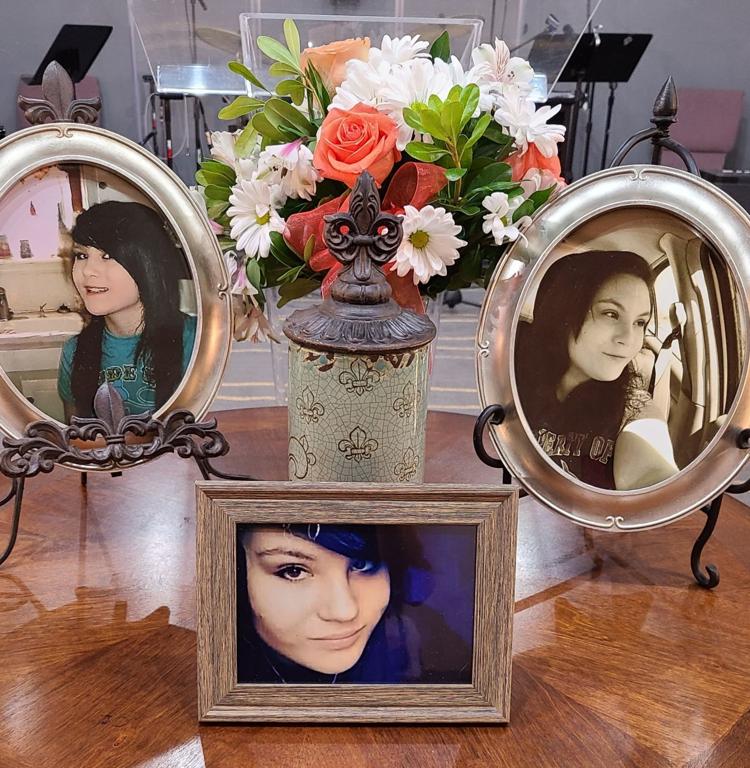 "I wish I could have brought her home and buried her next to her family, but I didn't have the opportunity," said Green, who has hired an attorney to look into her sister's death.
Eight people attended the service, including best friend Leanna Anderson, 27, who grew up with Holden.
Anderson said Holden was godmother of her two children. She described her as a "flower child" who loved classic rock and also had a history of trauma and mental illness. She said Holden first attempted suicide at age 12 or 13. Even still, she's on the fence over how Holden died. She said Holden disliked guns but had been taught in recent years how to use a firearm to defend herself.
She was discouraged by the lack of documentation in the case.
"The only thing I want out of Missouri is explain to me why they didn't do the proper procedures," Anderson said. "It was handled very poorly."
Shake off your afternoon slump with the oft-shared and offbeat news of the day, hand-brewed by our online news editor, Mandy St. Amand.