ST. LOUIS • Once intended to reduce crime, the traffic barricades that block hundreds of city streets may be having the opposite effect.
Using census and crime data coupled with sophisticated mapping programs, researchers at St. Louis University have found the barriers — including those pervasive concrete planters known as "Schoemehl pots" — are associated with, at worst, "elevated violent crime rates at the neighborhood level," and, at best, not doing anything to make an area safer.
The findings, which appear to contradict years of thinking about local street closings, are part of a broader study being undertaken by Christopher Prener and Joel Jennings, both assistant professors of sociology at SLU, along with SLU graduates Taylor Harris Braswell, now a sociology doctoral student at Northeastern University, and Kyle Miller, who is working toward a master's degree in urban planning at Harvard University.
The bisected street grid in St. Louis is unlike that in most American cities, and no other city has put up barriers in the numbers that St. Louis has — roughly 285 streets are closed today, according to the research. Many of those barricaded streets straddle either side of Delmar Boulevard, the unofficial boundary between north and south St. Louis.
"The relationship between barrier density and crime is most important because it speaks to the justification for the very existence of the street closures," the authors write in a forthcoming research paper. "We find that increased barrier density in neighborhoods is associated with higher violent crime rates, which suggests that, whatever the past successes barriers may have had in addressing violent crime, they do not appear to be associated with lower crime rates today."
The title of the paper is "Closing the Gateway: Street Closures, Bisected Geography, and Crime in St. Louis, Mo." It's in the midst of revisions and is being finalized, although it's available online.
St. Louis' often-interrupted street grid is the outgrowth of the 1970s-era "defensible space" strategy to address rising crime championed by Oscar Newman, a prominent urban planner who was a Washington University architecture professor in the mid-1960s, according to the paper. That idea stems from the notion that an area is safer when residents feel a sense of ownership and control, which Newman described as allowing neighbors to focus their attention on "removing criminal activity from their communities."
St. Louis became the birthplace of such ideas, according to the paper. And they haven't had the desired effect.
"For other municipalities that may be considering defensible space or other techniques to 'design out' crime, our findings suggest that street closures are at best ineffective and at worst associated with higher rates of violent crime in neighborhoods," the paper states.
City police declined to comment on the new study or to make anyone available for an interview with the Post-Dispatch, saying it doesn't know or control where pots are placed and would not be able to speak about their effects on crime.
Nearly 50 years ago, however, the department saw promise in closing off streets to reverse growing rates of vacancy, tax delinquency and spiking crime. A 1973 police document quoted in the research paper stated there had been a "growing tendency for extraneous traffic to usurp these local streets ... (and this) has contributed to the debilitation of many residential neighborhoods."
Firsthand experience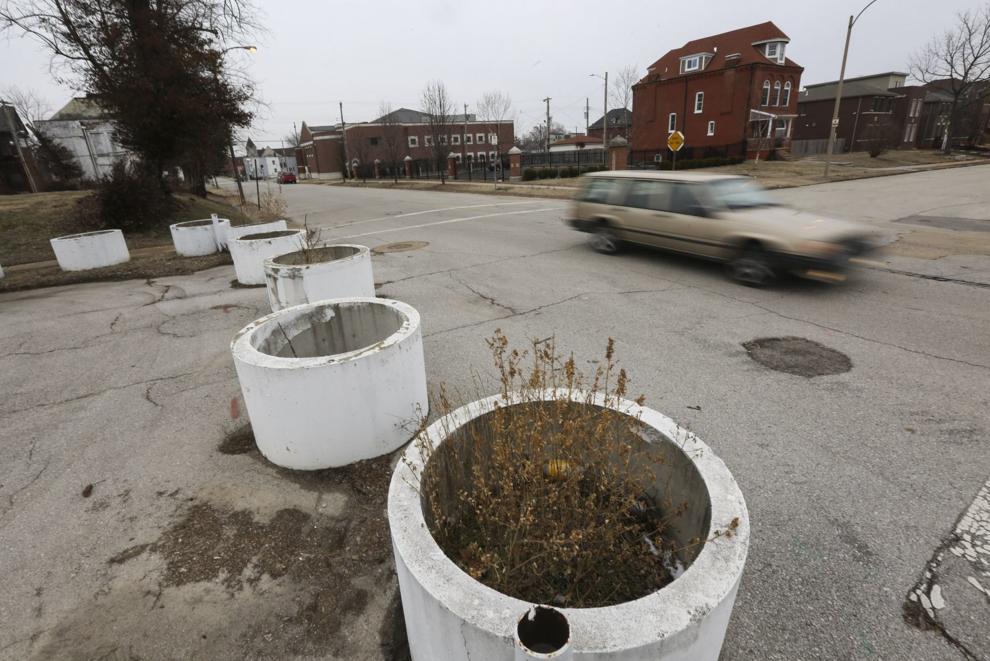 Prener and Jennings brought different backgrounds to the project examining how this strategy is playing out today. Jennings grew up in Kirkwood, but was familiar with the blocked-off streets in St. Louis. Prener's interest was piqued in 2015 when he came to St. Louis to interview for his job and was fascinated by the sheer number of street closures.
They both live on closed-off streets in the Shaw neighborhood. Prener worries about the delay the closure could mean if an ambulance needs access, and what effect a barrier had on firefighters responding to a recent fire there.
Firefighters and other emergency responders, in the past, have complained about blocked-off streets hindering them. In 2009, Rose Whitrock, whose daughter Gina Stallis was killed in a home invasion robbery during which others were wounded, campaigned unsuccessfully to have barriers at Hickory and Ninth streets removed after she said they slowed responders.
To learn more about the link between crime and barricaded streets, the researchers created grid squares to map the city, a "fishnet" they said yielded a data set with 205 grid squares, most of which were 1 square kilometer in size. They then compared those squares with census figures and crime data from 2016.
They relied in part on a list of closures included in a 2010 paper written by Washington University graduate student Steve Waldron for their research.
"Having lived in several cities, I found it to be the most frustrating and annoying thing," Waldron, now an architect in San Diego, said of the barricaded streets in an interview on Wednesday.
The study's authors used Waldron's list as a base from which to expand their mapping of the blocked-off streets, a project aided by SLU students that took 18 months and isn't done — neither are other aspects of their research.
The current paper doesn't measure the "hyper-local effect of barriers," saying it's possible there's less crime on individual closed-off blocks, which is something the authors hope to pursue in further research.
Another caveat is their paper in its current form doesn't measure how well barriers worked or didn't work in the past.
Requested by residents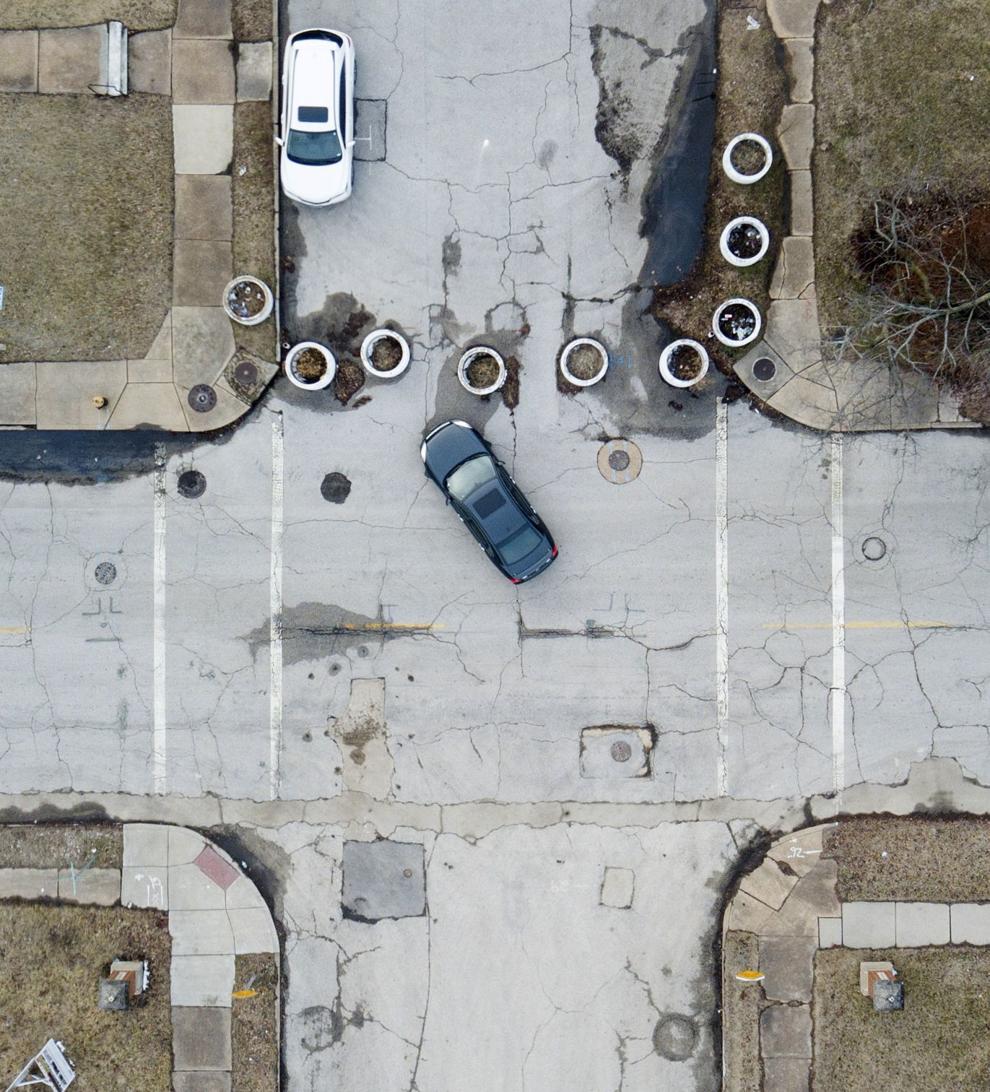 The barricades have long been controversial for reasons beyond their effect on crime. Some lament the closed-off routes as unneeded suburban design in an urban setting, and for hindering firefighters and police who respond to emergencies. But some residents like the decreased traffic that comes with living on a blocked street.
And recent barricades put in place around the city have been placed with goals other than deterring violent crime and were requested by residents.
"I followed their lead because they live there," said Alderman Pam Boyd of why she got the alley bounded by Robin Street, Lillian Avenue, Riverview Boulevard and Theodore Avenue in north St. Louis blocked off.
"I don't think blocking streets off stops crime. It may bring less traffic to a particular area," said Alderman John Collins-Muhammad, whose ward also sits in north St. Louis.
He said nearby residents wanted to narrow and slow traffic at Dryden Avenue, a one-way street, onto Carter Avenue.
Most of the barricades used by the city are concrete sewer pipe sections that have been converted into planters. Residents have nicknamed them "Schoemehl pots" because many were erected during the 12-year tenure of Mayor Vincent C. Schoemehl. By the time Schoemehl left the mayor's office in 1993, 104 barricades — of which 55 were the pots that now informally bear his name — had been installed in the city, according to Waldron's paper.
Putting out pots is less costly than installing speed bumps — Collins-Muhammad said he's procured such bumps on 13 blocks throughout his ward.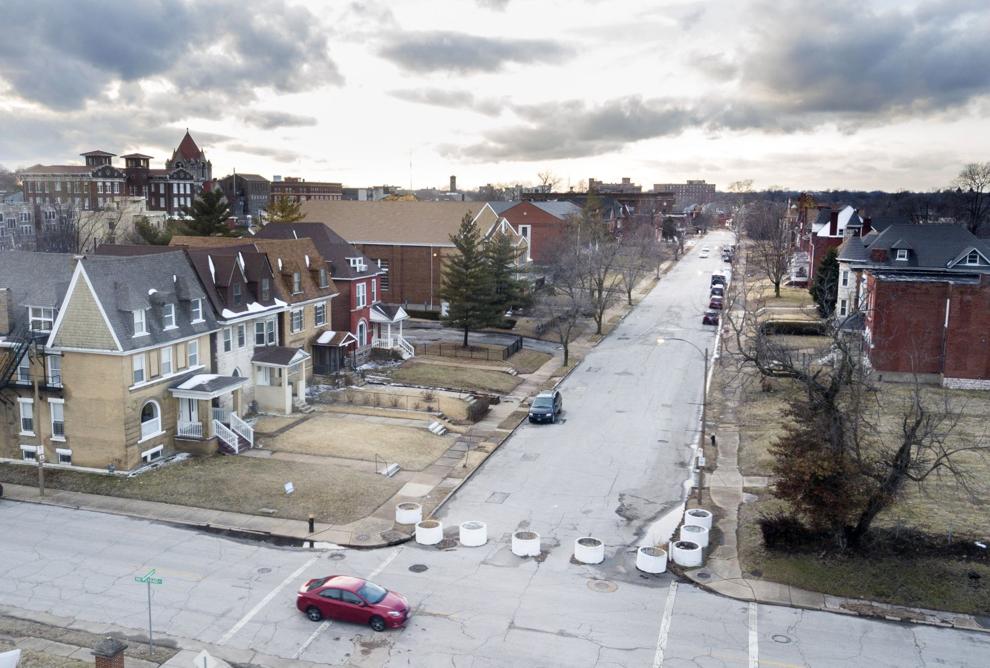 Looking at barricades' uses for traffic control isn't something Jennings and Prener plan to examine. Instead, they hope their work will make city officials think about what barricaded streets really are accomplishing.
Said Prener: "If barriers don't do the thing we think they should do, it raises the question of why are we doing it, and what consequences do we pay as a city?"
Some residents say they decrease traffic on their streets, but they also slow firefighters, police.