An 18-month-old boy shot in the shoulder at his home in the Castle Point area of St. Louis County was recovering in his hospital bed Tuesday, giggling and eyeing a new package of Matchbox cars.
The family of the boy, who they identified as Mason "May May" Rodgers, shared with the Post-Dispatch a video they took of him recuperating from a wound to his collarbone area. Police affirmed that the boy, thought to be in critical condition Monday night, was doing better and his injuries were not life-threatening. In fact, the boy was back at home by Tuesday night.
Mason was in bed about 8:30 p.m. Monday when someone outside the family's home fired two shots in the 10100 block of Duke Drive, police said. One bullet punctured the white vinyl siding beneath the front picture window and sailed into the bedroom where Mason was at the time.
A handful of relatives, including two other children, were at home but unhurt. Some were watching college football's national title game or playing on their phones when the shot hit the boy. Mason's mother was next to him, said the boy's grandfather.
"Everything was in slow motion. I was in disbelief," said the grandfather, who asked that his name be withheld for fear of retaliation. He said he only heard one shot.
"It was only one small 'pow.' We jumped up … we thought something fell or had broke. It was only one shot."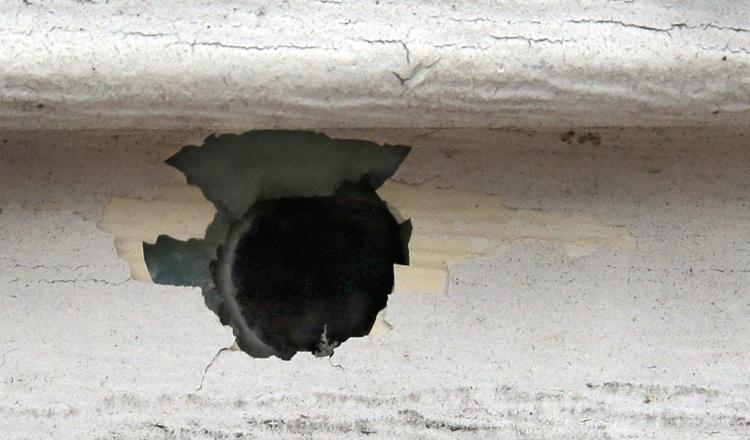 Police continued hunting for the gunman Tuesday. No arrests have been made and police have not released a description of the suspect. Detectives were back on Duke before noon Tuesday going door-to-door to talk to neighbors.
The grandfather said relatives looked outside but saw no one. He said he didn't know who would shoot at his house. "We don't have no problems with nobody," he said. "Must be stupid teenagers."
St. Louis County police Sgt. Benjamin Granda said police don't know if the gunman ran away or fled in a vehicle. Anyone with information is asked to call St. Louis County police at 636-529-8210. Tipsters who want to remain anonymous and be considered for a reward should call CrimeStoppers at 866-371-8477.
Granda said officers were alerted to the shooting by a caller and also by microphones installed in 2017 in Castle Point as part of the department's gunshot-detection ShotSpotter system. The system covers 4 square miles in Castle Point. The county expanded the system's coverage last July to include 4 square miles in the Spanish Lake area, Granda said.
The ShotSpotter alerts mean officers can respond more quickly, allowing them to give life-saving treatment, find witnesses and suspects, Granda said. He added that police don't receive calls from people nearly as often as they are notified by ShotSpotter.
That block of Duke Drive was the scene of a double homicide and robbery in 2016. Dana Robinson, 35, and Antonio C. Harris, 37, were shot during an armed robbery on July 20, 2016, in the 10100 block of Duke Drive, where Harris lived. Robinson died at the scene; Harris died later at the age of 39.
Girl, 4, suffers bullet wound
A 4-year-old shooting victim was brought to a hospital Tuesday evening, St. Louis police said.
The girl suffered a graze wound to her back while she was riding in a car in the 5700 block of Natural Bridge Avenue about 6 p.m. Tuesday, police said.
The girl was stable at a hospital, police said. Her name was not released.
The girl was in a car with two adults, an 8-year-old boy and a 13-year-old girl. Their car was heading west on Natural Bridge, near Clara Avenue, when occupants of a sedan fired shots at them, police said.
Once the driver noticed the 4-year-old girl had been hit, he drove her to the hospital, police said. No one else in the car was hurt.
Police had no description of the suspects.
Taylor Tiamoyo Harris of the Post-Dispatch contributed to this report.