JEFFERSON CITY — Top leaders and administrators in the Missouri Legislature are poised to be interviewed by attorneys later this month in connection with a federal lawsuit over a lack of a mask mandate for people working in the state Capitol.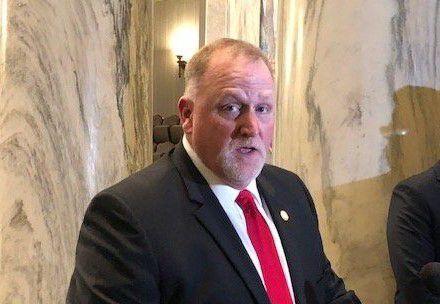 The lawsuit, filed in March 2021 by former House employee Tad Mayfield, alleges he was fired in 2020 for his concern about the lack of virus mitigation measures under the Statehouse dome.
The lawsuit, which was moved from Cole County Circuit Court to U.S. District Court, says Mayfield asked Schatz and Haahr in August 2020 to implement a mask mandate in the entire building, not just among administrative staff of the House.
The lawsuit says he was later terminated for alleged poor performance.
"Terminating a public employee for reporting a danger to public health or safety violates clearly established statutory or constitutional rights of which reasonable Missouri officials would have known," the lawsuit states.
According to federal court records, both sides in the case "intend to conduct depositions during the second and third week of January 2022."
Along with Miller and Haahr on the schedule are Assistant Clerk Emily White, House legal counsel Bryan Scheiderer and Kenny Ross, chief of staff to current House Speaker Rob Vescovo, R-Arnold.
Records show a deposition for Schatz has not yet been scheduled.
Except for Haahr, who is no longer in the General Assembly, all will be involved in what is expected to be a contentious first month of the legislative session, with congressional redistricting and raises for state employees atop the agenda.
In addition, Schatz is running for the U.S. Senate seat being vacated by U.S. Sen. Roy Blunt.
There will again be no mask mandate in either the House or Senate, both of which are controlled by Republicans who have vocally rejected recommendations by health experts on masks, quarantines and vaccinations.
There will be some attempts at social distancing in committee hearing rooms via the use of livestreaming for people who want to watch the proceedings from a distance.
But for now, there will be no onsite testing nor screening as was the case during parts of the past two sessions. And, in keeping with GOP opposition to mandates, there will be no requirement for anyone in the building to have a vaccine.
Attorney General Eric Schmitt, who has fought local efforts to impose mask mandates in cities, counties and schools, as well as vaccination requirements for private-sector workers, is defending the state in the case.
In the past two sessions, lawmakers have lost weeks of work because of COVID-related shutdowns.
In 2021, the House canceled one week due to positive cases of COVID-19 that began circulating soon after members returned to the building in January.
Gov. Mike Parson was forced to deliver his annual State of the State speech in the Senate chamber last year after the House barred him from the chamber over concerns about the spread of COVID-19.
Originally posted at noon Monday, Jan. 3, 2022