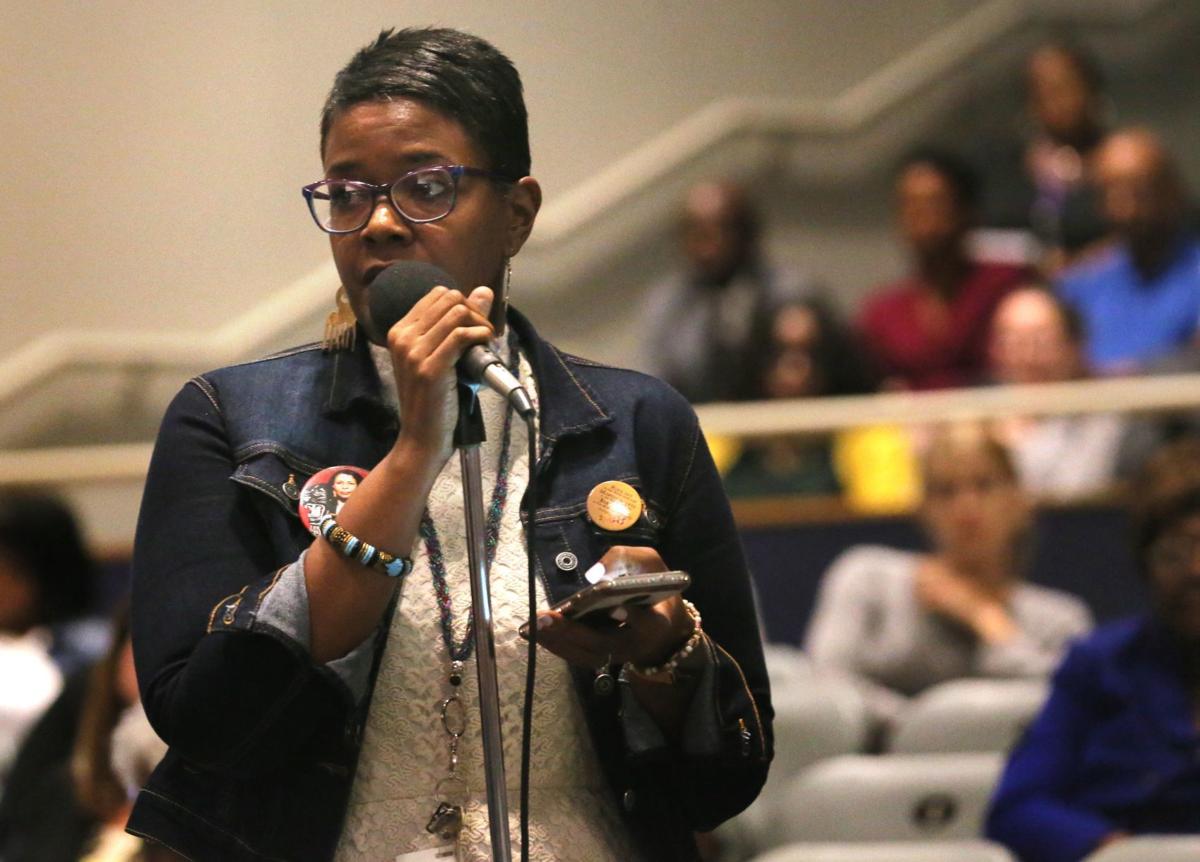 ST. LOUIS — The recent killings of children in the city have dropped the equivalent of an atomic bomb with a "toxic dose of violence" traumatizing residents, one speaker said at a forum held Thursday evening at Vashon High School.
The event was hosted by the St. Louis Public Schools Board of Education to discuss recent gun violence in the community. At least 13 children have been killed by gunfire in St. Louis this year. Six of the district's students were killed over the summer, according to Superintendent Kelvin Adams.
About 300 parents, school staff members and residents came to the meeting, which was planned after a particularly violent weekend that included the Aug. 23 death of Jurnee Thompson, 8, after a football event at Soldan High School.
Dr. Laurie Punch, a Washington University surgeon, used the atomic bomb metaphor to describe how the impact of violence spreads throughout the community.
Punch pleaded with the school board "to teach these children to understand what they've been exposed to." The violence in their communities affects their physical and emotional health, she said during the public comment portion of the meeting.
Punch works with the national program Stop the Bleed to teach people how to take care of a gunshot victim in the immediate aftermath. She's presented the program in schools in west St. Louis County, she said, but not in city schools.
A shortage of social workers and nurses in schools was a common theme of the meeting. Several parents complained that their children have been bullied or harassed in school, with some saying the children have suicidal thoughts.
"Our children are not well," said Kristi Fitzgerald, a counselor at Pamoja Preparatory Academy, where Eddie Hill IV attended. Eddie, 10, died in a shooting July 19 on his front porch in the 4700 block of Page Boulevard. "If we don't invest in our children, our society is going to suffer."
Circuit Attorney Kimberly M. Gardner received a standing ovation before taking a turn to address the crowd.
Gardner said city children have post-traumatic stress disorder, and the schools "fail to have as many social workers as police."
"We cannot arrest or prosecute our way out of this situation," Gardner said, calling for schools to serve as community centers for homeless or hungry youth.
Gun control must be addressed, along with historical oppression of African Americans in the U.S., said Denise Long of the nonprofit Alive and Well Communities.
"We are asking our educators to address a problem that they didn't create," Long said. "This is a call to end under-privileging. We must give back to black families and black communities."
Other speakers asked for the school district to bring back the community education program, where residents could take evening and weekend classes from money management to aerobics. One woman said her mother earned a certified nursing assistant's license through the program, which ended in 2014.
Teachers are stressed, too, said Charles Murphy, a teacher at Roosevelt High. As a union steward with the American Federation of Teachers, Murphy said teachers are asking for transfers to other schools just four weeks into the year. Students and staff need to feel safe in their schools, he said.
"When that traumatized student comes in, they're in pain," he said. "They need to recover. They need to heal. We've gotta be empathetic."