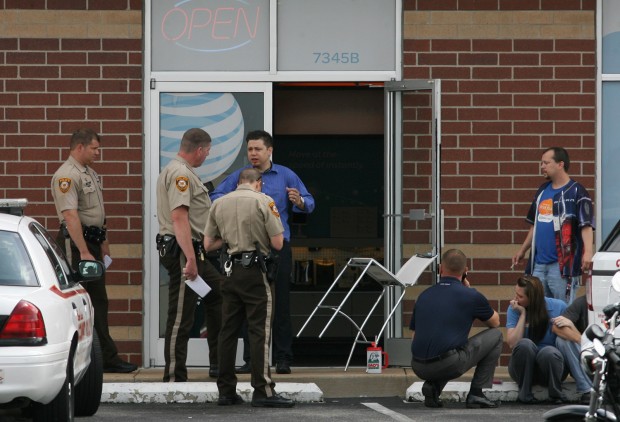 ST. LOUIS COUNTY • Police say they have arrested a woman in Illinois in connection with a morning armed robbery of an AT&T store in St. Louis County. They are still looking for two others.
The AT&T store at 7345 South Lindbergh Boulevard was robbed at gunpoint about 9:50 a.m., police said. Two robbers, both men, tied up two store workers and fled in a vehicle with a third person. No one was injured in the robbery.
Later in the morning, Illinois State Police spotted a vehicle near Collinsville that appeared to match the one used in the AT&T robbery, according to Master Sergeant Craig Campbell of the Illinois State Police. When a trooper tried to stop the vehicle at a McDonald's restaurant at Route 157 and Interstate 55 about 10:15 a.m., two men bailed out and ran. A woman drove off. All three escaped authorities — for a time.
About 90 minutes later, a witness called police to report seeing two bags dumped from a vehicle near West Mill Creek and South Liberty roads, Campbell said. Police found the bags, which contained 40 to 50 cellphones, latex gloves, zip ties and masks.
The woman who had fled in the car showed up at a dentist's office south of Troy, Ill., just after 1 p.m., apparently to cool off, Campbell said. Police were called, and the woman was arrested as a suspect in the AT&T robbery.
Police say the two men still on the loose are considered armed and dangerous. Police did not have a specific description of them.