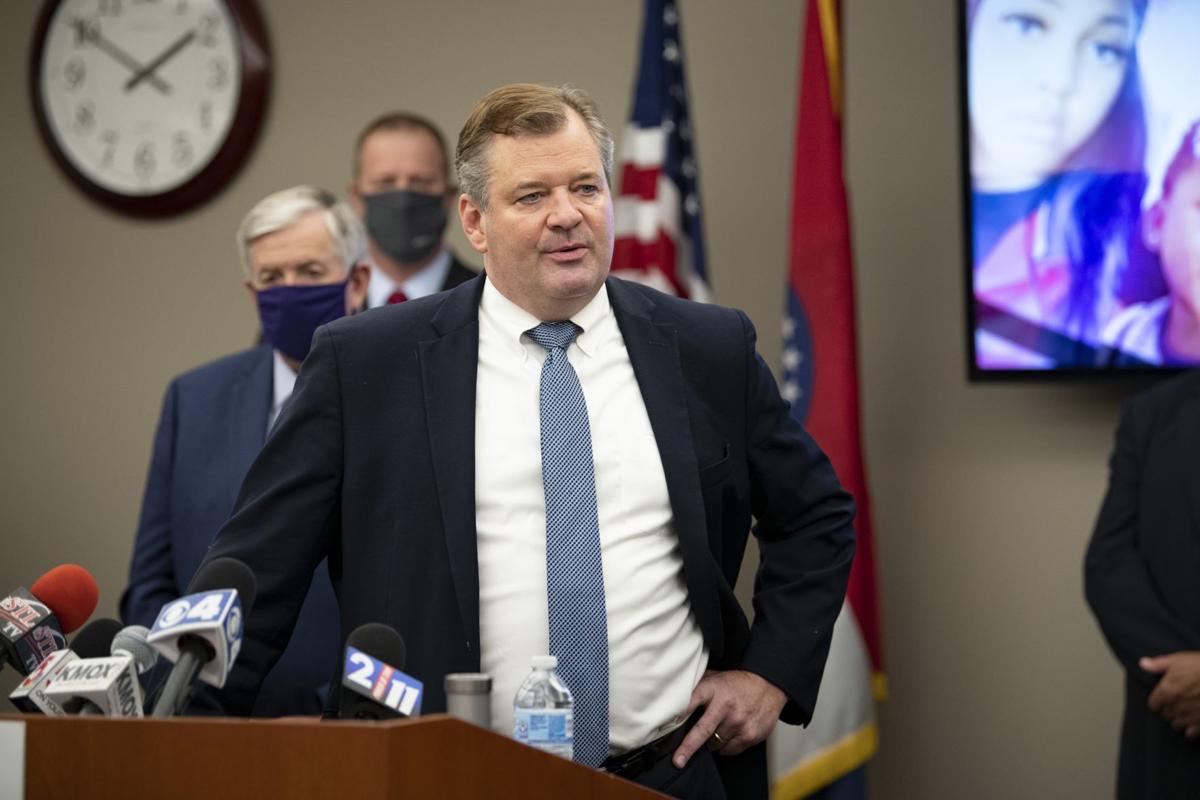 ST. LOUIS — Jeff Jensen, the U.S. attorney for the Eastern District of Missouri, will resign his post Dec. 30 after three years leading the region's federal prosecutors, his office announced Thursday.
Jensen's resignation comes ahead of the anticipated departure of many leading federal prosecutors across the country as the new administration of President-elect Joe Biden prepares to take office.
Jensen will be replaced by acting U.S. Attorney Sayler Fleming.
Jensen was not available for comment Thursday, a spokesman said. He plans on joining a private law firm in the St. Louis area after leaving the federal ranks.
Jensen, 54, was nominated in 2017 by President Donald Trump to lead the office in St. Louis, replacing Richard Callahan, who was nominated in 2009 by President Barack Obama.
Jensen made national headlines in May when the Justice Department acted on his recommendation to drop a criminal investigation of Trump's first national security adviser, retired Gen. Michael Flynn, after Flynn pleaded guilty to lying to the FBI in a January 2017 interview about his conversations with Russian Ambassador Sergey Kislyak.
Trump and his supporters repeatedly complained about the case to attack the FBI's investigation of ties between Russian officials and the 2016 Trump campaign. Flynn's attorneys asked to withdraw his guilty plea and leveled a series of allegations about the FBI investigation.
Jensen, assigned by Attorney General William Barr to review the case, recommended that Barr drop it. Trump later pardoned Flynn.
"Through the course of my review of General Flynn's case, I concluded the proper and just course was to dismiss the case," Jensen said in a May statement to The Associated Press. "I briefed Attorney General Barr on my findings and advised him on these conclusions, and he agreed."
Jensen also welcomed Barr's federal anti-crime initiative to send more than 100 federal officers to St. Louis for eight weeks over the summer to police north St. Louis districts and to aid homicide task forces.
The program, dubbed Operation Legend, led to 650 arrests, 219 weapons seized and 274 defendants charged in federal court, officials have said. Barr and Jensen said in October that the operation was responsible for drastically lowering the city's homicide rate after it surged to historic levels in July.
But a Post-Dispatch analysis of police data found that crime rates typically drop each year from summer to fall. Criminologists and sociologists doubted Barr's claims about Operation Legend's effectiveness, arguing that federal officials were comparing two periods that regularly see a drop in crime.
The Reuters report, which only identified "a government lawyer familiar with the matter," said Jensen was "shut down pretty hard" as the Trump administration moved away from police reform. The report said that only one civil rights case against police had been opened in the U.S. in nearly four years, versus at least 20 opened during the Obama administration.
In November 2017, Jensen said the FBI and federal prosecutors were investigating "allegations of potential civil rights violations by law enforcement officers in the St. Louis area on Sept. 15, 2017, and in the weeks that followed."
Protests were held that day following the acquittal of Stockley on a murder charge in the 2011 shooting death of a Black man.
A year later, federal prosecutors in St. Louis and Washington indicted three St. Louis police officers on civil rights charges, accusing them of beating an undercover police officer, Luther Hall, who they thought was a protester.
Operation Legend was the latest in a series of initiatives involving Jensen's office to crack down on violent crime, a vow he made when he first took office.
His office has prosecuted roughly double the number of gun crimes as his predecessor as part of that effort. The cases included carjackings and armed robberies but mainly consisted of felons charged with gun possession, drug trafficking and other violent cases.
Jensen also added four prosecutors dedicated to violent crime and combatting opioid abuse, including Reginald Harris, a federal prosecutor who grew up in north St. Louis and was assigned to oversee Project Safe Neighborhoods, which focused on gun and gang crime.
Jensen last year designated four prosecutors in Missouri Attorney General Eric Schmitt's office as "special assistant U.S. attorneys" to help federal prosecutors handle violent offenses. The program was also expanded to Springfield and Kansas City.
Jensen was also publicly supportive of nonprofit efforts to address the root causes of crime, including Better Family Life's push to intervene in conflicts as a means to stem gun violence. He's also expressed support for programs run by the Urban League and the Fathers & Families Support Center, which aims to help parents find employment and support their children.
Attorney General Barr in a statement Thursday praised Jensen, citing his addition of several federal prosecutors to the St. Louis office.
"Whatever requested of him by the Department of Justice, no matter how big or small, Jeff was always willing to serve," Barr said. "He did so admirably and was the epitome of professionalism. The Department benefited greatly from his sound judgment and broad perspective."
Jensen received his bachelor's degree from the Indiana University School of Business in 1988. He was a certified public accountant for PricewaterhouseCoopers before joining the FBI in 1989, where he spent 10 years as an agent, part of that time on the SWAT team.
He attended St. Louis University's law school at night, graduating in 1998. Jensen worked in the U.S. Attorney's Office in St. Louis from 1999 to 2009, rising to the position of executive U.S. attorney before leaving to form his own firm with another prosecutor and a lawyer from Clayton.
He was working at the Husch Blackwell law firm when he was appointed to replace Callahan, who was one of 46 U.S. attorneys whom Trump asked to resign in March 2017.
Jensen's name was among three submitted to the White House by U.S. Sen. Roy Blunt, R-Mo., with support from then-U.S. Sen. Claire McCaskill, D-Mo.
Robert Patrick of the Post-Dispatch contributed to this report.