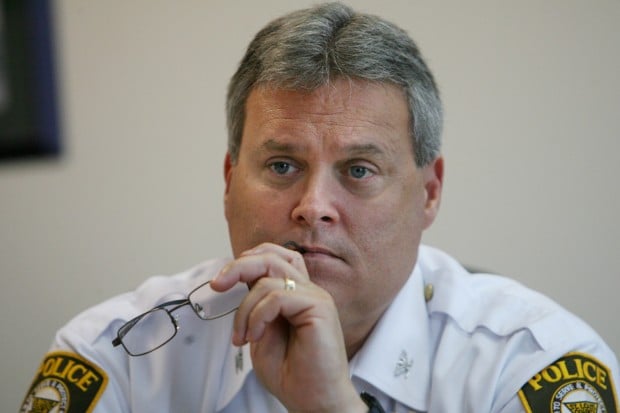 CLAYTON • Direct access to the criminal justice database has been cut off for two police officers assigned to St. Louis County Executive Charlie A. Dooley's security detail while an internal affairs investigation is under way to determine whether the officers' reasons for running names were legitimate and legal.
A spokeswoman for Dooley said the county executive was unaware of the investigation and had not himself requested any such checks by the officers.
Questions first arose in October when Dooley's chief of staff, Garry Earls, announced to the county council that a criminal background check into former police board candidate David Spence had come back clean, County Chief Tim Fitch said.
Fitch said he had questioned how the county administration would know that information because he didn't believe it was his officers' place to run the checks.
"I thought it was inappropriate because we answer to police board members and we should not be doing any background checks on our own supervisors," he said.
Further investigation revealed that at least one of the two officers assigned to Dooley's detail had run Spence's name unbeknownst to Fitch, he said.
"That's when we asked ourselves, 'Who else is he running?' " Fitch said.
County police then shut down access to the database, known as REJIS, to the officers' computers inside Dooley's office and required them to notify their supervisor should they need to run a name. Clayton police also agreed to run names of police board candidates.
Running names in the system for any reason other than a criminal justice purpose is illegal and violates county police policy, Fitch said.
"I'm not saying Dooley did anything improper; we're investigating whether our detectives did," Fitch said.
Circumstances under which Fitch said an officer assigned to Dooley's detail might need access to the database include vetting potential threats made against the administration. However, Fitch said neither officer had asked a supervisor to run any names since the internal affairs investigation began.
"It must be related to criminal justice purposes," Fitch said. "It cannot be for any political purposes or any other reasons. We haven't come to any conclusions yet so we don't know if these officers did anything improper yet." Fitch would not say how many names the officers ran during their time assigned to Dooley's detail, citing the ongoing internal investigation.
"The number (of names) isn't important," he said. "What's important is why it was done and who asked them to do it."
Dooley's spokeswoman Patricia Washington said Dooley had never personally asked any officers assigned to him to run names in the criminal justice database and was unaware until questioned by reporters Tuesday that an internal affairs investigation into the matter was under way.
"If there is an internal affairs probe into that, whatever they find they'll share with the county executive or the appropriate people and if there is any light we can shed on it, we certainly will," Washington said.