JEFFERSON CITY — Missouri may stand alone when it comes to conducting an execution during a global pandemic.
While other governors have put the death penalty on hold because of the pandemic, Gov. Mike Parson is not planning to stop the scheduled execution of Walter Barton on May 19.
"At this time, we fully anticipate carrying out the court order and discharging our duties as prescribed by law on May 19," said Kelli Jones, spokeswoman for the Republican governor.
Barton's attorneys are seeking court intervention at the state and federal level to halt the execution.
In a March 17 request, attorney Fred Duchardt Jr. said efforts to convince officials to halt the execution have been "stymied by travel and meeting restrictions which have been imposed."
"(I)t will now be impossible, prior to the currently scheduled execution date, to complete the necessary work for proper presentation of an executive clemency petition," Duchardt wrote.
In addition, he said the governor may not have the time to weigh the issue of possible clemency for Barton because of his attention to the spread of coronavirus.
"Things have been incredibly slowed down," Duchardt told the Post-Dispatch Tuesday.
The execution itself also could violate social distancing rules Parson has imposed on the state, Duchardt said.
The 64-year-old inmate was convicted of killing an 81-year-old mobile home park manager nearly three decades ago. His case has been tied up in court for years because of mistrials, appeals and two overturned convictions, and his attorney continues to maintain Barton's innocence.
The Missouri Department of Corrections says it is prepared to conduct the execution.
"We have a robust viral containment plan and strict safety protocols in place at every facility, and everyone is screened, with a temperature check, before entering a prison," said DOC spokeswoman Karen Pojmann.
As for witnesses, the Eastern Reception Diagnostic and Correctional Center in Bonne Terre is equipped with multiple witness rooms.
"We plan to limit the number of witnesses in each room and space them out within each room. We have ample access to hand sanitizer, fabric face masks and other supplies, as needed," Pojmann said.
The contingency planning comes as other states have put executions on hold.
In Ohio, Republican Gov. Mike DeWine moved executions scheduled for July and August into 2022.
The Tennessee Supreme Court delayed an execution scheduled in June until early 2021.
Texas has delayed five executions because of health concerns related to COVID-19.
Barton was sentenced to death for killing Gladys Kuehler in October 1991.
She had been beaten, sexually assaulted and stabbed more than 50 times.
DNA testing showed that a stain on Barton's clothing was Kuehler's blood.
Duchardt, Barton's attorney, said Barton had blood on his shirt because he was among those who helped identify the victim. Duchardt said the conviction was also based on testimony from an unreliable witness.
Duchardt said three jurors in the case say new evidence unearthed by investigators is compelling enough to stop the execution.
Barton would be the first Missouri inmate put to death since Russell Bucklew was executed in October.
---
The men Missouri has executed since 2000
Executed March 22, 2000: James Henry Hampton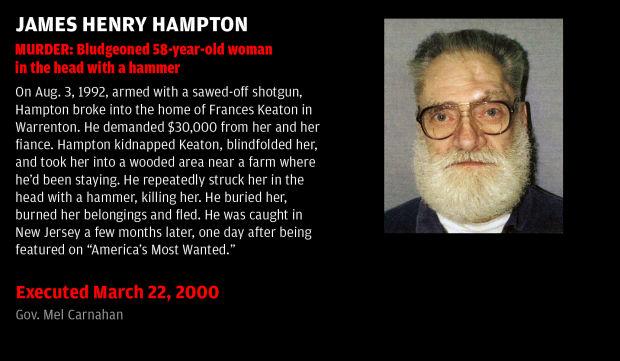 Executed June 28, 2000: Bert Leroy Hunter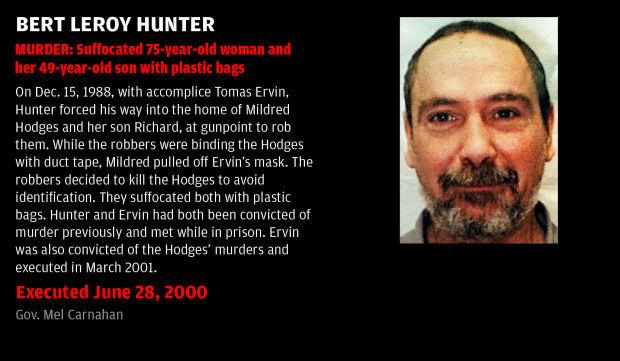 Executed Aug. 30, 2000: Gary Lee Roll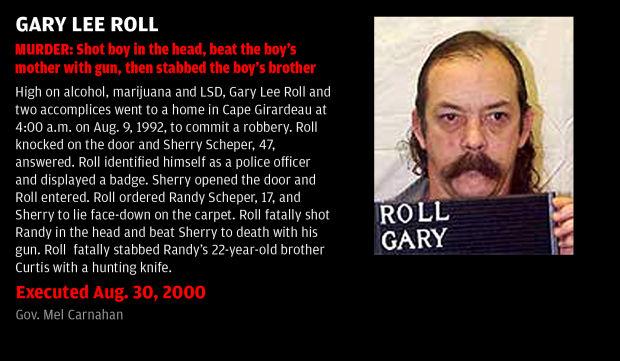 Executed Sept. 13, 2000: George Bernard Harris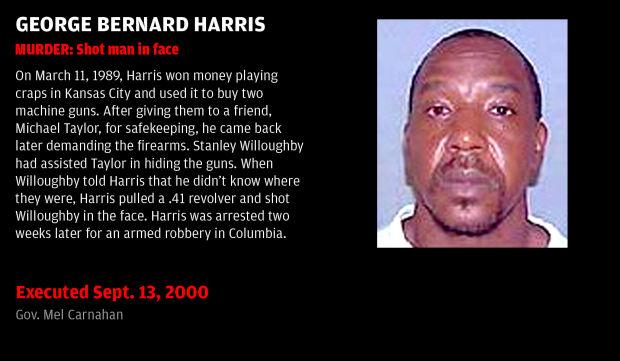 Executed Nov. 15, 2000: James Wilson Chambers
Executed Feb. 7, 2001: Stanley Dewaine Lingar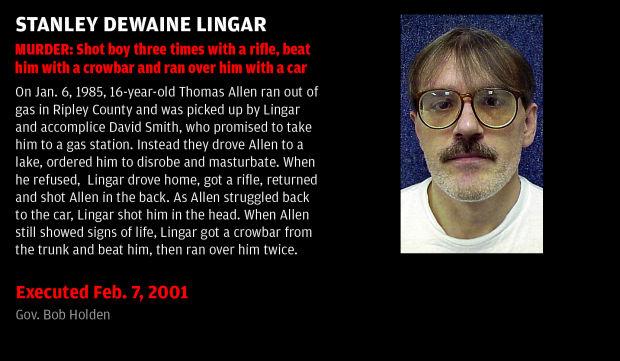 Executed March 28, 2001: Tomas Grant Ervin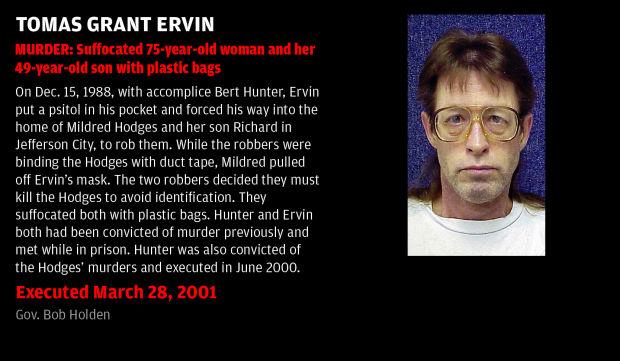 Executed April 25, 2001: Mose Young Jr.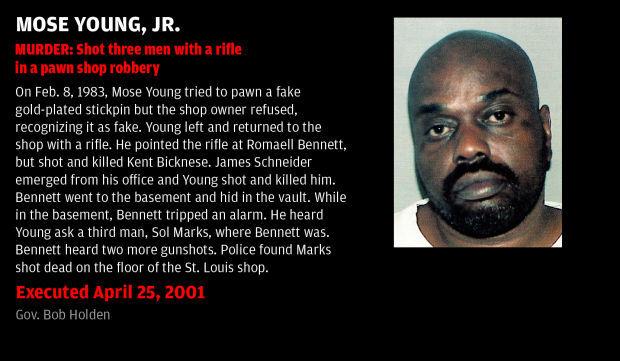 Executed May 23, 2001: Samuel D. Smith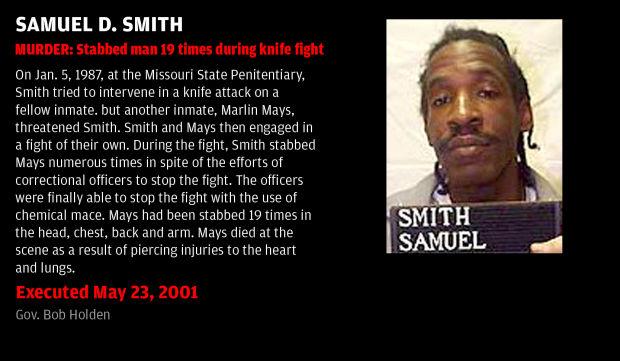 Executed July 11, 2001: Jerome Mallett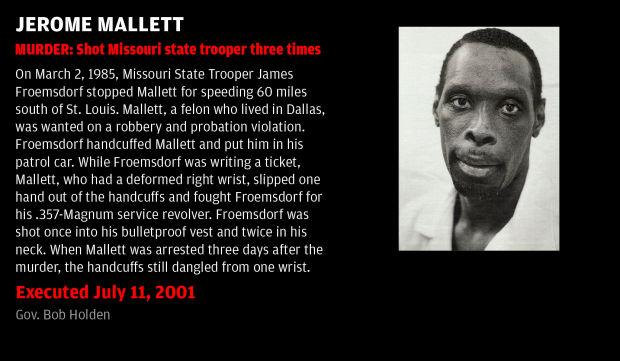 Executed Oct. 3, 2001: Michael S. Roberts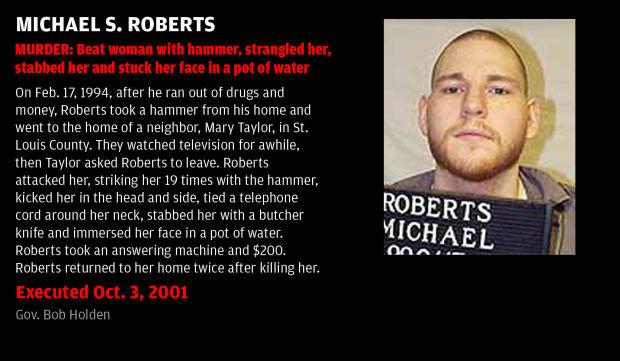 Executed Oct. 24, 2001: Stephen K. Johns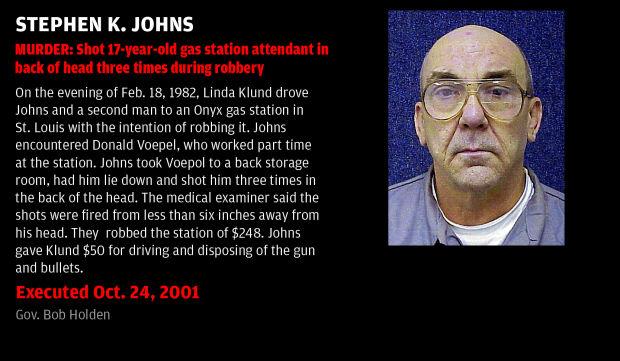 Executed Jan. 9, 2002: James R. Johnson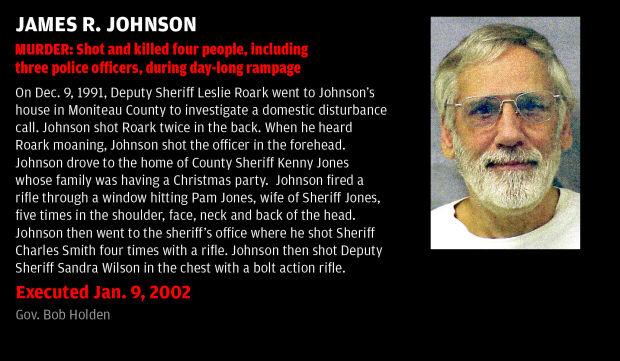 Executed Feb. 6, 2002: Michael I. Owsley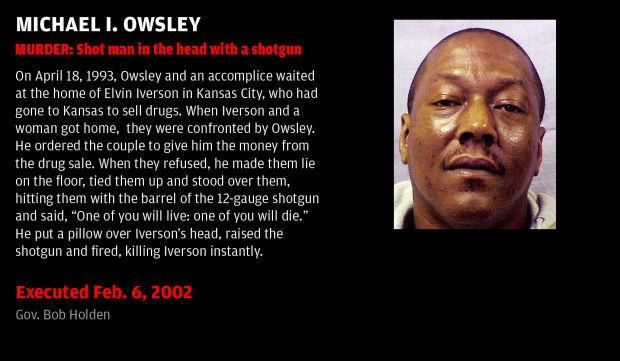 Executed March 6, 2002: Jeffrey Lane Tokar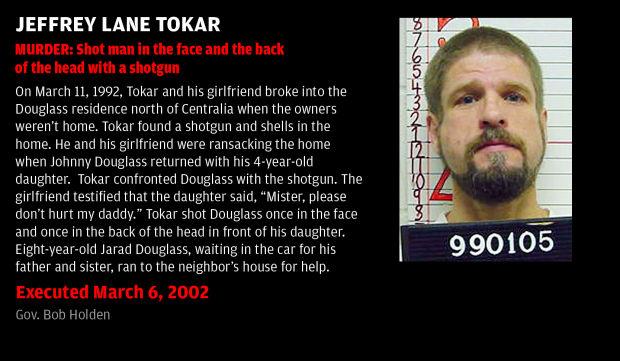 Executed April 10, 2002: Paul W. Kreutzer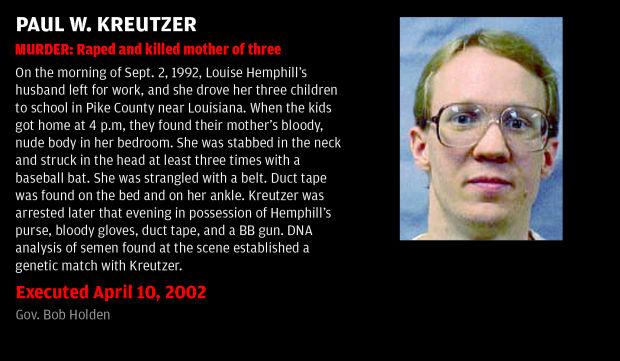 Executed Aug. 14, 2002: Daniel Anthony Basile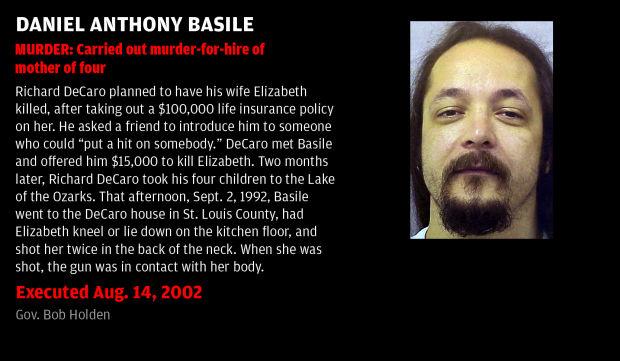 Executed Nov. 20, 2002: William Robert Jones Jr.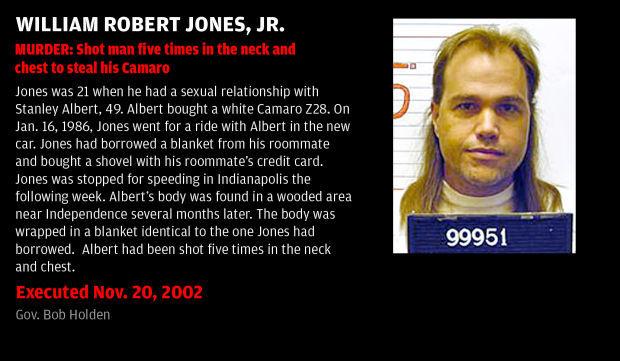 Executed Feb. 5, 2003: Kenneth Kenley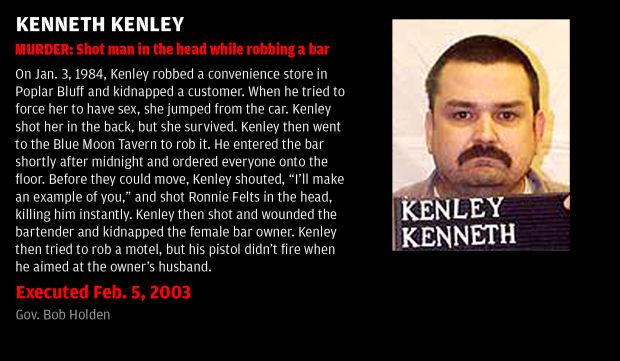 Executed Oct. 29, 2003: John Clayton Smith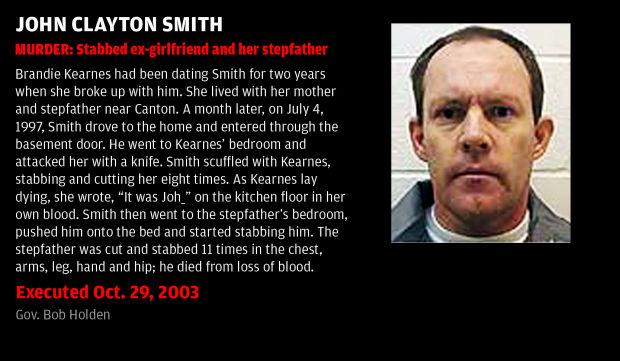 Executed March 16, 2005: Stanley L. Hall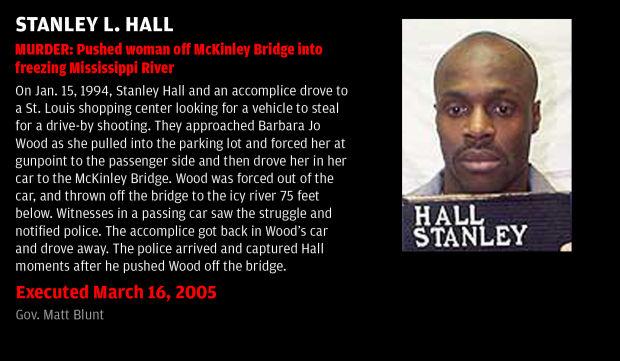 Executed April 27, 2005: Donald Jones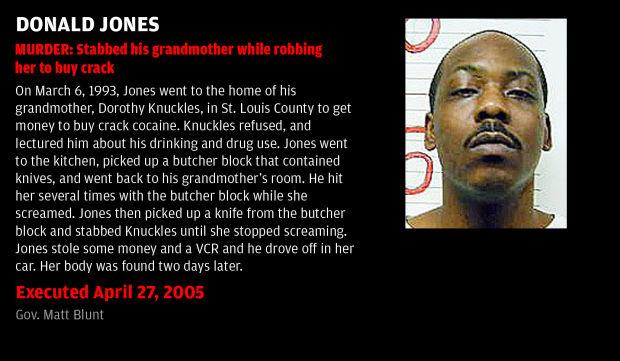 Executed May 17, 2005: Vernon Brown
Executed Aug. 31, 2005: Timothy L. Johnston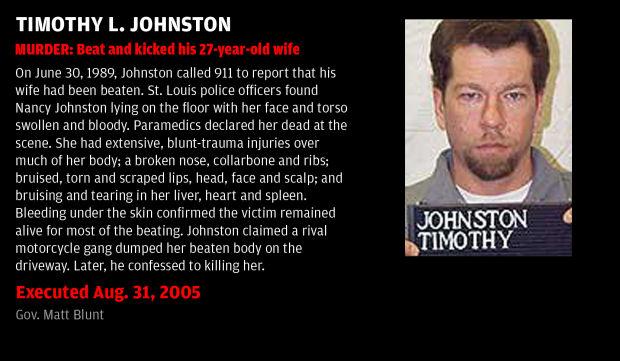 Executed Oct. 26, 2005: Marlin Gray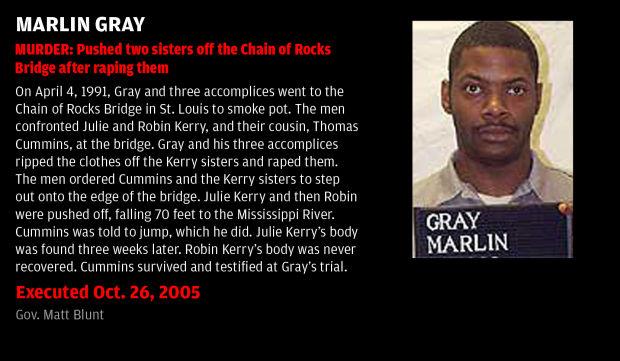 Executed May 20, 2009: Dennis James Skillicorn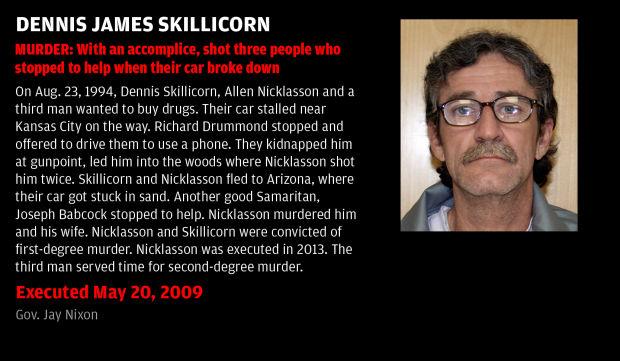 Executed Feb. 9, 2011: Martin C. Link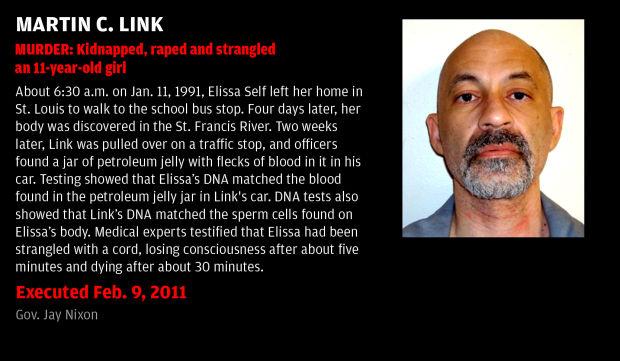 Executed Nov. 20, 2013: Joseph Paul Franklin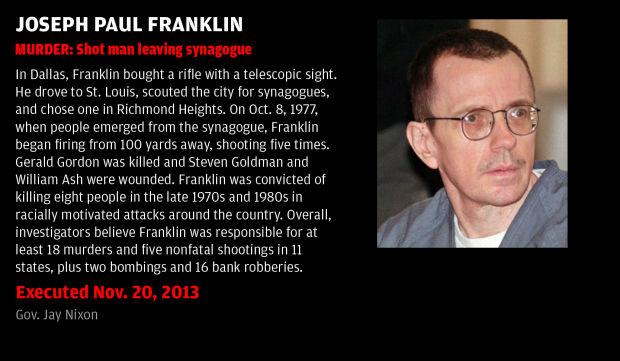 Executed Dec. 11, 2013: Allen L. Nicklasson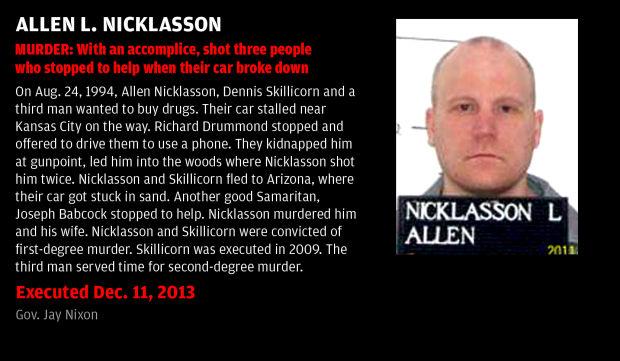 Executed Jan. 29, 2014: Herbert L. Smulls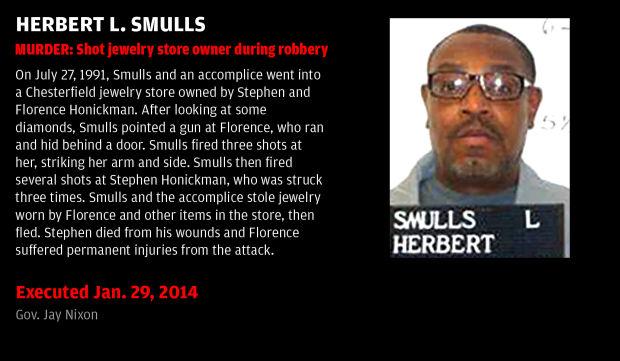 Executed Feb. 26, 2014: Michael Anthony Taylor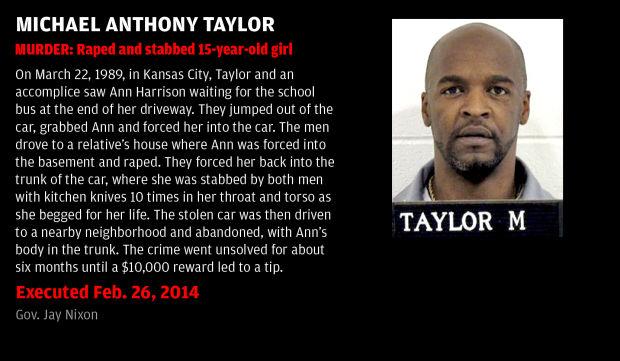 Executed March 26, 2014: Jeffrey R. Ferguson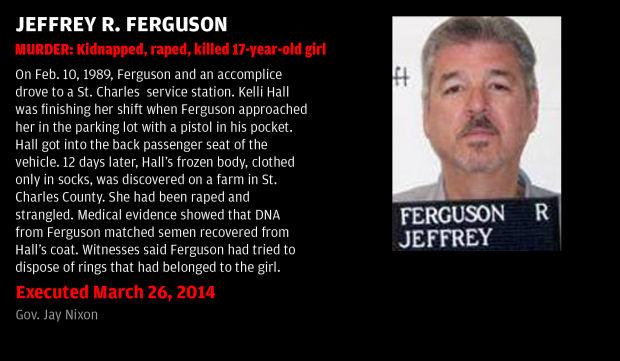 Executed April 23, 2014: William L. Rousan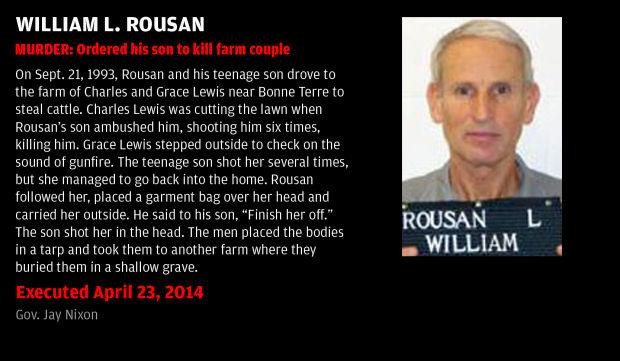 Executed June 18, 2014: John E. Winfield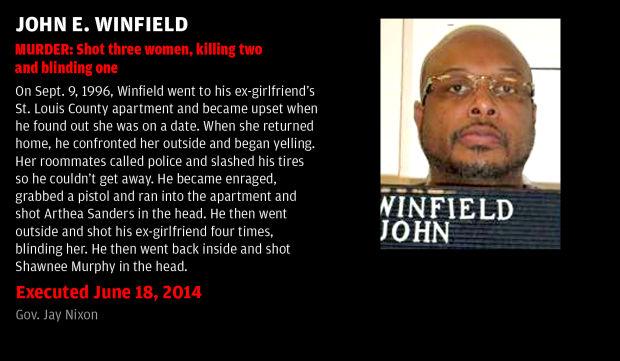 Executed July 16, 2014: John C. Middleton
Executed Aug. 6, 2014: Michael Worthington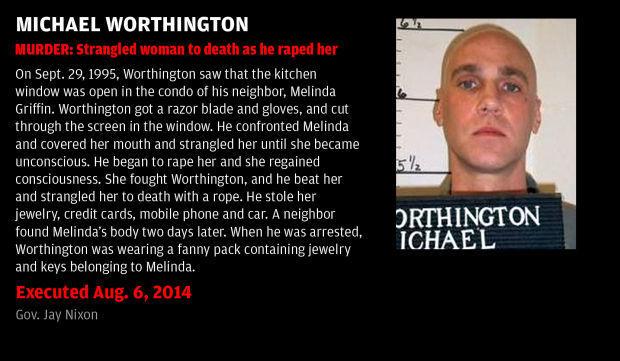 Executed Sept. 10, 2014: Earl Ringo, Jr.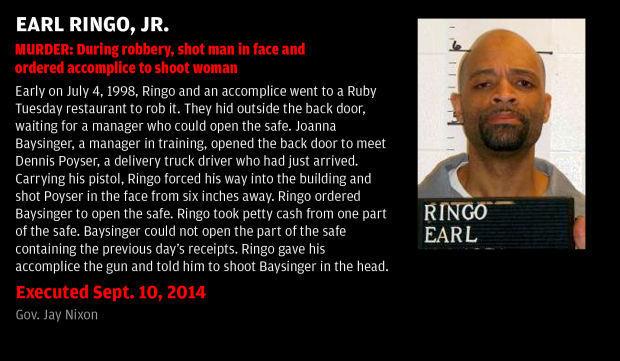 Executed Nov. 19, 2014: Leon Vincent Taylor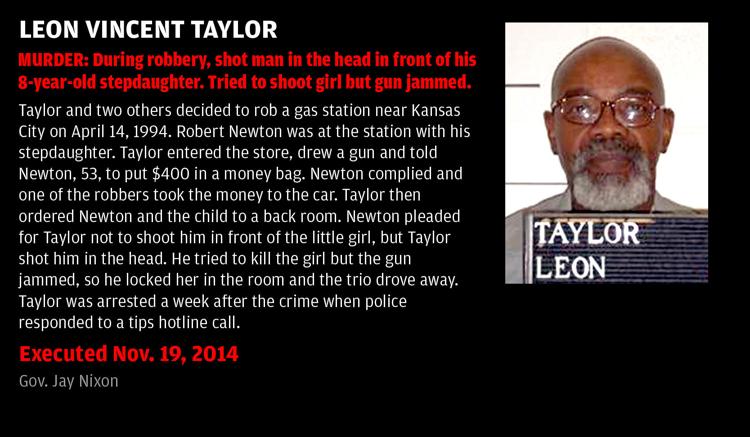 Executed Dec. 10, 2014: Paul Goodwin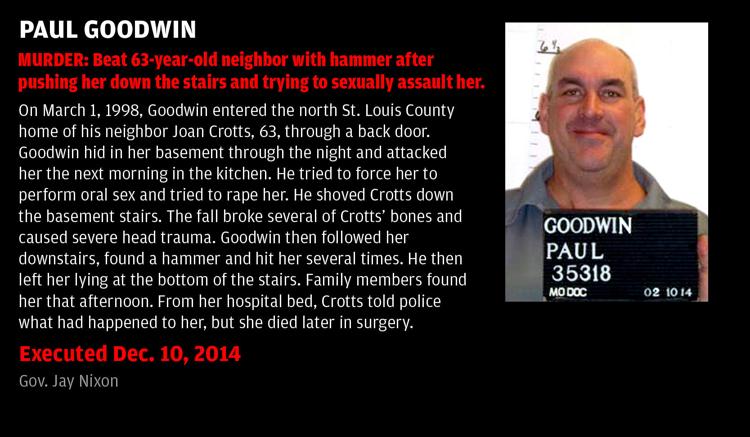 Executed Feb. 11, 2015: Walter Timothy Storey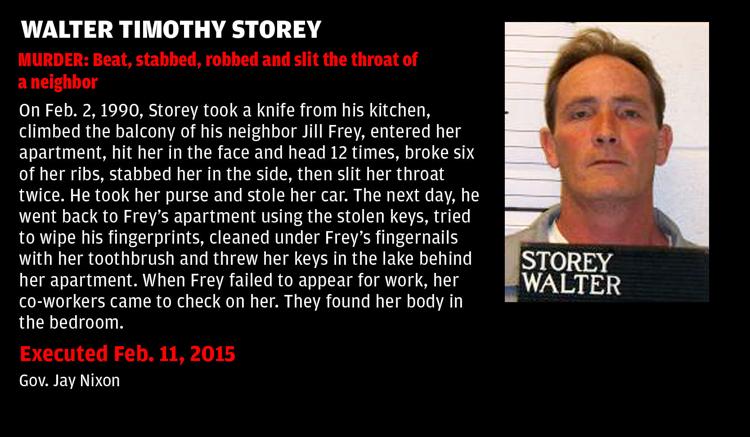 Executed March 18, 2015: Cecil L. Clayton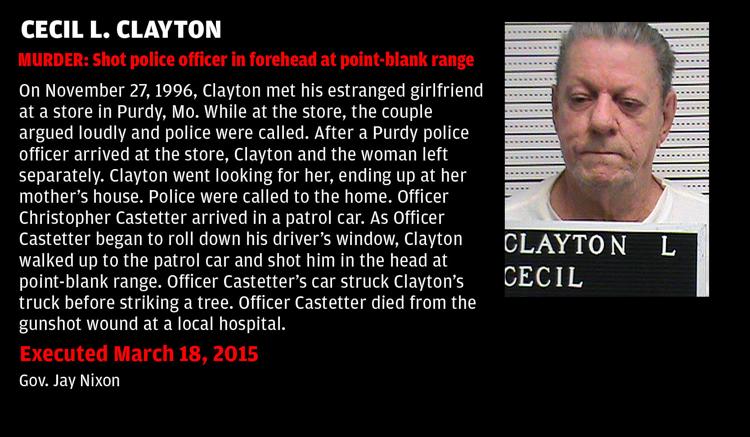 Executed April 15, 2015: Andre Cole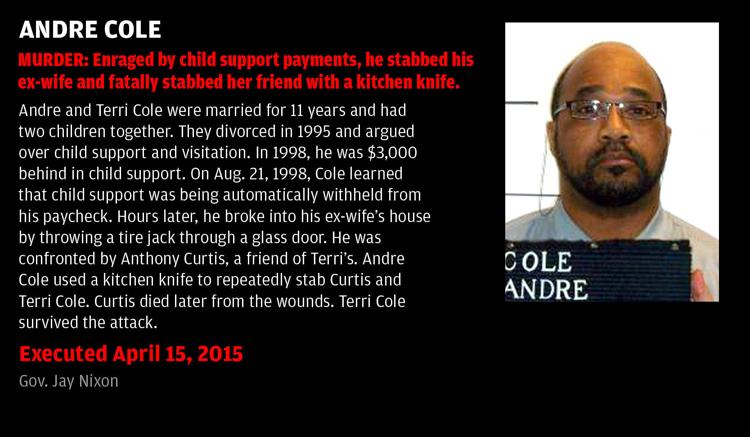 Executed June 9, 2015: Richard Strong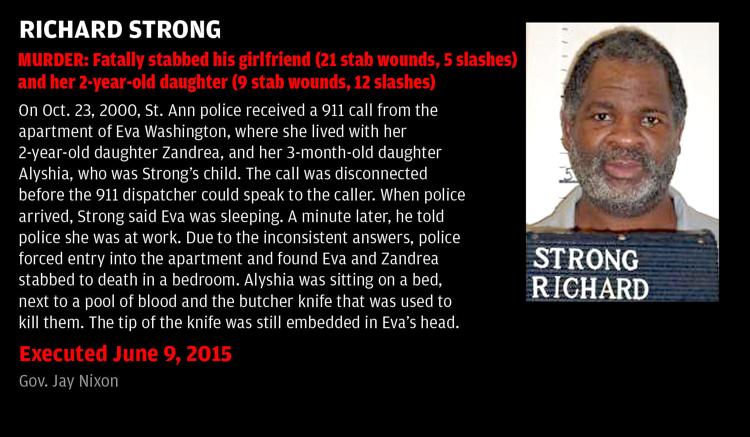 Executed July 14, 2015: David Zink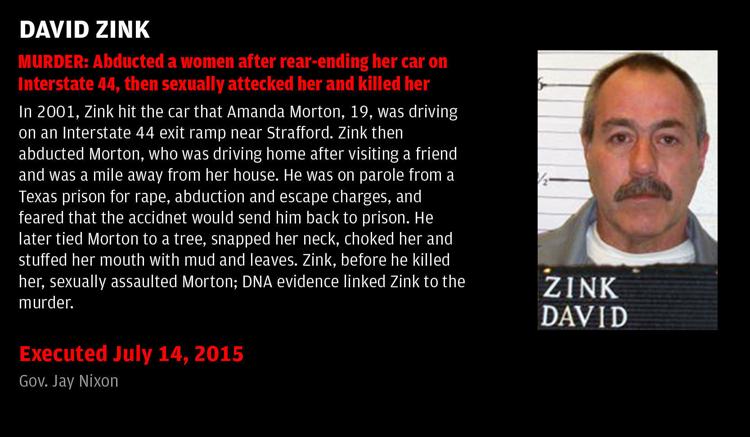 Executed Sept. 1, 2015: Roderick Nunley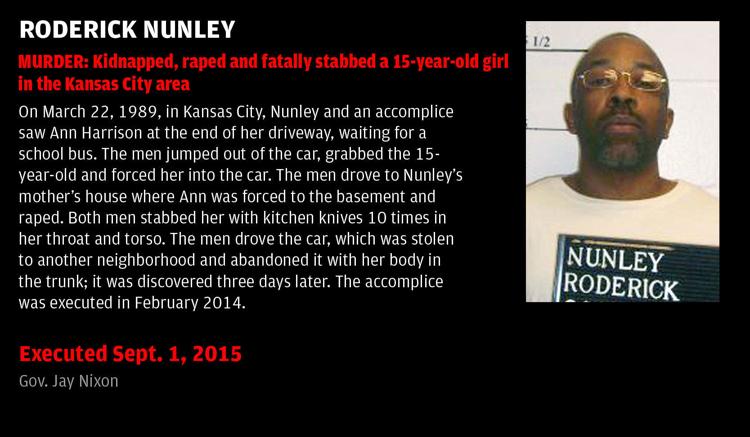 Executed May 11, 2016: Earl Forrest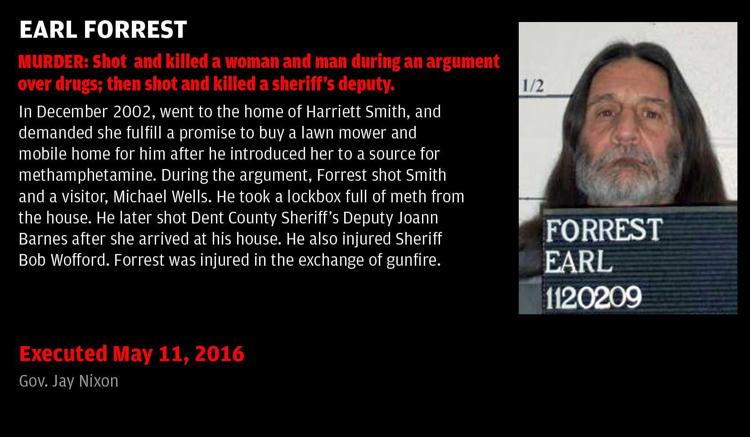 Executed Jan. 31, 2017: Mark Christeson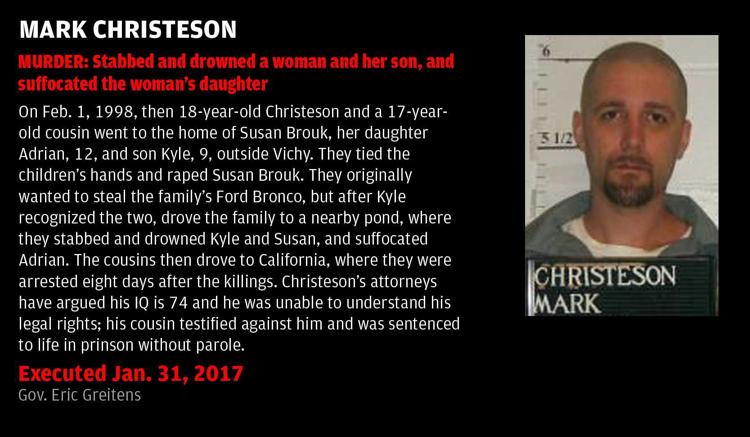 Executed Oct. 1, 2019: Russell Bucklew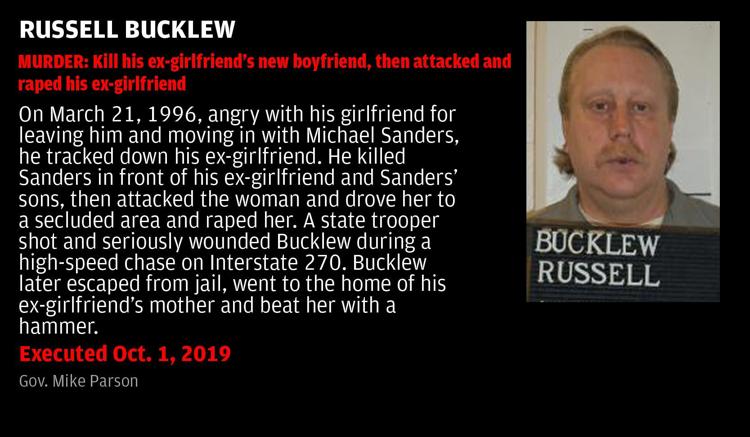 Executed May 19, 2020: Walter Barton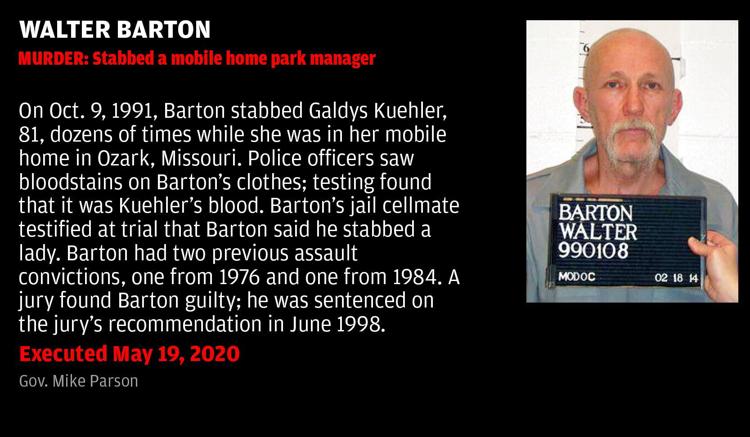 Shake off your afternoon slump with the oft-shared and offbeat news of the day, hand-brewed by our online news editor, Mandy St. Amand.