In the last two years, there has been about one St. Ann police chase a week, and a related crash about once every two weeks, according to police records obtained by the Post-Dispatch.
The department serves a population of about 14,000 residents and employs 54 officers, but it had more chases last year than the St. Louis County police's 950 officers and nearly as many as the 1,200 officers with the St. Louis Police Department.
Officers with those larger departments, along with most in the region, pursue fleeing suspects for the most serious felonies, but it's been St. Ann policy for years to chase drivers for minor offenses like expired plates and speeding.
St. Ann Police Chief Aaron Jimenez sees the pursuits as a point of pride, arguing chases send a message to lawbreakers: Stay out of St. Ann.
"Make no mistake, St. Ann will chase you until the wheels fall off," he said in a recent interview with the Post-Dispatch. "I've said it over and over, and I stand by that."
But St. Ann's pursuit practices come at a steep cost.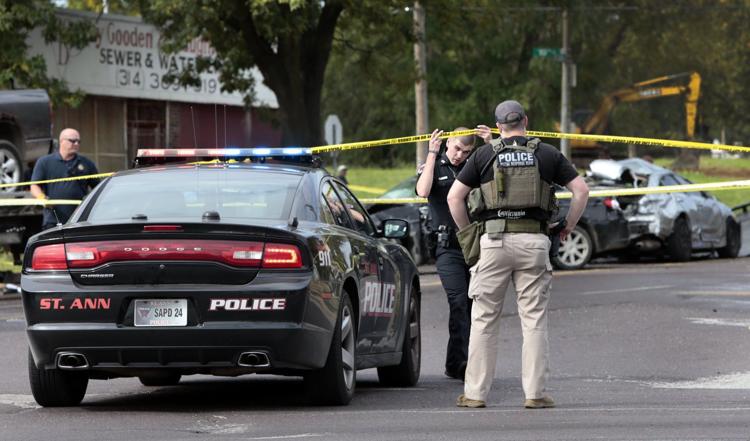 Since 2009, two people have died and least 42 have been injured in St. Ann pursuit crashes, according to an analysis of reporting in the Post-Dispatch and other media. Those injured include 11 drivers fleeing police and eight passengers in the fleeing vehicles, but also 17 innocent bystanders and six St. Ann police officers.
It was long difficult to quantify just how many chases St. Ann officers were participating in, but the department began tracking pursuits in 2016 as part of a voluntary accreditation process. From July 2016 when the tracking began through January 2019, there were 172 chases, according to data provided to the Post-Dispatch through a Sunshine Law request. About 34 percent of those ended in a crash.
Meanwhile, at least two innocent people who were seriously injured in crashes have filed lawsuits against the city in the last seven years. About 16 department vehicles have been damaged in crashes during pursuits since 2016, amounting to more than half the department's fleet. And St. Ann's insurance pool forced the department to stop chasing for misdemeanors in January or risk losing coverage.
Among recent high-profile crashes: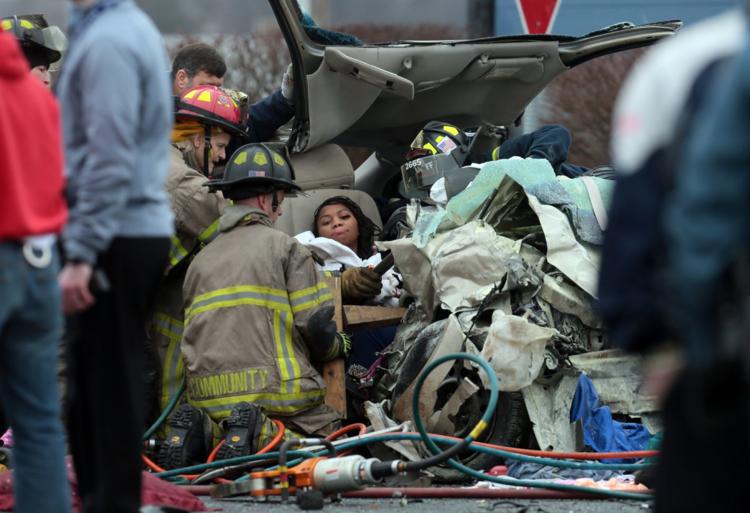 • In January 2015, Keith Lamkins was left in a coma after his car was broadsided by a suspect being chased by St. Ann police. A Missouri Highway Patrol trooper started the chase, which St. Ann police later joined, when a stolen car sped away at speeds topping 100 mph. Lamkins' SUV flipped and hit another car, sending that driver to the hospital, as well, with moderate injuries.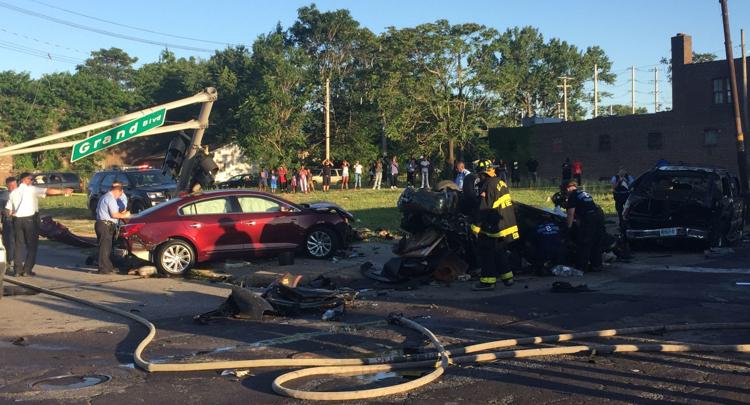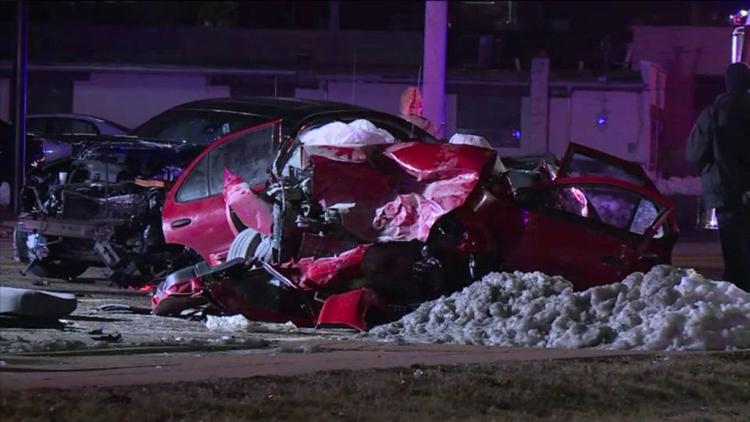 Officers chased the man's car, which crashed with two other vehicles at a busy intersection within minutes. The 21-year-old driver of the fleeing vehicle was killed. His two passengers were taken to a hospital with serious injuries. The 43-year-old driver of a car they hit also had serious injuries.
Jimenez says he never wants to see a crash, but he argues that the alternative of not chasing suspects poses a greater threat.
"When law enforcement terminates a pursuit, they are empowering bad behavior for criminals," he said.
"We're not going to allow a sense of lawlessness here," he added. "Because that's when areas turn."
But the chases have critics, including former St. Louis County Prosecutor Robert McCulloch, who said he reviewed several pursuit cases from the department before he left office at the end of last year. McCulloch was defeated by Wesley Bell in the August primary; Jimenez backed Bell after the St. Ann chief clashed with McCulloch over the city's chases.
"You'd be hard pressed to find any other department that would do some of these pursuits. It's a dangerous policy, and Jimenez is an irresponsible chief," McCulloch said. "He creates a lot of hazards not just for the people in St. Ann, but for the people in all the areas where these chases go. They endanger the public."
An elected chief
Chief Jimenez has a different boss than almost any other police chief in the area: the voters.
He is in the rare position of being directly elected, and he argues that St. Ann residents overwhelmingly support chases. Most other chiefs answer to city councils and mayors who, Jimenez says, tend to be more risk-averse and concerned about liability.
Jimenez points to his successful elections as evidence of support for his policies. He was elected chief with about 75 percent of the vote in 2013 and ran unopposed in 2017 when voters also approved a 2017 property tax for police funding with about 61 percent of the vote.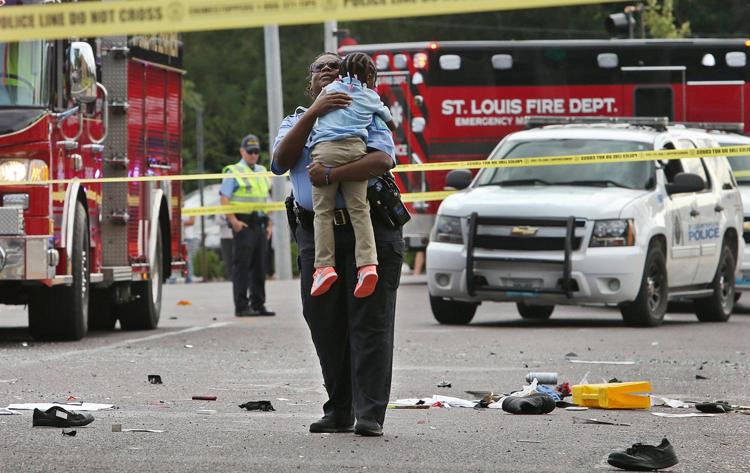 Jimenez's predecessor, Robert Schrader, put the department's chase practices in place, Jimenez said, but records show that under Jimenez, chases have increased in the last three years. They're up from 45 in 2016 to 63 in 2017 and 73 in 2018. Some part of last year's increase may be because St. Ann began patrolling the city of Charlack, which has a population of about 1,500, in September 2018.
But there may be more chases. Several St. Ann pursuits reported in the Post-Dispatch and other local media do not show up in the department's data. The reason for the discrepancy is unclear.
It's difficult to compare how often departments chase because there is no national tracking of police pursuits, but a nationwide survey by the Bureau of Justice statistics in 2012 showed that about 25 percent of departments St. Ann's size did not pursue anyone at all that year. Those that did pursue averaged five pursuits a year.
St. Ann has that many in a typical month.
They launch their own pursuits, but St. Ann police also regularly pick up chases from other departments that come through the city on Interstate 70. The officers will continue a chase far afield, into Illinois or St. Charles County and beyond. Most are finished in less than 15 minutes, but some have gone more than 40 miles and others lasted nearly an hour.
Since July 2016, about half of the department's chases were initiated for traffic violations, but Jimenez argues there is usually a more serious crime involved.
"I can tell you that nobody is just running for traffic," he said. "There's almost always something else there."
St. Ann's FBI crime statistics show crime has gone down in the last 10 years, following national trends. It's difficult to pinpoint whether the drop in crime has anything to do with pursuits, but Jimenez is convinced.
"There is no question," he argues.
St. Ann's chase practices go against national trends in policing, as departments are increasingly opting to stop chasing for nonviolent crimes, said retired Oklahoma Sheriff John Whetsel, chair of the National Sheriffs' Association Traffic Safety Committee.
Whetsel worked 50 years in law enforcement, including 20 years as a county sheriff, but his perspective on pursuits changed when his daughter and wife were killed in a pursuit. A deputy began the chase when a motorcyclist violating the speed limit refused to stop.
"Every agency is going to have to decide when they want to pursue," Whetsel said. "But it comes down to: What is an officer willing to die for? What are they willing to take the life of an innocent citizen for? When I think of the officer who chased that motorcycle for speeding, I know it wasn't worth it."
Critics say pursuing often creates a bigger danger to public safety than falling back.
"Every time you have a police chase, it's like a 4,000-pound bullet running down the street at 100 miles an hour," said Jonathan Farris, who founded an advocacy group, Pursuit for Change, after his son was killed as a bystander to a Massachusetts police pursuit in 2007.
Chases aren't safe for officers either.
Injuries from pursuits ended the careers of two St. Ann officers in the last 20 years, according to Jimenez. That number may rise to three if the officer injured in the January crash is unable to return.
Jimenez acknowledges the risk chases pose to the public and officers.
"But I use an analogy. It's like not wanting to go to war," he said. "Do you sit by and let North Korea build nuclear missiles, or do you take care of business? In law enforcement, you have to chase criminals."
Jimenez says he doesn't forbid officers from terminating pursuits unless the suspect is a serious and immediate danger to the public.
"It is at their discretion," he said. "But they do know that when they sign up for this job and they work for St. Ann, they're going to be proactive. If you feel like there's another place for you, you can have at it and go somewhere else."
Clashes with prosecutors
St. Ann's pursuits often lead to arrests, but there's been a lag in prosecution for years, according to Jimenez.
The driver was immediately arrested about 58 percent of the time in chases from July 2016 through January this year. Drivers have faced charges for resisting arrest, weapons offenses, assaulting a law enforcement officer and drug crimes.
But, according to Jimenez, former county prosecutor McCulloch began refusing to take felony fleeing-from-police cases from St. Ann.
"I got a phone call three years ago from (McCulloch's) assistant that said, 'We will not issue charges that involve your pursuits,'" Jimenez said. Instead, the office began taking charges under advisement indefinitely, he said.
Without felony charges through the county, St. Ann charged many drivers involved in pursuits with misdemeanor resisting arrest in municipal court, where they were typically sentenced to little more than a fine, according to the St. Ann chief.
McCulloch denies Jimenez's claims, arguing that St. Ann police instead weren't filing for charges in connection to many pursuits.
"He's making that up," McCulloch said. "We never said that and looked at every case they brought us."
McCulloch criticized several St. Ann pursuits, including when officers took an innocent man into custody after a 2015 crash. Officers investigating drug activity began chasing a car, which crashed into another vehicle on Interstate 70. But after the crash, police arrested the driver of the car the suspect rammed into rather than the driver fleeing police.
"The police officer had already identified the driver, but they continued the chase with half the department out there including the chief chasing," McCulloch said. "They didn't even know what car they were chasing or why."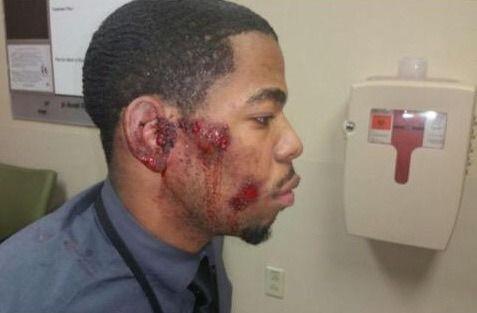 McCulloch was defeated in the August 2018 primary. According to him, Jimenez decided to wait until a new prosecutor was in office to apply for pursuit-related charges.
Jimenez believes the relationship between St. Ann police and prosecutors will improve under Bell, who was sworn into office Jan. 1.
"We've had more cases now finally issued for St. Ann than we ever had under the previous administration," he said.
Bell said his office will review charges from St. Ann like it does with every department.
"The prosecutors in my office may recognize patterns related to certain crimes arising from certain jurisdictions and use that extra information to better inform how we handle the case," he said in a written statement. "But the facts of each incident will always take priority in prosecution decisions."
Bell said his office will aggressively prosecute people who put the public in danger by fleeing police.
"If the facts of a case show that someone tried to evade the police and endangered public safety as a result, we want those offenders to understand they will be prosecuted to the fullest extent of the law," his statement read.
Starchase: Responding to critics
Facing lawsuits and criticism from prosecutors, St. Ann police turned to a new technology that's like something out of a Batman comic.
The tool, Starchase, allows officers to launch GPS trackers from the front of patrol vehicles with the push of a button. If all goes right, the tracker sticks to a suspect's vehicle. Officers can then fall back and track the suspect using GPS to make an arrest without the need for a chase.
In July 2017, the city approved $54,000 to install the technology on 10 of the department's 12 road patrol vehicles, plus an annual fee of $10,000 to maintain the trackers.
The City Council approved the funding using civil forfeiture funds, citing concerns about lawsuits and rising insurance rates if the pursuits continued at the same rate, according meeting minutes in July 2017.
St. Ann police began using Starchase in the fall of 2017, but the number of pursuits went up, not down, the next year.
So far, officers have attempted to deploy Starchase in 31 pursuits, about a third of the chases during that time. The tracker successfully attached to the suspect's vehicle about half of the time, and resulted to the arrest of 13 drivers, department data shows.
The culprit for the most failed attempts? The cold. The Starchase trackers have trouble sticking to cars when temperatures drop below freezing. The wind sometimes sweeps the tracker off course during a high-speed chase. In one case, a suspect pulled off the road when police fell back and ripped the tracker off his car. Delays in the mapping system also caused officers to continue pursuing rather than backing off.
Despite those problems, St. Ann City Administrator Matt Conley believes the trackers were worth the investment.
"I think that if Starchase can lead to even one arrest, that is a big deal," he said.
Whetsel, with the National Sheriff's Association, commended the department's use of the technology.
"The fact that they've invested in Starchase, that they are even tracking pursuit statistics, that's more than a lot of departments out there," he said.
Insurance company mandate
Jimenez has never swayed in his support for chasing anyone who flees, but last year the decision was taken out of his hands.
The department's insurance pool, the St. Louis Area Insurance Trust, said it would penalize any of the 12 St. Louis County police departments the trust covers if they did not stop chasing for misdemeanor offenses.
Jimenez said the department attempted to find another insurer, but all alternatives were about $500,000 more for coverage.
With no other option, St. Ann police were forced to change their policy in January. The new policy prohibits pursuits for misdemeanors or traffic violations unless there is a "present danger to human life" or a high likelihood of serious injury if the suspect is not pursued.
Jimenez does not support the change and plans to continue to chase for lesser felonies, including DWIs and stolen cars, which other departments often do not do.
"I want people to know, now the insurance companies are dictating pursuit policy," he said. "They are saying, 'Am I going to have to pay out for this?' instead of standing their ground."
Despite the policy change, records for January show that the number of pursuits doubled compared to the same month each of the previous two years. Officers reported three chases for minor traffic offenses and one for a misdemeanor warrant.
Jimenez said that's because a stop for a traffic violation can escalate to a felony that allows a chase, for example if a suspect throws drugs out a window. In one recent case, Jimenez said an officer pulled over a car for an expired plate and saw it sideswipe a car.
"Then that's felony property damage, so at that point we start a pursuit," he said.
The officer in that case chased the car about 40 miles west of St. Ann to Wright City, in Warren County.
The St. Ann officer had to end the pursuit when the patrol car ran out of gas, but police say they got their man. The suspect was arrested by Wright City officers.
Andrew Nguyen and Janelle O'Dea of the Post-Dispatch contributed to this report.