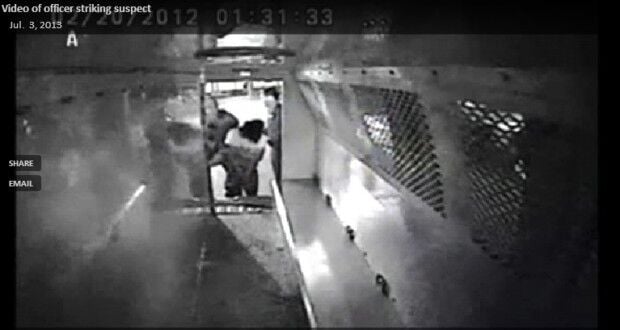 ST. LOUIS   •   A controversial video that shows a St. Louis police officer striking a teenage suspect has been released publicly, following the former officer's acquittal on a misdemeanor assault charge last week.   
Circuit Attorney Jennifer Joyce's office has said the video, recorded from a police cruiser, clearly shows Rory Bruce beating the teen without provocation. 
Bruce's defense attorney, Joe Hogan, planned to argue Bruce acted in self defense. But he never had to.
Because of legal obstacles, prosecutors were unable to bring the footage into evidence at Bruce's trial before Associate Circuit Court Judge Theresa Counts Burke on Thursday. 
Now the St. Louis Police Officer's Association, which supported Bruce throughout the convoluted case, is calling for his reinstatement. 
The teen was allegedly caught on Feb. 20, 2012, driving a stolen car with drugs and several guns inside. Bruce and his partner, Jacob Fowler, said the teen tried to pull a gun on them, causing Fowler to fire once in self defense. 
While department policy prohibits officers involved in shootings from dealing with a suspect afterward, the officers' supervisor in this case did not stop them from patting down the suspect and searching his car, according to court testimony.
The video shows the handcuffed teen walking out of a police cruiser toward the officers, on their order, then standing on the ground and looking at Fowler as Bruce moves in from the left, delivering a forearm to the teen's head, knocking him over.
Bruce then is heard saying, "I told you I wanted to search you and you came out of the thing and started lunging at me."
The teen's mother filed a complaint with the department, which sought charges after an internal investigation. Bruce and Fowler, both probationary officers, were fired without the chance to appeal.
While the video footage appeared to make it a straightforward case, it was anything but. Prosecutors found themselves stymied, repeatedly, by evidence issues. 
The teen, who was never charged, at first could not be found. Prosecutors finally tracked him down last month, after police say they caught him driving in another car with drugs and guns.
Joyce's office refused charges on the teen, citing insufficient evidence, then tried to hold him in jail until he could testify against Bruce. But a court motion to do so had not been filed in time, so he was released. Then he asserted his Fifth Amendment right against self-incrimination and refused to take the stand.
The teen is not being named because he has never been charged.
Prosecutors presumably did not need the teen if the video, which they asserted proved their case, could be shown at trial. But there, they ran into further obstacles. To introduce the video, they needed someone who could testify with personal knowledge that the video was an accurate depiction of events.
Bruce cited the same constitutional grounds as the teen in refusing to testify. That left Fowler, who did the same, until the morning of Bruce's trial when prosecutors sought an order from another judge forcing him to take the stand with immunity from any state charges. A top prosecutor with the U.S. Attorney's Office also appeared in court to grant federal immunity. 
Fowler watched the video away from the judge, and under questioning from Assistant Circuit Attorney Melissa Gilliam, testified most of it was as he remembered, but not all.  
The questions that need to be answered to lay the foundation for admitting evidence are basic, but technical — and in this case Burke ruled the standard wasn't met. Left to consider just testimony from a few other witnesses who could not speak to the actual incident, the judge found Bruce not guilty. 
It was the second attempt by Joyce's office to prosecute Bruce. The office dismissed an earlier case the day of trial after the same evidence issues came up, then immediately refiled charges.
The video has not been released publicly before because it was believed to be under court seal, at the request of prosecutors. But due to an error, the court order was never signed by a judge.
It was one of the first times in the case that a technicality helped prosecutors. Burke had earlier in the case threatened to hold Gilliam in contempt for attaching still pictures from the video to a court motion, but after the mistake on the order was realized, that became a moot point. 
Joyce's office on Thursday said the police department would release the video. It began doing so for media outlets on Tuesday in response to Sunshine Law requests.  
Earlier statements from Circuit Attorney Jennifer Joyce's office and the St. Louis Police Officers Association, which is calling for Bruce's reinstatement, can be found through the links accompanying this article. A police department spokeswoman referred all questions to Joyce's office.