UPDATED at 8 a.m. with additional detail from police
WELLSTON • Dressed in black, from head to toe, the man strolls down the alley, casually passing Steven Combs as Combs is bending down cleaning out a friend's car in an alley in Wellston.
Then the man circles back, walks up to Combs and lifts a gun, shooting him several times in broad daylight. 
Surveillance cameras captured the murder — and escape — last Sunday in Wellston.
"A calculated murderer," Police Major Steve Runge said after watching the video. "It's pretty clear what his intentions are."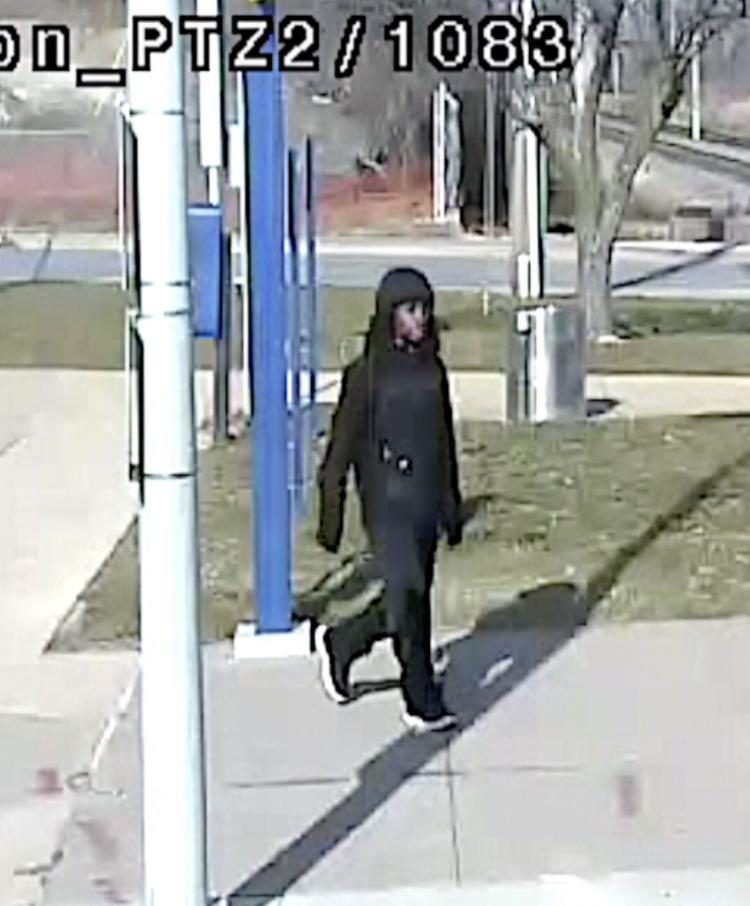 After the shooting about noon Sunday, the gunman apparently ran north along railroad tracks and hid in weeds for eight minutes, within earshot of police sirens as officers arrived, Runge said. Then, video shows the killer boarding a Metrolink train at the Wellston station, exiting the train in Pagedale, then boarding another train to take him back to Wellston.
Combs, 41, of Northwoods will be buried Friday — the sixth day of the investigation that so far has turned up no good leads, no motive and no murderer.
Some police in North County were friends of Combs, a tow truck operator, and donated their own money to start a fund to raise money for Combs' family. His funeral procession will include trucks from other towing companies and at least one police car. 
Police on Friday released video and screenshots from the videos that show the murder and the suspect's escape on the Metrolink platforms. Police are hoping those images lead to tips that catch the killer, who is described as a black man, between the ages of 19 and 23, who wore dreadlocks and was about 5-feet-8.
Anyone with information is asked to call St. Louis Regional CrimeStoppers at 866-371-8477. A reward of up to $5,000 is being offered by CrimeStoppers for information that leads to an arrest.
The video in the alley shows the suspect walk past Combs, who is leaned over washing the car at a business in the 6200 block of Bartmer Avenue.Then, the suspect walks back toward Combs, raises the gun and fatally shoots him.
Combs, 41, lived in the 5900 block of Reder Avenue in Northwoods. He owned a towing company, Combs Towing, that his father started some 30 years ago — and ran it with a son and nephew.
The fund says Combs was the father of 16 children, but Combs' older sister, Rhonda Combs Jacobs of Kansas City, said her brother was the father of 13 children. The youngest is a 2-year-old daughter; the oldest is a son who is about 24 years old, Jacobs said. Combs also had twin 3-year-olds, Jacobs added. The account started by police had raised $5,700 by Friday morning.
Visitation for Combs will be at 11 a.m. Friday, followed by his funeral at noon at Prince of Peace Missionary Baptist Church, 9350 Natural Bridge Avenue in Berkeley.
His casket will be carried from the church to the cemetery on the back of a flatbed tow truck from Combs' towing company. One of Combs' sons will drive the truck. 
"Steven was just wonderful, it's hard for me because we were so close," Jacobs said. "Steven was the type of person who never met a stranger. If you needed something to eat, he would make sure you had something to eat. He would help anybody."
Jacobs said his murder is tragic. "He didn't deserve that."
And she said his children are devastated. "He took care of all of his children. He took care of every last one of his children. They are broken because he was such a good father."
Runge, the police major, is commander of the Bureau of Criminal Investigations for the North County Police Cooperative, which is investigating Combs' death. Runge was the first to donate to the fund, giving $100 three days ago.
"This is first time I've done something like this," Runge said. "It's tragic, he's got all those kids. You just want to help."
Runge said he didn't know Combs but "some of our officers knew him and talk very highly of him."
He said the North County Cooperative plans to have a police car in the funeral procession.
Shake off your afternoon slump with the oft-shared and offbeat news of the day, hand-brewed by our online news editor, Mandy St. Amand.