The police department has identified the person killed as a man, Kenny Herring, but family and friends have said Kenneth "Kiwi" Herring was born a man but identified as a woman.
Morgan Hunlen, 23, was among several speakers at the gathering at the Transgender Memorial Garden at Vandeventer and Hunt avenues in the Grove area.
Hunlen said she didn't know Herring but as a black transgender woman herself she felt certain that Herring, like her, had battled racism and "transmisogyny."
"It may have been the police that put the bullet in her but let me tell you right now it was a combination of all those things that broke her down," Hunlen said.
LadyAshley Gregory, who is a board member of Metro Trans Umbrella Group, organized the vigil. A fundraiser the group set up to raise money for Herring's family had collected more than $9,300 as of 11 p.m. Wednesday.
"Any time something like this happens we come together as a family," Gregory said.
A poster in memory of Herring and a "Stop Police Brutality" sign were taped Wednesday morning to the front of the two-family flat where Herring lived and was raising three boys, ages 2 to 8.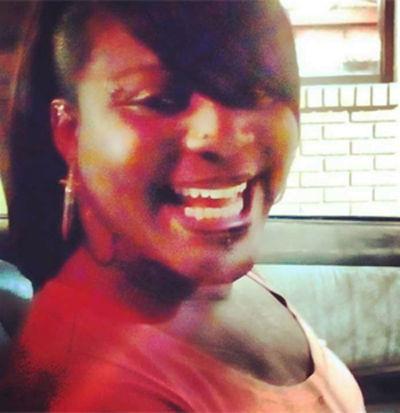 The encounter between police and Herring began when officers responded to reports of a stabbing about 8 a.m. Tuesday at the flat in the 5200 block of Ridge Avenue, east of Union Boulevard, police said.
Officers arrived to find a man, 30, suffering from serious stab wounds to his face, arms and torso, according to the department. The victim identified his attacker as Herring, police said. Officers tried to arrest Herring, who then stabbed an officer in the arm with a large kitchen knife, according to police.
The injured officer and his partner both fired their guns at Herring, who died at the scene.
The injured officer was taken to a hospital, police said. He was treated and released, police said Wednesday.
The man police say was stabbed in that initial attack was in serious but stable condition, police said. A motive in that attack hasn't been released.
Police said they arrested a 28-year-old woman named Kristy Thompson, who was charged with armed criminal action and assault. Police said she had "some involvement" in the initial knife attack on the first victim, but her role wasn't immediately clear.
A relative of Thompson, Crevonda Nance, said Thompson is a transgender man who was married to Herring. Nance said Thompson is the biological mother of the boys the pair were raising.
'That can't be true'
Herring's family members say they are looking for answers.
"That can't be true what they're saying," said Herring's nephew Nicholas Herring, who said he had close to a father-son relationship with Herring. "Kenny was just kind, caring and hilarious."
Some family and friends said the couple had been harassed and felt threatened since they moved to the neighborhood from Mississippi several years ago.
"Some people hated them because of their lifestyle," said Krystle Purnell, Herring's close friend and classmate. "But Kenny was always Kenny, no matter what anyone thought."
Herring's neighbor and friend Brooke Jones, however, said that she wasn't aware of any neighbors harassing Herring.
"They'll talk their little talk but, at the end of the day, she's heard it so many times she didn't let it faze her," Jones said.
Jones said Herring was excited Monday night about a barbecue she was planning for her friends. Law enforcement now say the event may be connected to the dispute that resulted in the stabbing and the call for police.
A small fire that caused minor damage to both the second- and first-floor porches at the two-family flat started after charcoal from a barbecue pit on a second-floor balcony fell out of the pit. Firefighters responded to the address shortly after 2 a.m. Tuesday. The small blaze was extinguished and firefighters didn't notice anything unusual that would have made them alert police, according to the fire department.
It wasn't clear why police thought there could be a connection to the later stabbing. Interim Police Chief Lawrence O'Toole said that was part of the investigation.
Jones said the description of the stabbing by police seemed out of character for Herring.
"If you needed anything from Kiwi, she would give it to you," Jones said. "She'd see my kids outside playing and she'd hand out popsicles, have barbecues, all that."
Kim Bell of the Post-Dispatch contributed to this report.