ROXANA — Ashly Maynard and her 7-year-old son, Vince, were on their way home Tuesday night from an autism therapy session for Vince when Maynard's minivan ended up in a retention pond along a darkened road near Roxana.
Hours later, a dive team working in frigid water helped pull the minivan to dry land, confirming their worst fears: Maynard and Vince were inside, dead.
As police probe why the vehicle inexplicably left the road, relatives were mourning Ashly as a dedicated mother and Vince as a spirited boy who had made great strides through therapy. He was a nonverbal boy with autism, his paternal grandmother said.
"I think Vince was our gift from God, to teach us to be more loving," Mary Maynard of East Alton said Thursday. "And Ashly modeled that so very well."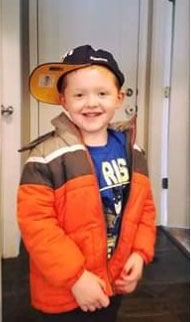 Mary Maynard said she wants to one day meet the motorist, Jacob Knuckles, who spotted the headlights in the water and called 911.
"We just are so blessed to know that that man stopped," she said. "There's so much we don't know. To know where they were was so comforting."
Ashly Maynard, 34, of Wood River, and her son were found dead early Wednesday inside their minivan when it was pulled from 10 to 12 feet of water in a retention pond near Roxana. The pond is near Wanda and Wagon Wheel roads, about 20 miles northeast of St. Louis. Knuckles, the witness, saw the headlights in the water and called 911 at 6:39 p.m. Tuesday. Divers in wet suits worked hours to find the vehicle and pull it out at about 4:30 a.m. Wednesday.
Autopsies completed in Madison County on Thursday indicated both mother and son drowned, but a final cause of death won't be decided until toxicology tests are completed, according to Coroner Stephen Nonn's office.
There was no evidence she suffered "any medical event that may have precipitated the incident," and neither body showed signs of trauma, the office said in a statement Thursday.
At a news conference Wednesday, Sheriff John Lakin said, "Right now, we don't have any indicators that would indicate anything intentional. This is still under investigation."
When asked about the lack of skid marks on the road, Lakin said those are the types of details police are investigating. The road is straight.
"I've been told, at this point, we don't believe there were any kind of skid marks, any kind of impact, any hard maneuvering of the vehicle," Lakin added. "But those are the type of things we look at."
What would the lack of skid marks mean? Lakin said he's not an accident-reconstruction expert, but he said: "I think that would tell us that the vehicle was kind of on a roll when it went in there and not at a high rate of speed, or cutting hard. It was just on a, we'll just refer to it as a slow roll." Meanwhile, the family isn't guessing about why the minivan left the road.
"We don't have a theory," Mary Maynard said. "We trust the officers to do their work."
She added, "We've not seen one thing that would indicate anything other than a freak accident."
Parenting a special-needs child can be frustrating, but Ashly "never let that override" her life, Mary Maynard said. Ashly was a forward-thinker, she said, and proof of that was that she had stopped Tuesday night to get a hairpiece for her 9-year-old daughter's dance performance, which was coming up Wednesday.
"She was planning for the next day," Mary Maynard said.
'Our hearts are broken'
Vince was a first grader at Leclaire Elementary School in the Edwardsville School District.
"I loved his energy," Mary Maynard said. "Vince's eyes just sparkled."
The family knew when Vince was about 18 months old that something was different. "It was very subtle," she said. Vince was one of the first clients of The Autism Clinic at Hope, at the new Edwardsville location.
Ashly was his advocate, Mary Maynard said. "She was so passionate, too. She did everything she could to help her son."
Vince had made big strides because of family and teachers and therapists, Mary Maynard said. He took part in Applied Behavior Analysis therapy, which focuses on increasing communication and social interaction. He was part of the Castle program for students with autism spectrum disorder in his school district. And he loved a special gymnastics program for students with special needs held at the YMCA in Edwardsville. He went every week.
His paternal grandfather, Rex Maynard, took on the moniker G-Rex for his grandchildren, as in Grandpa Rex, not T-Rex. Vince called him "G." When Vince was very young, his father, Will Maynard, got him to say "I love you, Daddy," and would give him root beer. Vince was able to say a few short phrases and used a small handheld device to help him communicate, according to the staff at the Hope clinic.
On Tuesday night, Vince and his mom were on their way from the Edwardsville clinic.
"This is a very devastating loss at Hope," said Jodi Ogilvy director of communications for Hope. "Our hearts are broken, and our thoughts are with the Maynard family. Vince was a bright and vivacious spirit, and our lives will not be the same without him."
Ashly Maynard had recently started working for We Rock the Spectrum, which is an activity center and gym in Edwardsville for children with autism.
Among the photos that Will Maynard chose to share is one of them beaming, with Ashly's arms around Vince. They are dressed in Halloween costumes. He was Spider man that year, a few years ago. Last year, he was an Oreo. This Halloween, Buzz Lightyear.
Rex Maynard, Vince's paternal grandfather, works in administration at the sheriff's office. "We have the upmost confidence that they have done everything possible and will do everything possible to answer the questions," Mary Maynard said.
One of the theories that a police lieutenant mentioned to a reporter was that the minivan could have swerved to avoid an animal in the road. "Ashly loved animals," Mary Maynard said.
The family also loved the Green Bay Packers. Their Wood River home was decorated Tuesday morning with yellow-and-green Christmas lights in honor of the Packers. A Packers Christmas wreath hung on their front door.
Their dog, Lambeau, was named after the Packers' Lambeau Field and Curly Lambeau, who co-founded the team. And Vince was named after Vince Lombardi, the storied general manager and ex-coach of the Packers, Mary Maynard said.
Vince and his sister, Lucy, are redheads, just like their mom. Lucy was asleep when the search in the pond was taking place. But when she awoke, her family broke the sad news to her, Mary Maynard said.
"She has been showered with love from her classmates and neighbors," Mary Maynard said. "Her teacher and principal and social worker have been to the house."
Lucy loved her brother very much, her grandmother said, and had already selected a career path.
"She wanted to be a speech therapist," Mary Maynard said, "because of Vince."
The Maynard family is asking that any memorial contributions go toward the purchase of sensory gym equipment at The Autism Clinic at Hope, 115 Rottingham Court, Suite A, Edwardsville, IL 62025.
Ashly Maynard was the daughter of Neil and Terri McInnis of Wood River.
Pitchford Funeral Home in Wood River is handling funeral arrangements.
Rachel Rice and Erin Heffernan of the Post-Dispatch contributed to this report.
---