ST. LOUIS COUNTY • The Rev. Charles Bobo asked members of his congregation Sunday to join him at the front of the sanctuary if they had been affected by gun violence — having earned a place among them just days before.
One of his ministers at West Side Missionary Baptist Church, the Rev. Demetrius Stewart, was leaving a bowling alley in Richmond Heights after a date night with his wife and other couples. They were in their car when a fight involving a group of people the Stewarts did not know spilled onto the parking lot, police say.
It's not clear why the gunman fired at Stewart. His wife, Shantana Stewart, told the Post-Dispatch they'd had no interaction with the people who got in the fight, and police said it appeared Demetrius Stewart was an innocent bystander.
Stewart, 45, later died at a hospital, leaving behind his wife of 20 years and their two teenage children.
An associate minister at the West Side Missionary Baptist Church location at 2677 Dunn Road in north St. Louis County, Stewart typically attended 8 a.m. Sunday service with his family, and taught Sunday school there. He was a University City High School alum and Mizzou grad and who worked at the Department of Veterans Affairs.
Bobo said he had known Stewart for about 15 years.
"They say nobody's perfect," Bobo said Sunday, pausing as tears welled in his eyes. "But Demetrius was about as close to perfect as you can get."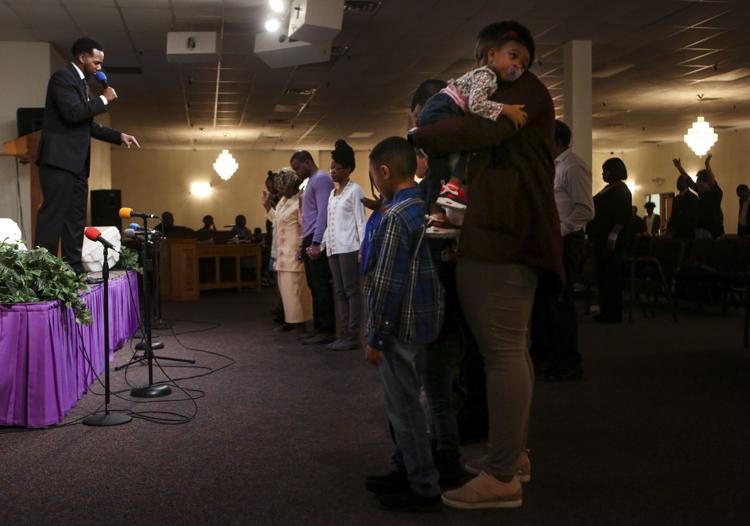 Bobo told the congregation that three families within the church had been "afflicted" by gun crimes in just the past months alone.
He focused his sermon on a story from the Bible about a woman who touched Jesus' garment and was instantly healed from an affliction she had struggled with for 12 years. Until that moment, nothing else had worked. She tried going to different doctors and taking different medications, losing almost all she owned trying to pay for treatments.
It was her faith in Jesus, and her belief that touching his garment would heal her, that worked, Bobo said.
"We need a healing in this city," he said, as about two dozen members of his congregation affected by crimes involving guns gathered near him.
Later, he said he believes Stewart would have told the young man accused of killing him to do the same as the woman in the Bible who found healing.
Donté Lorenzo McGary, 24, was charged Saturday with first-degree murder. Police say they arrested him as he tried to flee the scene after killing Stewart and firing shots at another person.
"(Stewart) would want him to know that his only option is Jesus," Bobo said Sunday. "Not another gun, not anger or rage, but Jesus."
Stewart's fellow associate minister, the Rev. Jettie Bryant, said the Stewarts became a second family to her after the death of her parents. Knowing how dedicated Stewart was to ministering to young people, Bryant said Stewart would have had a message of his own for the congregation trying to make sense of his senseless murder.
"He would have said, 'This young person was hurting so much, he didn't know how to deal with it and address it,'" Bryant said as Sunday services got underway. "Even after his death, he would have wanted us to love and forgive him. And that's what we're going to do.
"He was clearly so angry and filled with so much rage that he decided to take somebody's life, but Demetrius told us to love our enemies and we're going to love this young man, even though he took somebody who was so important to us."
Bryant stood near Renee Thomas-Woods. She and her husband, Henry Woods, were among the couples with the Stewarts at the bowling alley Friday night. She said she and her husband ducked down in their car when gunshots rang out, and everyone in their group started calling each other to see if everyone was OK when it ended.
When Shantana Stewart answered her phone, Thomas-Woods knew she wasn't OK and rushed to her side.
She watched as police officers and paramedics try to revive Stewart.
Together, they prayed for a healing that night — just as they did again on Sunday.
---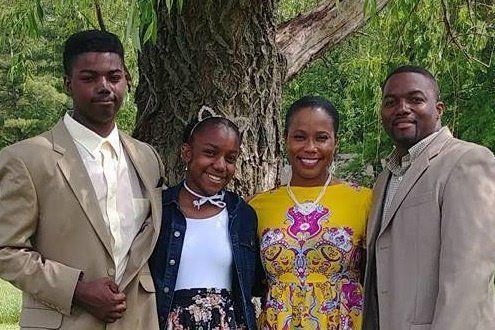 Stewart was also a chaplain for his fraternity, Alpha Phi Alpha. His fraternity brothers established a GoFundMe fundraising page to help pay for his children's education, with a goal of also establishing a scholarship in his honor to help pay for the education of other children in the future.