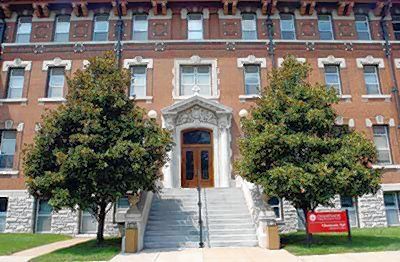 ST. LOUIS COUNTY • A Wentzville man who attended Chaminade College Preparatory School in the 1970s has filed a lawsuit accusing the Marianists of concealing knowledge of child sex abuse by priests at the school.
Christopher Wimmer, 57, filed the case Tuesday in St. Louis County Circuit Court alleging the Creve Coeur prep school and its leaders lied to "multiple" sex-abuse victims by telling them they were the first to report abuse by clergy.
Wimmer also alleges that he was abused by the Revs. Louis Meinhardt, who worked at the school from 1958 to 1982, and John Woulfe, who left the order in 1977 after nine years. Meinhardt died in 1990. Woulfe died in 2005. Wimmer seeks unspecified damages.
"I went to the Marianists about this abuse years ago and they lied to me about the abusers," Wimmer said in a prepared statement. "I'm not the only one who has suffered like this. I have lost friends to suicide because what the Marianists have done has been too much to bear."
The lawsuit names the Marianist Province of the United States as a defendant, as well as the Rev. Martin Solma. Solma is head of the Roman Catholic order, based in St. Louis. Chaminade College Preparatory, a Marianist boarding school in Creve Coeur serving boys in grades 6-12, is also named as a defendant.
Solma released a statement that said the Marianists were first approached by Wimmer about 10 years ago and have met with him and his lawyers and "assisted with counseling needs."
"Regarding Mr. Wimmer's allegation of recently learning that he was lied to, we have not been informed of details of such a conversation and have no reference for what this means," Solma said. "We have been forthcoming with the media for a number of years, and would NOT intentionally cover up any information regarding alleged sexual abuse. Regarding what he was told by the Marianists in the 1970s, we can only speak to what we know."
The suit claims Meinhardt and Woulfe were football, baseball and hockey coaches when they molested Wimmer in the shower and whirlpool after team functions.
The statute of limitations for sexual abuse in Missouri allows for claims within five years of an alleged victim either turning 21 or recalling the abuse. This suit, however, says the statute of limitations is renewed because Wimmer learned only this year that the Marianists intentionally hid knowledge of abusive clergy.
"They lied to Chris and told him he was the first to come forward," Wimmer's lawyer, Nichole Gorovsky, said. "They kept Chris from filing a lawsuit because they lied to him."
The Survivors Network of those Abused by Priests praised Wimmer's "courage" in filing suit.
"His suit points out that Catholic officials were deceitful in the past and still are today," said David Clohessy, SNAP's director.