O'FALLON, Mo. — This stretch of Peruque Creek, just north of Interstate 70, is unremarkable in almost every way.
Small boulders are embedded in its concrete banks. Trees have grown through the banks' cracks. Islands of brush force the current to snake through the channel, barely making a sound. On most days, the water is perhaps 18 inches deep. 
But standing on the roadway above, one thing is clear: It's a long fall to the concrete below.
A search party found his body in the water seven years ago, wedged against a bridge pillar. Police believe Gerst, 24, a semi-pro baseball player, accidentally fell about 35 feet to his death. 
Some of the circumstances are undisputed: Gerst went out drinking that September night. He ran into an old friend. Later that night, the old friend attacked Gerst in the bar's parking lot, punching him and chasing him out of the lot and down the road.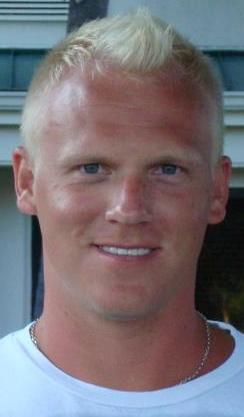 Then Gerst drowned in Peruque Creek. 
But Gerst's brother and father don't think he fell from the bridge.
They don't understand why an O'Fallon officer was at the bar, involved in the incident, but denied his role.
They don't believe that O'Fallon police missed these same inconsistencies.
For seven years, they've been trying to get officials, prosecutors and police chiefs to listen to their pleas.
Just this fall, O'Fallon's new police chief, Timothy Clothier, agreed to review the investigation. 
"The statute of limitations may have run out on any crimes that could have occurred that night, but there is no statute of limitations for internal misconduct," Clothier said then.
"I will hold my staff accountable; it's just got to happen. Anything less is unacceptable."
The Gerst family and Clothier agreed to interviews for this story.
Other officers and witnesses did not return calls and messages seeking comment.
At Moudy's
Kent Gerst graduated from Fort Zumwalt West High School in 2006 with professional baseball teams knocking on his door. He was picked in the eighth round by the Chicago White Sox — the highest any area high schooler was picked in the draft that year.
"It's something I've worked for my whole life," Gerst told the Post-Dispatch at the time. "My dreams just came true."
By 2012, he was an outfielder for the Gateway Grizzlies, an independent minor-league team in Sauget.
On Sept. 8 of that year, he and a childhood friend, Edward Morelli, went to Moudy's Bar & Grill in O'Fallon. Morelli drove. There, Gerst ran into another childhood friend and fellow baseball player, Josh Hankins, and his father, Jeff. They had just finished a day of golfing.
After several drinks, Gerst and Morelli went out to the parking lot, Morelli to smoke and Gerst to call his brother, who was mad that Gerst wouldn't meet him at a friend's house in Clayton.
"He told me Edward was too drunk to drive, and I told him they were too far away for me to pick them up," brother Matt Gerst, now 36, recalled. "So we bickered like that for three minutes. And that was the last time I ever talked to my brother."
Also outside the bar to smoke was an off-duty O'Fallon police sergeant, Mike Toedebusch.
The next few minutes may have created the incident that led to Gerst's death:
Toedebusch saw the trunk of Morelli's car open, he later told investigators. A bag of golf clubs lay on the ground next to the car. Toedebusch, who believed the clubs to be the Hankins', went back inside the bar and told the father and son that someone was trying to steal their golf clubs, Josh Hankins told investigators.
Toedebusch returned to his friends at the bar, according to the official O'Fallon police report.
The Hankinses ran out to the parking lot.
Outside, Morelli saw the two men running at him. He pointed at Gerst, standing nearby, Josh Hankins told police.
Witnesses confirm that Hankins attacked Gerst, punching him and then chasing him across the parking lot and out of sight. Hankins returned, bragging about how he hit Gerst one more time before Gerst "took off" down the road, according to the police report from the night.
Two women riding in a car later told police they saw a man matching Gerst's description "trip or stumble" along West Terra Drive.
He was last seen running along the road toward the bridge, about 1,500 feet from the bar.
The next day, Matt Gerst went to his parents' house for their weekly Sunday dinner. When Kent Gerst didn't show, his father called Morelli.
But Morelli's stories didn't make sense, the Gersts said. He first said Kent left with Matt, then said Kent left with a woman.
The family filed a missing person report about 6:30 p.m. About 7 p.m., Adam Hamby, who was at the bar, told the Gersts about the fight Kent had with Josh Hankins, according to the report.
A group gathered at Moudy's to start retracing Gerst's steps. O'Fallon police joined the search. So did Clark Morelli, Edward Morelli's father.
About three and a half hours in, at 10:41 p.m., Clark Morelli and O'Fallon Lt. Scott Walker stopped at the bridge over Peruque Creek. Morelli peered over the edge and asked Walker to shine his light.
He "thought he saw a hand," he told Walker, according to the report.
Walker leaned as far as he could over the bridge's short guardrail. Even then, he wasn't sure what he was seeing. He turned back toward the embankment and hiked through rock and brush to the creek's bottom.
There, eight feet under the bridge, 35 feet under the roadway, he found Gerst's body.
Doubts
Two days later, O'Fallon detectives Kevin Mountain and Matthew Wolf told the Gersts that their son "had injuries which were indicative of a fall," the report said.
Gerst, the detectives said, had drowned.
But as weeks stretched into months, and as the Gersts kept asking questions, other officials became uncertain about O'Fallon's findings.
St. Louis County Medical Examiner Dr. Mary Case performed Gerst's autopsy. She measured his blood alcohol content at .205, more than double the legal limit to drive. She also determined that Gerst had one broken rib and a broken wrist — injuries that weren't consistent with a fall from that height.
Case was so concerned that, for the second time in her then-37-year career, she visited the crime scene.
She ruled the death an accident by drowning. But she still says the facts don't add up: 
"If he went over the top of the bridge, he would have more injuries from falling and he didn't have that," Case told the Post-Dispatch. "It's not clear how he gets down there."
In early 2013, newly appointed St. Charles County Prosecutor Tim Lohmar ran into Gerst's mother, who told him her son's necklace and watch went missing that night, Lohmar said . Lohmar ordered his investigator, veteran Mike Harvey, to review the case.
Harvey watched the surveillance footage from Moudy's — just as O'Fallon police had months before.
But Harvey spotted things not noted in the O'Fallon report: Kent Gerst was wearing the watch his brother gave him.
And, sandwiched between the Hankinses as they rushed out the door to confront the golf club thief, Harvey saw a third man:
The footage showed Toedebusch did not return to his party, as police reported.
He never returned to the bar at all that night, according to the footage.
Harvey took his findings to O'Fallon Lt. Michael Grawitch. They interviewed Toedebusch together.
Toedebusch initially stuck to his original story. The men told him the video contradicted his statement. He then said he didn't "remember physically walking outside" that night. Then he said he did go outside, but insisted he didn't see anything.
"I didn't see a fight happen," he told them. "I cannot tell you what I did not see."
He said he went home for the night after he ran outside.
The Gersts, livid with the department, have since persuaded two O'Fallon police chiefs to review the investigation.
Then-Chief Roy Joachimstaler emailed Gary Gerst on Aug. 7, 2014, saying department investigators did not find any evidence of wrongdoing on the part of their officers and that no further action would be taken.
Clothier, who replaced Joachimstaler in May, assigned two detectives and a lieutenant this fall to review the Gerst case once more. He promised fresh eyes, an objective look and, if he still wasn't satisfied, a review by an outside agency.
But on Thursday, Clothier, too, closed the inquiry, saying they had found no "intentional" acts of misconduct.
"Detectives are humans — they can make mistakes — but there is a big difference between an intentional act of misconduct and a mistake," Clothier said. "There was some failures on the part of the police department, and those have been addressed. The officer involved in all of this was reprimanded."
Clothier inherited a department that has been going through internal strife for a couple years, with officers suing officers alleging cover ups and conspiracies.
Clothier has since enacted a policy requiring outside agencies to investigate cases in O'Fallon should a conflict of interest — such as Toedebush's involvement — be discovered. Under the new policy, O'Fallon no longer investigates its own officer-involved shootings, but its Internal Affairs Division still reviews them for any policy violations.
Toedebusch left the department in May 2013 after more than 16 years there — and not long after his interview with Harvey and Grawitch.
The Gersts no longer believe they will learn the truth about Kent's death. 
"We will never have all the answers," Matt Gerst said.
But one thing has changed in the years since his brother died. A chain link fence supplements the concrete guardrail on the bridge over Peruque Creek. 
Now, no one can fall over the bridge.