ST. LOUIS • Almost immediately after Jimmie Edwards became the public safety director of St. Louis in late 2017, he told city police officers to keep a close eye out for cars with expired temporary tags and license plates, and to cite their drivers.
"Some of the bigger complaints I'm hearing all over the city are traffic violations, speeding and temp tags that are outdated," Edwards said of what residents told him then — and now.
Expired temporary tags and license plates long have sparked frustration among drivers throughout the St. Louis region, where such infractions can be spotted multiple times in a day or even within a few hours. Some temporary tags still are displayed after expiring years ago.
"$300,000 car and expired temp tags. Only way to do it in STL," wrote one Reddit user who posted a picture this month of a pricey sports car with temporary plates that expired Feb. 16.
But it's difficult to get a complete picture of how widespread the problem is, and how much money is lost in unpaid registration fees and sales taxes.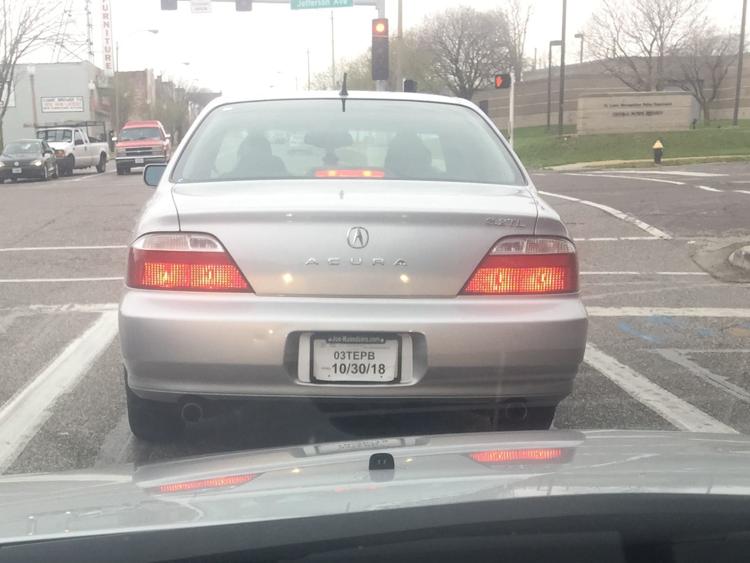 St. Louis County police officers last year issued more than 10,000 tickets, including for expired plates, in mostly the unincorporated areas under a broad county ordinance that relies upon state laws governing vehicle registration and licensing. That tally doesn't include tickets that were voided, that prosecutors decided against pursuing or that were issued under local ordinances in Black Jack, Fenton, Hanley Hills, Jennings, Kinloch, Valley Park, Wildwood or Winchester. County officers also issued an additional 18 tickets to drivers under the state law that specifically mentions temporary permits.
In the city of St. Louis, police last year issued more than 13,000 tickets for operating without a proper vehicle license. That's nearly 3,000 more than in 2017.
Despite stepped-up enforcement, the problem persists. One factor cited is the cost of renewing license plates in Missouri. Safety and emissions tests often are required, as is showing proof of insurance and paying registration and processing fees. So is showing a paid personal property tax receipt.
Edwards said officers have told him that some drivers cited for using expired plates are poor, and say they can't afford to pay property tax on a car.
"It begs the question — if you can't afford to make it legal, why do you own it?" he said.
And sales tax — 4.225 percent to the state plus whatever the local county charges — must be paid when buying a new car to get proper plates. In the city, for example, the buyer of a $20,000 vehicle must pay sales tax of $1,935.80 in addition to other fees to get a license plate, according to an online calculator provided by the Missouri Department of Revenue.
One previous attempt to avoid lapses in paying that tax never got off the ground. State Rep. Donna Baringer, D-St. Louis, cited a law that would have allowed a vehicle's sales tax to be paid at purchase through a pilot program in 2012 in which the revenue department would have chosen a car dealership to test the idea.
The program never happened. Baringer said she was told the cost to make the department's computer system able to enact such a program would be $70 million.
"We should have started in 2012 collecting sales tax," she said. "It was a pilot program to see what it would take to do this statewide. We don't know what stands before us because it didn't take place."
When asked by the Post-Dispatch for statistics or other data that might show the effect of the law or how many temporary plates had been turned in, a revenue department spokesman responded that it doesn't have "statistical data or other information regarding surrendered and destroyed temporary permits."
If passed, it would require a check for the amount of the sales tax be made out to the Missouri Department of Revenue when sales tax is rolled into a car loan. Now, she said that check goes to the vehicle's buyer, who can spend it elsewhere.
It also would require a vehicle buyer to sign a waiver that all applicable sales taxes are due within 30 days of the purchase and that it is illegal to drive a vehicle in Missouri without properly insuring the vehicle — not submitting the tax within 30 days would result in a fine of $25 every 30 days, or a maximum fine of $200.
"We need to make sure everyone understands this is how much money it will cost you to get into the car — and not just the car, but the sales tax and insurance," Baringer said.
She said she doesn't want to penalize people who don't know about those costs, but stressed the sales tax on vehicle purchases helps pay for needed taxpayer-funded transportation services.
'A societal problem'
Not having a full grasp of the associated fees, or the ability to pay them, lands such drivers before Municipal Court Judge Jennifer H. Fisher, who serves in Normandy, Berkeley and Moline Acres.
"They've spent all their money paying for the car. They don't have the money to pay sales tax and register the car. They didn't know they need insurance and sometimes have to wait to get more money," she said.
Or people buy a vehicle from a less-than-honest dealer or private seller, then learn the vehicle can't pass the state-required safety inspection without costly repairs, Fisher said — but they don't want to let a newly bought car sit idle while figuring out how to get proper plates.
Then they often get ticketed.
She said that while she isn't sympathetic to drivers who want to cheat the system, she and other municipal judges want to help drivers who are trying to figure out a solution to get their cars properly registered.
"It's a societal problem," Fisher said of such cases. "It's not a court problem."
Senate Bill 5, a broad municipal court reform bill that stemmed from unrest in Ferguson and capped the revenue that cities can take in from court fines and fees, became law in 2015. Its provisions include that fines on minor traffic violations, including expired plates, are capped at $300.
"Everything that we know about over-enforcement of minor traffic and other municipal violations tells us that the same people are consistently harmed by such practices: poor people and people of color," said Blake Strode, executive director of the ArchCity Defenders law firm, in a statement. "Tickets that may seem like an easy fix for some can cause life-altering hardship for others, including years-long cycles of court appearances, warrants, and jail. For a city in which we are constantly told that police are under-staffed and under-resourced, surely there are more pressing concerns than expired license plates and temporary tags."
And there are other reasons for not driving a properly licensed vehicle.
Damien Seals, 40, said he has accrued at least $10,000 in fines and fees related to traffic citations.
He said he feels targeted by police looking to drum up money through issuing tickets when they should be focusing on more serious crimes, and that his research has led him to believe he isn't legally required to have state license plates, which he stopped using last winter.
"This ruins people financially," said Seals, who lives in north St. Louis County.
He said going after expired tags and plates shouldn't be a police priority. That's something Edwards, the city's public safety director, said isn't happening.
"It's not a priority, and I'm not sure it's a focus," Edwards said of his directives to officers on expired plates. "What I'm asking them to do is not ignore it."
---