FERGUSON • As soon as Dr. Dan Wentz took a look at Anak's pearly whites, he knew the 106-pound police dog was on the verge of a career-ending injury.
The black German shepherd's bottom canines looked thin, possibly in need of replacement. A specialist confirmed the problem and broke the news to Anak's handler, Ferguson Officer Greg Casem, who knows that sometimes a police dog needs a bite as well as a bark.
Training, and an obsession with tennis balls, took their toll on Anak, 6 years old. Replacing the teeth with titanium crowns would cost $1,700.
Before the city even had a chance to decide between paying and retiring the dog, Wentz and his wife, Dr. Julie Wentz, started an online donation drive to cover the cost — and pay unexpected veterinary needs of the department's three other dogs.
"Two years ago, I never would have considered doing this in Ferguson," Dan Wentz said Monday from his office at the Ferguson Animal Hospital. "But given all that's happened, the tax increases and the drop in the (police) force, I want to make sure we are doing what we can to help keep these dogs on the street."
The force dwindled to 36 officers from 53 after the controversial killing of Michael Brown in 2014 ignited national protests. City voters passed two tax referendums and are dealing with costs of meeting demands in a federal consent decree over police and municipal court practices.
Among the concerns were the police dogs which, the Justice Department alleged, were used more liberally than necessary and with "out-of-proportion" force.
Its report says dogs were used in some situations in which they weren't needed, and used against children, people known to be unarmed and those who committed low-level crimes, such as trespassing.
"They appear to use canines not to counter a physical threat but to inflict punishment," the report reads.
It also says that every police dog bite in which race was known was inflicted upon an African-American.
Police Chief Delrish Moss said that since the Justice Department report, officers are forbidden from using dogs at protests.
"It can be very reminiscent of the 1950s and 1960s, and so that was a very easy fix," Moss said, referring to memories of police dogs attacking peaceful civil rights demonstrators. "We didn't want even the appearance that we were using the dogs to quell or deal with protesters."
Moss called the veterinarians' fundraising "innovative."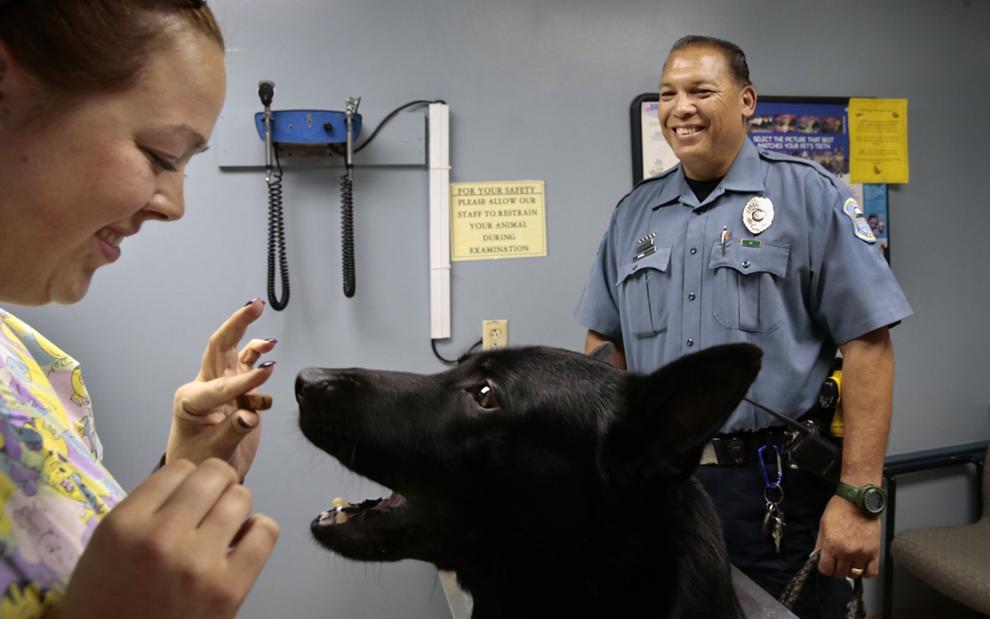 "Ferguson is a very giving community, and this doctor has a lot of passion for the police department, and this was his way of saying the city has had some budgetary issues, let me find a way to continue the services I do for the dogs," Moss said.
Casem became a Ferguson canine officer in 1998, and Anak is his third dog, the son of his second. Anak mean's "child" in Casem's native language of Tagalog.
It is common for police dogs to be trained to respond to commands in German or Dutch, to help keep them under their handler's control. "But to my knowledge, we're the only canine team using my language," Casem said.
Casem said he saw the Ferguson canine unit grow to four under former Chief Thomas Jackson's administration, to ensure every shift had a dog available.
Casem takes issue with the Justice Department assessment.
"That's not me, and that's not us," he said.
He recalled several examples of how the dog's mere presence led to peaceful outcomes. In one, Casem said, a suspect called 911 to say he was surrendering after hearing that a canine unit was on the way.
Casem noted Anak's work as a police ambassador at schools. He said he gets laughs at schools when children hear him praise Anak with the Tagalog phrase for good, "ma bu tay," which sounds like "my booty."
Once Anak has his titanium chompers, Casem said, he may teach the kids another: "makintab ngipin," for "shiny teeth."
Kristen Taketa of the Post-Dispatch contributed to this report.