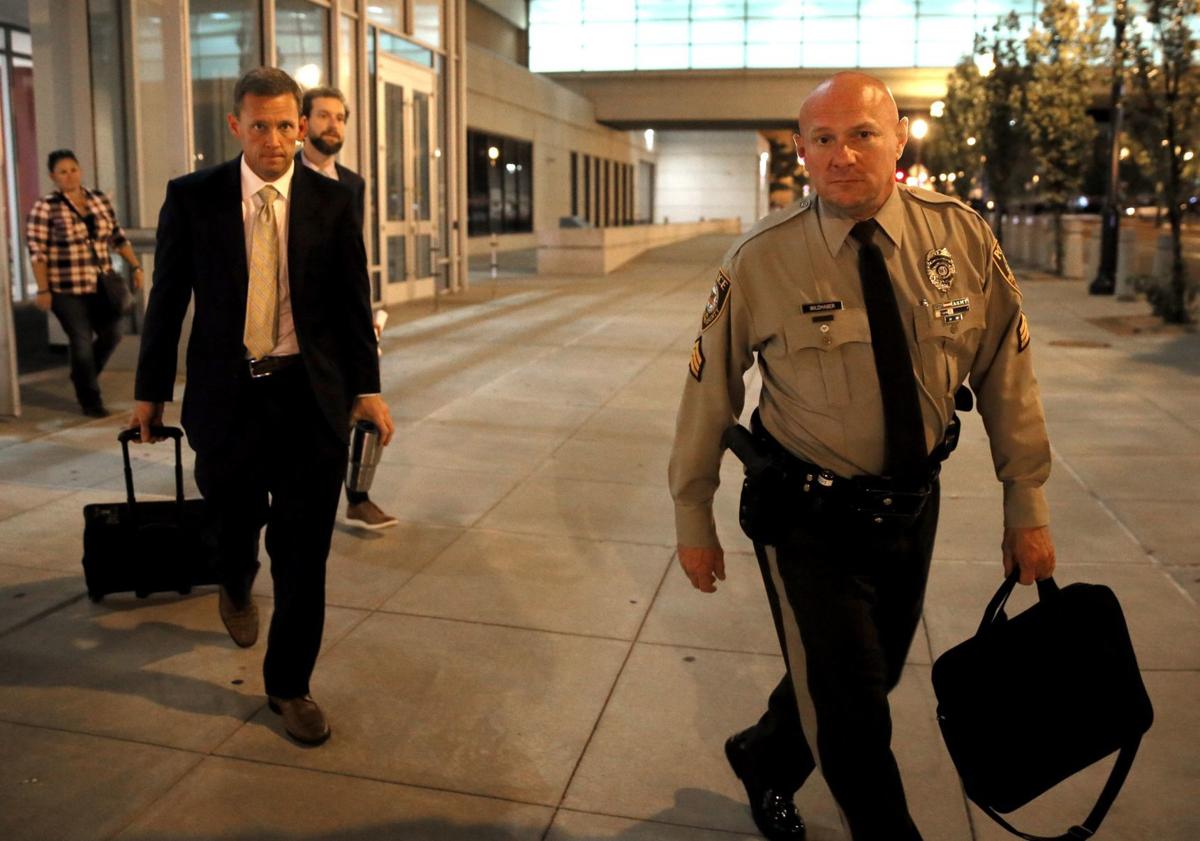 CLAYTON — St. Louis County is facing budget cuts and its fund reserves are depleted. Where will it get $20 million to pay Sgt. Keith Wildhaber?
Even for a suburban county of 1 million people, the judgment is a significant amount of money, equal to nearly one-seventh of the Police Department's proposed 2020 budget of $145 million, including all sources of revenue.
A jury in St. Louis County on Oct. 25 ordered the county to pay Wildhaber the amount for discrimination and retaliation by the county police. Wildhaber said he was advised to "tone down his gayness," passed up for promotion 23 times and transferred to a precinct far from his home in retaliation for filing an EEOC complaint.
The county has not discussed its post-verdict legal strategy, but appears to be seeking to reduce its liability. On Tuesday, the County Council voted 7-0 to hire lawyers from the Lewis Rice LLC law firm to help file post-trial motions before the deadline of Nov. 25, when the verdict would otherwise become final. The Lewis Rice contract cannot exceed $75,000 without the council's authorization.
County Executive Sam Page said Thursday the county was reserving its right to appeal, but he was hopeful that a settlement could be reached that "would be fair to Keith and fair to the taxpayers of St. Louis County."
If the county had to pay Wildhaber the full amount awarded by the jury, it would appear to have insurance coverage for the first $12.5 million, according to records obtained by the Post-Dispatch through a public-record request.
The first $2.5 million would come from the county's self-insurance fund to provide protection against tort claims against current and former county officials, employees and volunteers for conduct, action or inaction arising out of the performance of their official duties.
That fund has a balance of $6.3 million but not all of it is available to be used at once, according to the county's self-insurance policy. It says no more than 40% of the fund balance — in this case, $2.5 million — can be used for any single case.
The county also has a "special excess policy" with Starr Indemnity & Liability Co., of Dallas, that appears to cover $10 million for wrongful acts, after a $2 million deductible. But Jennifer J. Keating, deputy director of the county's administration department, said in an email, "there is always the unknown of how the insurance company will treat the claim, which could result in a different funding scenario."
She added: "Decisions regarding payment of judgments in excess of the policies are made on a case by case basis, and in the instance of the recent judgment have not been determined."
If the county had to pay Wildhaber an amount over its insurance coverage, there was no plan yet for where that would come from. The County Council, in the thick of working out the county's 2020 budget, has not factored any large payout into its plans.
"I don't think the council is prepared to do anything until they know whether there will be an appeal," said Chris Grahn-Howard, the council's budget policy director.