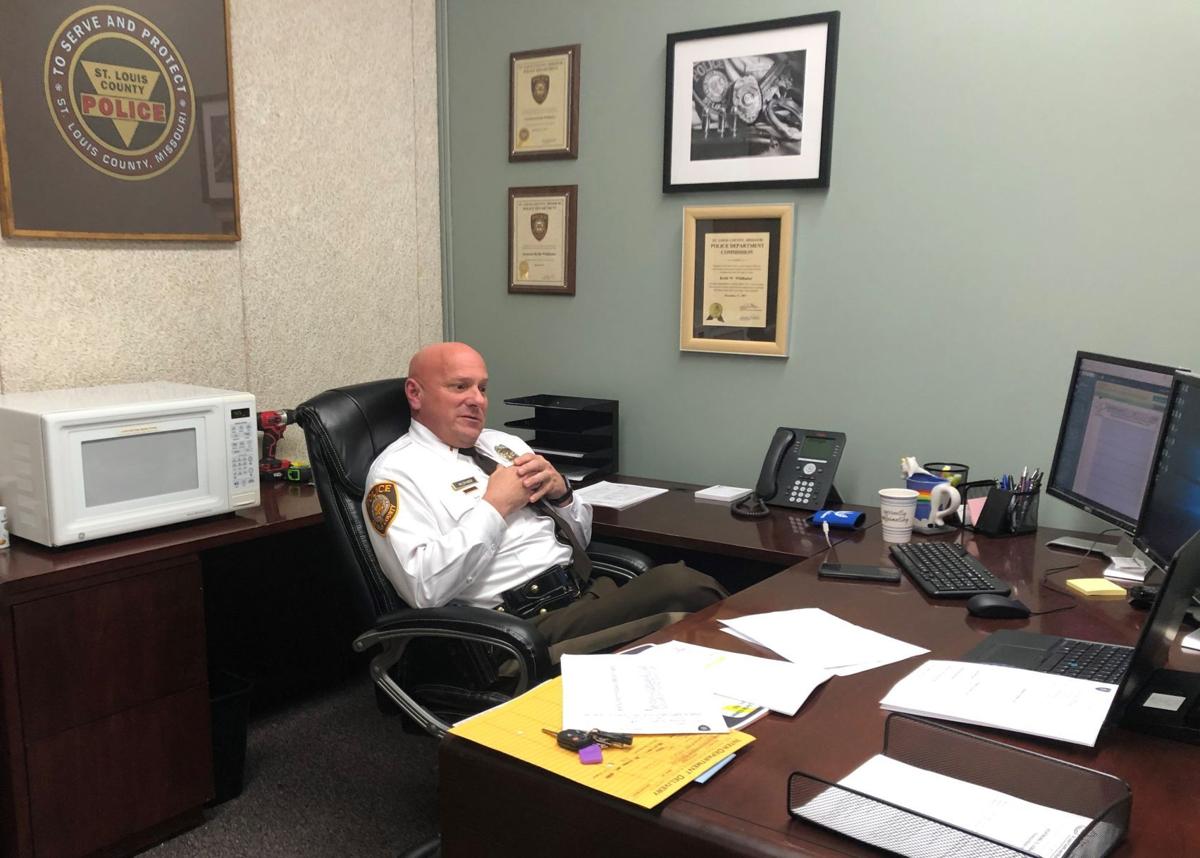 CLAYTON — Lt. Keith Wildhaber, the St. Louis County police officer who made national news last year when he settled a discrimination lawsuit against the county for $10.25 million, requested to step down as head of the department's Diversity and Inclusion Unit this week after he was criticized for speaking to the media.
Wildhaber made a statement to KSDK (Channel 5) after the channel broke news Sunday that a county dispatcher was under investigation for using a racial slur over the police radio.
"This type of language is disgusting and has no place in our department or in society," his statement read. "Immediate and decisive action must be taken by department leadership. We cannot continue to deny there is systemic racism and discrimination in our department. It's time to dismantle it."
The statement prompted a quick backlash.
Wildhaber was summoned to a human resources meeting Monday where he was "verbally admonished for speaking out against the racial slur to the media," Joe Patterson, executive director of the St. Louis County Police Association, said in an email Wednesday.
Wildhaber was also ordered by police Chief Mary Barton not to make any statements to the media, Patterson said. Wildhaber then requested a transfer out of the Diversity and Inclusion Unit, according to the union.
Patterson said the union supports Wildhaber and will represent him for any disciplinary measure he may receive.
"Now this very important unit is left without a commander during a critical time in which the department must work diligently to heal and regain the trust of the community," Patterson said in an email.
In response to the union, St. Louis County police's public information office referenced department policies limiting employees' ability to speak to the media.
"Individual units are not exempt from the department's policies and procedures, even in instances of shared outrage and disgust," the office said in a statement. "The department's leadership is evaluating the best way for the unit to move forward and fulfill its mission."
The jury in his October 2019 trial awarded Wildhaber nearly $20 million. Wildhaber and the county then settled on $10.25 million in February to avoid the appeals process.
On Wednesday, the Ethical Society of Police, a group that represents minority officers, also criticized Wildhaber's treatment.
"This should serve as further evidence of the department's consistent tactic of denial, cover-up, silence and/or punish those who speak out," the statement read.
Wildhaber previously stepped down from the diversity unit in July after members of ESOP questioned if he had the qualifications to lead the unit, but by August he announced he would remain in the job.
His departure from the role comes as racial tension in the department has become a central issue for command staff.
An in-depth report of the St. Louis County police, published last month and funded by Centene Corp. and other major St. Louis corporations, found that the "serious racial divide" in the department was made worse by hiring, training and promotions practices and policies that aren't transparent. The report came after a six-month review including interviews conducted by New York-based company Teneo.
Wildhaber could not be reached for comment.