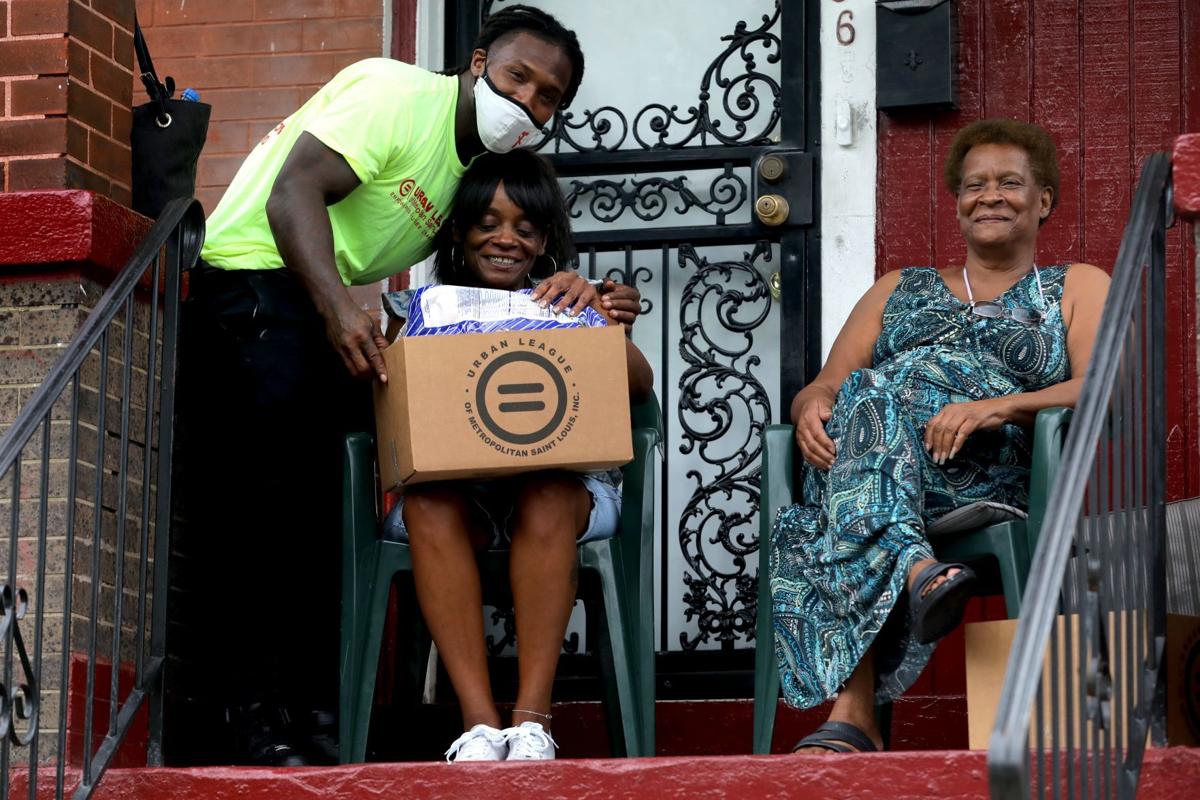 JEFFERSON CITY — With the clock ticking down on lawmakers to take action on his call for a crackdown on violence in St. Louis, Gov. Mike Parson announced Wednesday a $1 million grant to the Urban League for an anti-crime initiative.
"For over a year, my administration has been working with community groups, civic leaders, clergies, law enforcement, and mayors across the state to find solutions to violent crime," Parson said. "We know we have a serious issue with violent crime in Missouri, and the Serving Our Streets Initiatives is a very valuable tool in addressing these issues at the local level."
Parson, a Republican seeking a full, four-year term, has been emphasizing his crime-fighting efforts in his race against Democratic Auditor Nicole Galloway.
He's called lawmakers back to the Capitol for a special session on violent crime, but there has been resistance to some of his proposals.
Republicans in the Senate used their majority status to push the proposal through the upper chamber last week, but GOP leaders in the House have balked.
Parson said his administration is "doing everything we can to fight violent crime."
But he told reporters Wednesday that he hadn't discussed the "concurrent jurisdiction" legislation with leaders in the House.
"I haven't spoken to the House leadership since the Senate passed that," Parson said.
And, he acknowledged, "I'm not sure what their plans are. I'm not sure what they'll do."
The proposal is viewed by Democrats and some Republicans as an attack on St. Louis Circuit Attorney Kimberly M. Gardner.
The Missouri Association of Prosecuting Attorneys, which is headed by St. Charles County Prosecuting Attorney Timothy Lohmar, issued a scathing statement on the Senate's action, calling the proposal "awful," "absurd" and "unrealistic."
"As elected local prosecutors who have tried countless homicide cases to Missouri juries, we are gravely concerned regarding the miscarriage of justice from the unprecedented usurpation of the authority of a locally elected prosecutor being attempted by Missouri's Attorney General," the statement said.
The House had been planning to return last week, but leaders decided to stay away while the Senate was acting on the legislation.
Although members could have returned this week, leaders decided to wait until next Wednesday's regularly scheduled veto session to sit down and discuss the proposal with rank-and-file lawmakers.
Special sessions run for 60 days, meaning work will come to an end Sept. 25. Parson could extend the call.
Although the attempt to give the attorney general power to intervene is in limbo, lawmakers have signed off on a plan to lift the residency requirement for St. Louis public safety workers.
With the police department down by more than 140 officers, Mayor Lyda Krewson said the move could widen the recruiting pool. They also are in the process of creating a state-level witness protection program to help ensure criminals don't intimidate crime victims before trials.
"We are encouraged by this progress," Parson said.
With the Legislature idle this week, Parson's release of the federal grant drew praise from James Clark, vice president of public safety and community response for the Urban League.
"This is an excellent start; this is the first time we have had this level of concentrated resources put directly into neighborhoods," Clark said. "This funding will allow us to expand the number of neighborhoods receiving intensive crime reduction interventions."
The program brings together church leaders, drug-treatment centers and a neighborhood job fair. Also, the YWCA of Metro St. Louis is establishing a "trauma center" at Northwest Academy to help victims of domestic violence and sexual assault.
The program is based on a method of crime reduction that trains workers to de-escalate conflicts and then work to change attitudes toward violence in crime-ridden areas.
People called "violence interrupters" — hired locally and trained in conflict mediation — are supposed to establish relationships with high-risk people and discourage retaliation.
The federal money comes from the Community Services Block Grant program through a partnership with ARCHS St. Louis.