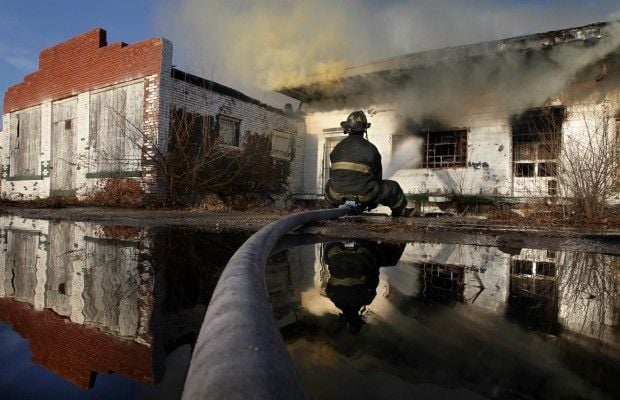 EAST ST. LOUIS  •  East St. Louis officials plan to lay off 19 firefighters at the end of this month, cutting the department in this beleaguered city by more than a third.
The move comes after a federal grant ran out earlier this year. Layoff letters went to 19 of the 54 fire department employees on Tuesday. The employees were told they would be out of a job at the end of September. 
Mayor Alvin Parks said two of those 19 jobs will be rescued the next day, with the salaries picked up by the city's general fund. Next year, the city hopes to bring back eight more employees if it can find $600,000 in the city's budget.
But in the meantime, firefighters are bracing for big changes.
"Wait and pray," says firefighter Patrick Jackson, who is slated to lose his job. He was hired 2½ years ago with the grant that is now expiring. Because the layoffs are based on seniority, he was among the 19 to get the letter.
The fire department covers a city of 14 square miles and responds to as many as 1,800 calls for service annually, about half of them fire-related.
Lt. Kevin Manso, whose job is also on the chopping block, said the city's response times to fires is sure to suffer.
"But no matter what the city does to us, we don't stop," he said. "If it means fighting a fire with three guys, we will do it."
Manso is a union representative and said the union plans to fight the layoffs.
Firefighter Brian Gregory, another employee who got a layoff letter, said the Casino Queen recently got the city an additional firetruck. "You could park that truck outside a fire but without the people using it, it's useless," he quipped.
Gregory, Manso and Jackson all met with the city manager and city fire chief this morning. Their first question to the officials was, "How do you manage a department with diminished manpower?" They said they had no answer.
The city manager didn't return calls. The fire chief, Jason Blackmon, said his department will find a way to manage.
"It's never enough," he said. "I can always use more (manpower). I'll tell the citizens, keep practicing fire prevention and we'll be there.
Parks said the plan is to apply for another federal grant that could get the staffing level back to 58. He said the city knew when it won the $3.3 million, two-year grant in 2011 that the city would need to find extra money when it expired to keep the firefighters on duty.
"It's going to be a challenge when it comes to covering the city," Parks said. "I suppose that, for most of the time, we'll have three firehouses open" instead of four.
The firehouse at 27th and State streets probably "would almost never be staffed," he said.
Should the citizens and property owners be concerned? "Not overly concerned," the mayor said. "We have a very well-trained fire department. They know how to handle stressful situations."
Parks also said that with some "innovative and improvisational resources, they can work it out." He declined to say what those might be. He said he is a layperson and deferred instead to the fire chief.
"They can be very creative to make it happen," Parks said. "Health and safety is at the top of our priorities, and we'll do what we can to keep as many public safety employees. But you must be fiscally responsible. You can't pay what you don't have."
The department once had more than 150 employees. That was when the city population was about 80,000. The city's population and economy have declined for a half-century, with budget cuts and attrition sapping the staff. The city population is now about 27,000.
Blackmon said his plan is to apply for the same federal grant they got before. That grant is through Department of Homeland Security. It is called a SAFER grant, as in Staffing for Adequate Fire and Emergency Response. The grant the city received in 2011 paid for the salaries, insurance and pensions for 22 workers for two years. It ran out in March, but the city found other funds to cover the salaries until now.
Meanwhile, Gregory said he thinks there is cause for worry. As an example of the staffing issues, Gregory talked about the D shift that was on duty Thursday. There were nine men on duty. Only three of them on that shift would keep their jobs in October. He wonders how the department is going to provide coverage if it is six short, other than paying overtime to bring in crew from other shifts.
Gregory said he is urging residents to attend the City Council meeting next Thursday. Firefighters have been trying to get the word out for months about their struggles. Gregory said one firefighter, whose seniority protected him from the recent layoffs list, made a video and posted it on YouTube in March, explaining how the department already operates at minimum levels, with just six personnel responding to most alarms. The video has had more than 280,000 views as of Friday.
Manso, the union rep, said the layoff for him would end eight years with the fire department. "I've gotta get back in the workforce, somehow," he said.